Corowa Modified Sedan racer Trevor Mills continued his golden run when he won his third big feature race in three starts taking victory in the Speedway Wangaratta promoted 'Ned Kelly Cup' on Saturday night February 25th, the finish was rip snorter with drivers just .00037 in front of the runner at the finish line.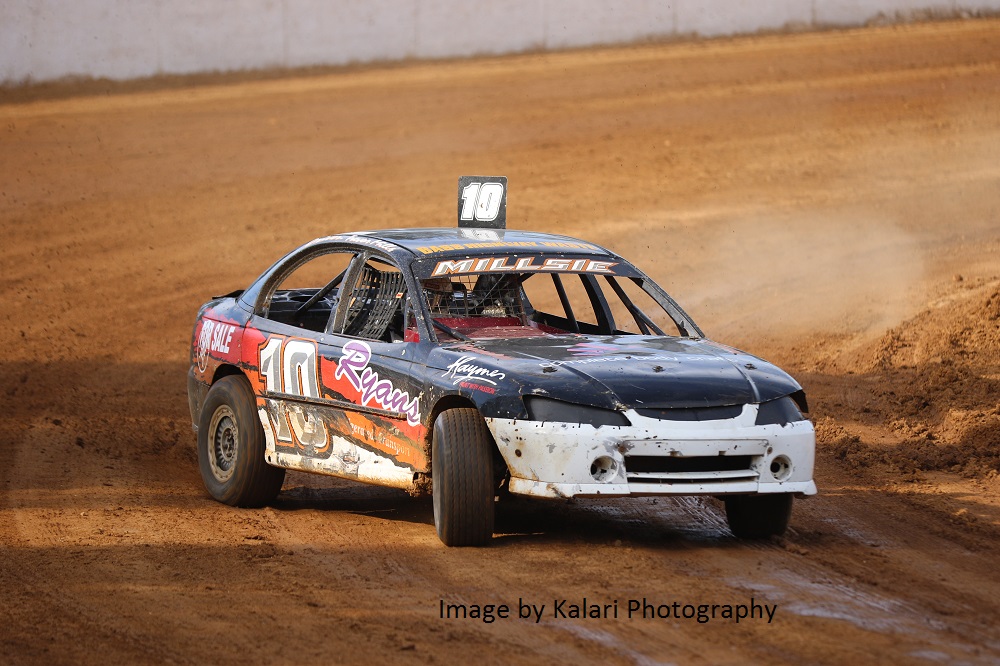 Others winners through the night include Frank Gordon a winner in the Goulburn Ovens Sedan Association feature, Liam Powell in the Sports Sedans, Jarred Burder in Standard Saloons and Daniel Powell in Junior Sedans.
Modified Sedan racing attracted cars from various parts of New South Wales and from as far as Horsham in Victoria and back down to Melbourne with Daniel Simpson, Graham West, Ash Parkinson, Kye Walters and last year's winner Nick Cockerill some of Victoria's toughest racers heading into Mills territory.
Three heat races were won by Dave Clapson from Moruya New South Wales, Kye Walters out of Geelong and Graham West from Bendigo before Mills rose to the top in the eventful feature race to take the $2000 winner from Clapson, Simpson, West and Greg Stevenson from the Canberra club.
Crossing the finish line in the Goulburn Ovens Sedan Association feature first was Chelsea Cornelius however she was under protest due to what stewards had deemed to be cutting down in a passing move after a restart. Frank Gordon from Leeton in New South Wales took the win with Cornelius placed back into second, Clint Henderson finished third ahead of Bowser resident Tom Barnard and Walla Walla's Daniel Creek.
Jarred Burder picked up his second feature race win of the season as he led across the line Stuart Densem, Liam Powell, Trev Goldsworthy and Kenneth Mankey in the Standard Saloon category.
Also Powell brothers Liam and Daniel picked up wins in their Sports Sedan and Junior Sedan categories. Liam Powell defeated Rhys Collins, Martin Heiner, Leighton Evans and Fleur Heiner in the Sports Sedan final whilst Daniel won the Junior Sedans from Jake Cottier, Ashleeh Bunt, Zac Twomey and Ruby Pritchard.
Racing returns next to Wangaratta on March the 18th with Division 2 Hot Rods from Gippsland heading up the highway, a Production Sedan feature race, Sports Sedans, Standard Saloons, Goulburn Ovens Sedans Association, Ladies Sedans and Junior Sedans.
Wangaratta Speedway Club Supporters for 16/17:
SuperAxe Woodsplitters – One Mile Motors – Crosher Constructions – Wangaratta Auto Care – Wangaratta Radiators – North East Fasteners – A Grade Removals & Storage – Enzed Wangaratta – McDonalds Wangaratta – Alpine Truss- Gardenview Lodge Motel – IGA Wangaratta – APCO Fuel Wangaratta – Thommo's Cash for Scrap – Solimo Towing – Ussher Plumbing – Patton Automotive – Ryan's Refrigerated Transport – Wangaratta Tourist & Caravan Park – Meyland Trophies – Rural City of Wangaratta – Wangaratta Club – Grimshaw Signs – Conway Printers Jindera – North East Bearings – Keam Fertilizers – Tailor Made Kitchens – Mundie Engineering – Breen's Freight – Chumlee Signs – Wangaratta Cranes – Tuff Tyres – Bar Up Bullbars – Kalari Photography, Videography & Merchandise
Written by
Dean Thompson
DMT Sports Media
For Speedway Wangaratta