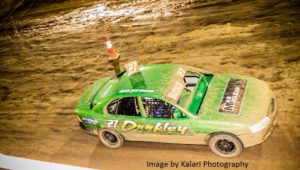 Goulburn Ovens Sedan Association racing headed to Speedway Wangaratta on March the 18th for the last round of the three round 'Ryan's Refrigerated Transport' Wangaratta Track Series and current Victorian Champion Ross Maclean took the line honours on the night, however it was Frank Gordon who took the prize when he secured the overall series win based on his consistent results.
Gordon (#92 Gasweld Tool Centre- Commodore) came out on top of Chelsea Cornelius & Clint Henderson after they failed to finish the feature race on the final night of the series.
Gordon and Mitch Watts (#54 Ace Smash Repairs Leeton – Commodore) began the first qualifying race swapping position at the front of the field through turn one and two of lap one before Gordon and then Stuart Balins spun. Watts went on to secure a great win in front of Cornelius, Maclean, Tom Barnard, Gordon who gained a few positions back after his spin then Nathan Shortis, Henderson, Joel Copeland and Todd Atkin (#78 GrainLink – Commodore).
A welcome return to racing for Peter Schmetzer when starting from the front row of the second heat of the night, he used all his experience to put his Commodore out front and on to the way to an all the way victory ahead of Sam Davey (#93 Hartnett Transport – Commodore), Harry Walliss, Jamie Atkin, James Powell, Jack Milthorpe and Scott Callendar (# 24 Jindera Automotive – Falcon).
Henderson from the front row put all the power of his LS1 Chevrolet engine to good use in the second round securing a win ahead of Maclean (#27 Dunkley Paint & Panels – Commodore), Shortis, Cornelius, Watts, Barnard and Todd Atkins with the returning Mick Bunt and Gordon non finishers.
Bowers who is also returning behind the steering wheel after a little time off the scene took a win in the fourth qualifier with Powell (#45 James Powell Mechanical – Falcon) in second spot then Callendar, Jamie Atkin, Copeland and Davey. Schmetzer and Wallis marked down as non-finishers.
Henderson (#21 Corowa Kitchens and Cabinets – Commodore) didn't have such a good race in his final qualifier as he tried to make an outside pass in turn two around a backmarker whilst leading and put his car into the concrete wall tearing the front end apart. Shortis went on to secure the win from Cornelius (#76 Cornelius Classic Panels – Commodore), Maclean, Watts, Barnard and Todd Atkins.
Powell who has changed to racing his brothers Falcon for the rest of the Goulburn Ovens Sedan Association season then justified that call with a last heat win ahead of Callendar, Bowers, Jamie Atkin, Copeland and Davey.
After the six heats Powell had qualified in pole position from Maclean, Cornelius, Shortis (#55 Stickemon Stickers – Commodore), Watts and Callender and it would be Ross Maclean whilst out of contention for the overall Wangaratta track series win, who went on to take a strong victory in the final round of the series with victory ahead of James Powell, Thomas Bowers, Mitch Watts, Nathan Shortis, Gordon, Jamie Atkin, Callendar, Barnard, Copeland and Davey.
Racing in amongst the pack was very competitive for the night with many of the drivers finishing back behind the leader taking to social media to express how much fun they had jostling for position.
Hard luck for Chelsea Cornelius who potentially up until the end of the third round of heats had almost done enough to take the overall win, before her car broke down with a starter motor short out whilst second in the feature. Frank Gordon from Leeton who did finish the final, had done enough over the three meetings to take the overall win from Cornelius and Clint Henderson who crashed out early in the night damaging his front and rear end of the car extensively.
The top five in the 'Ryans Refrigerated Transport' Wangaratta Speedway Series was Frank Gordon 271, Corowa club racer Cornelius 252, Henderson 241, Wangaratta club racer Nathan Shortis 205 and Mitch Watts 154.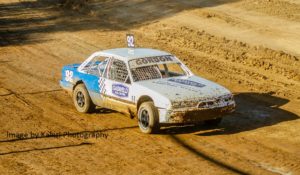 Gordon was pleasantly surprised in regards to the win. "When Dean (Dean Thompson Media rep) come over to tell me he was pretty sure I was in the top three and I better get down to the presentation I was still uncertain. However to get the win in the series is a pleasing result for the effort Mark (His son) and the crew have put in to our car. Thank you to Wangaratta, the series sponsor and the Goulburn Ovens Sedan Association for working together to create this series."
Goulburn Ovens Sedan Association would like to thank the sponsors:
Max's Motor Museum, Corowa – Maverick Boats, Corowa – QA Kitchens, Albury – Elle Mae Hair & Beauty, Corowa – Corowa Kitchens & Cabinets – Psychic Tina, Leeton – Wahgunyah Rock Yard, Wahgunyah – Stevo's Painting Services – Cornelius Classic Panels, Corowa – Ace Smash Repairs, Leeton – MP Sheds, Leeton – Corowa Glass, Corowa – Dunkley Paint & Panels, Corowa
Written by
Dean Thompson
DMT Sports Media
For Goulburn Ovens Sedan Association