Speedway racing at Wahgunyah Speedway on Australia day weekend was hot both on and off the track with scorching weather and furious race action as a large crowd enjoyed developing their tans and watching Sydney racer Glenn Mitchell cement his Legend at the venue by winning the Jazkaz Toys Legends 1000 for Legend Cars.
Mitchell is a regular visitor to Wahgunyah when the Legend Cars come to town and won last year and backed it up again this year, proving too many he is the best Legend Car racer that Wahgunyah has seen.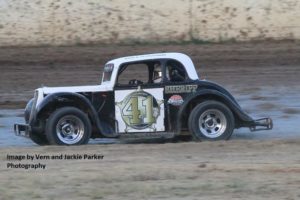 Mitchell won all three of his qualifying heat races to reach the final with Bruce Alderson, Heaton and Hayden Pascoe winning the others before embarking on the feature race journey. Over fifteen laps at no stage did Mitchell lose the lead with Pascoe chasing all the way. The event had valuable point connections to a season long Race to America point score and Mitchell took the majority of those on his way to a win in front of Pascoe, Heaton, Alderson and Shane Younger.
Afterwards Mitchell was pleased with his win. "I love coming back here, it is not too far from our border maybe we could get another race here each season, the people are great and once you get into the night here, the track is super fast and we do this to go fast. Thanks to the local sponsors and all my supporters and congratulations to my fellow competitors on their results."
With the next meeting at Wahgunyah being the Victorian Standard Saloon title, a number of out of towners made the journey to the club once again for some valuable track time and set up testing. Nine heats were held to determine the starters in the fifteen lap final and two drivers stood out, Victorian champion Chilterns Warrick Howie and Portland racer Cathal McCaughey, they both won all three of their heat races.
Adrian Lawrence in only his second open age Speedway meeting and Mark Miles from South East Melbourne and Aaron Marshall from Bendigo won the other three heat races.
Fifteen competitors started the final and straight out of the box Howie moved to the lead with McCaughey and Marshall in tow.
Leighton Warburton had consistent heat races and he would be well pleased with his showing at Wahgunyah with a high qualifying result, as the race progressed he was able to stay smooth and move ahead of others. Howie motored on to victory from Warburton, Lawrence, McCaughey and Marshall, all will be quietly confident of a strong result at the upcoming Victorian title on Labour Day weekend.
Racing in the Sports Sedans began with Leighton Evans from the Wangaratta club winning all three heats and looking really strong for a feature race victory in the evening. However, it would be Martin Heiner from Bowser just north of Wangaratta who would go home the winner. He defeated Corey McDonald and Marcus Griffiths making it a Mount Beauty Speedway Club top three with Evans back in fourth and Lucas Walker in fifth place.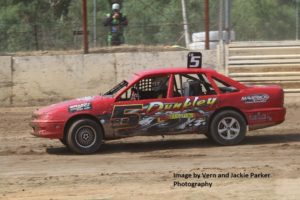 Rutherglen youngster Jack Milthorpe had a night out in the Goulburn Ovens Sedan Association racing winning all three heats to qualifying at the front of the field in the final. Nine heat races were run with James Powell, Liam Powell, Chris Fitzgerald twice, Frank Gordon and Glen Hawkins picking up the other wins on their way to the feature race.
Milthorpe and James Powell began the final at the front of the field with Chelsea Cornelius and Fitzgerald on the second row, Mitch Watts the last winner for the association at Swan Hill a couple weeks ago and Nathan Shortis who won at Wahgunyah on the previous meeting this season.
Powell jumped out to the lead first, with Milthorpe and Cornelius chasing. Shortis didn't last past lap one with mechanical issues, whilst Milthorpe pounced on lap six taking the lead. From there Milthorpe maintained his lead and went on to defeat Powell, Cornelius, Watts and Ross Maclean.
Toby Carmichael and Zac Twomey shared heat race wins in the Junior Sedans with Carmichael winning the first and the third before going on to win the Junior final ahead of Twomey, Will Heiner and Janie Patton.
Wahgunyah returns on the 10th and 11th of March with the Victorian Standard Saloon title taking centre stage with an estimated fifty cars competing in that event alone.
Corowa – Rutherglen Speedway Club is proudly supported by:
B & B Freight – Dickens Engineering – Canns Bus Lines – Pigdons Holden Corowa – Bindaree Caravan Park – QA Kitchens – Dunkley Panels – McLardy McShane Insurance & Financial Services – Milthorpe Transport – Winton Motor Raceway – McCartie Motors – Corowa Upholstery – Corowa Furnishings and Floors – Dawson's Haulage – SMC Contracting Services – Cellarbrations Wahgunyah – Hartnett Transport – Heritage Motor Inn – Upton's Steel Supplies – All Day Electrics Rutherglen – Marshall Batteries – Wangaratta Radiators – A1 Oils and Batteries – Hunter Electrical – Cofield & Co Plumbing – Corowa Super IGA – Rod Stone Automotive – Max Maclean Building Supplies – Maverick Marine – Wahgunyah Rock Yard – BJ Burton Trophies – Quantum Printing – Corowa Meats – Vern & Jackie Parker DVD
Written by
Dean Thompson
DMT Sports Media
For Corowa – Rutherglen Speedway Club