The Goulburn Ovens Sedan Association held their latest event at Wahgunyah Speedway on January 27th and it was a tough night for many with lots of damage and crashes giving a few drivers, a lot of work before the Victorian title at the end of the month at Wangaratta, Jack Milthorpe one of four drivers who raced the night before down in Gippsland took the win.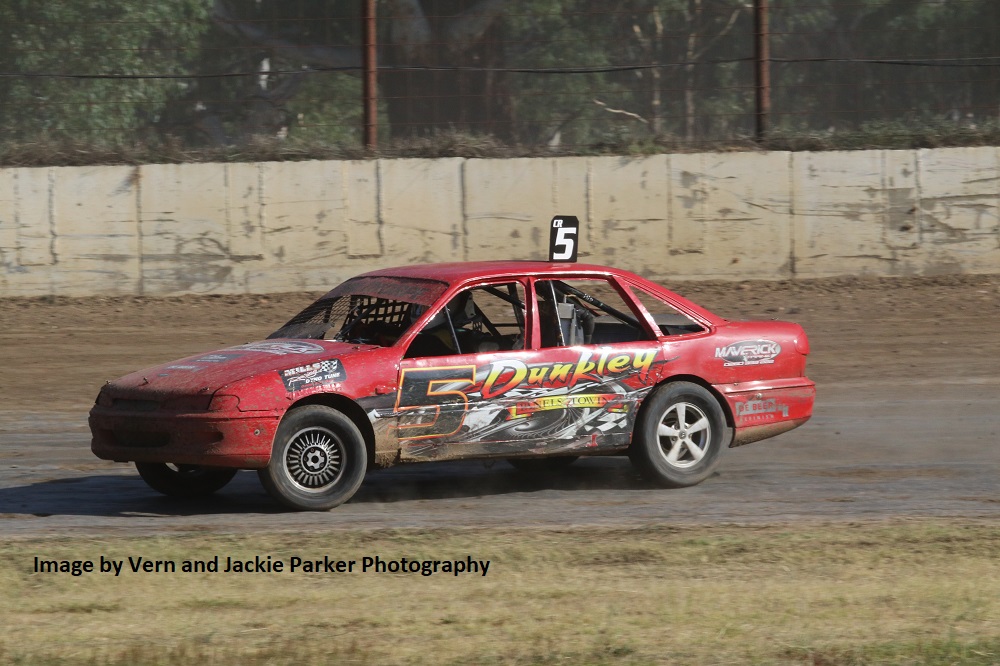 Nine heat races were run with a number of interesting results.
Heat one Ross Maclean (#27 VY Commodore – Dunkley Panels) burst from the third row to lead James Powell and Sam Davey, the lead two then reversed positions on lap three with Tom Barnard moving up to third and Frank Gordon behind him. Gordon passed Barnard on lap five whilst the pole position starter Powell led through to the end to defeat Maclean, Gordon, Barnard, Davey, Jamie Atkin, Justin Granger (#29 VK Commodore – JUTS Race Engines) and Glen Hawkins.
Peter Schmetzer (#4 VL Commodore – Riverina Custom Auto) and Jack Milthorpe from sixth had a good start in the second heat with last start winner Mitch Watts in third. Chelsea Cornelius passed Watts on lap two, Schmetzer continued to lead until Milthorpe made a pass on lap seven to take the lead and the win from Schmetzer, Cornelius, Watts (#54 VL Commodore – Ace Smash Repairs), Troy Frost, Ross Atkin and Stuart Balins.
Wayne O'Keefe who is driving for Stevo McDonald in one of the three cars the team has on track led lap one from Liam Powell and Thomas Bowers. It took until lap three for Powell to move to the lead with O'Keefe and Bowers (#42 VS Commodore – Maverick Marine) following. Powell made it a brothers double in the first round when he took the win from Bowers and Nathan Shortis with O'Keefe dropping back to fourth after a restart after a caution.
Maclean led Jamie Atkin (#12 VL Commodore – Rossco's Race Engines) and Milthorpe on lap one of the fourth heat. Milthorpe moved to second on lap two and Barnard moved into third soon after. Lap five Milthorpe took control of the race when he took the lead.
Schmetzer was moving through quickly however laps ran out with Milthorpe taking another win defeating Maclean, Schmetzer, Barnard, Atkin, Watts and Mark Gordon (#91 VL Commodore – Euroley Engineering).
Chris Fitzgerald (#14 VS Commodore – Ryan's Refrigerated Transport) from the front row led Brewer and Cornelius after a lap one restart. A crash on lap one involving a number of cars eliminated McDonald, Balins, Liam Powell and Jack Bear. On lap five Brewer had a mechanical break down and the race was declared with only three cars left, Fitzgerald the winner from Cornelius (#76 VL Commodore – Cornelius Classic Panels) and O'Keefe.
The sixth heat didn't start so well for Shortis when a wheel came off the car on lap one. This meant that a restart was required and Bowers led from Frank Gordon and Shane Frost. Lap three Gordon went passed Bowers who held second right up to lap six with James Powell (#44 BA Falcon – Morey Warnock Automotive) behind him.
Lap seven the eagle eyed stewards pulled the black flag on Bowers when they noticed his window net was down and that was the end of his race with Gordon winning from Powell, Shane Frost, Granger and Davey (#93 VK Commodore – Hartnett Transport).
Just like the previous heat a lap one pile up eliminated most of the field, Shane Frost, Bowers and Mark Gordon were all taken out of the race. The race got under way with four cars, however after the time taken to clear up the first crash and then a yellow flag due to another incident on lap three the stewards called a halt to the race. Frank Gordon was first across the line from Glenn Hawkins, Davey and McDonald (#72 VS Commodore – Steeline Albury).
Lap one Cornelius flew passed the start line in the lead at the end of lap one with Milthorpe, Schmetzer, Maclean and James Powell chasing. Milthorpe took control from lap two, try as she might, Cornelius couldn't get back past and Milthorpe took the win from Cornelius, James Powell, Schmetzer, Maclean and Granger.
In the final heat race, the ninth of the night, Watts lead Fitzgerald and Bear. Shortis (#55 VZ Commodore – Stickemon Signs) was working his way forward on lap two and Fitzgerald took the lead.
Shortis then passed Watts on the third lap for second on lap three. Fitzgerald closed out the race taking the win from Shortis, Watts, Barnard, Atkin and Bear (#19 VL Commodore – Hartnett Transport).
Missing out on the final was Brendan Brewer (#16 VS Commodore – Bicknell Signs). Earlier in qualifying he had a brake failure and then got crashed into and slammed into the fence and broke a steering rack and lower control arm. Ross Atkin broke a gear box in his second heat, whilst Wayne O'Keefe's thermo melted the fan switch and he also had a hole in the radiator putting him out of contention.
Schmetzer was able to start the final after Watts lent to him a power steering hose for which Schmetzer was grateful for.
The fifteen lap final began with Milthorpe at the front with James Powell alongside, Cornelius and Fitzgerald then Watts and Shortis completely the top three row. Powell led strongly on lap one with Milthorpe, Cornelius, Fitzgerald and Watts in tow.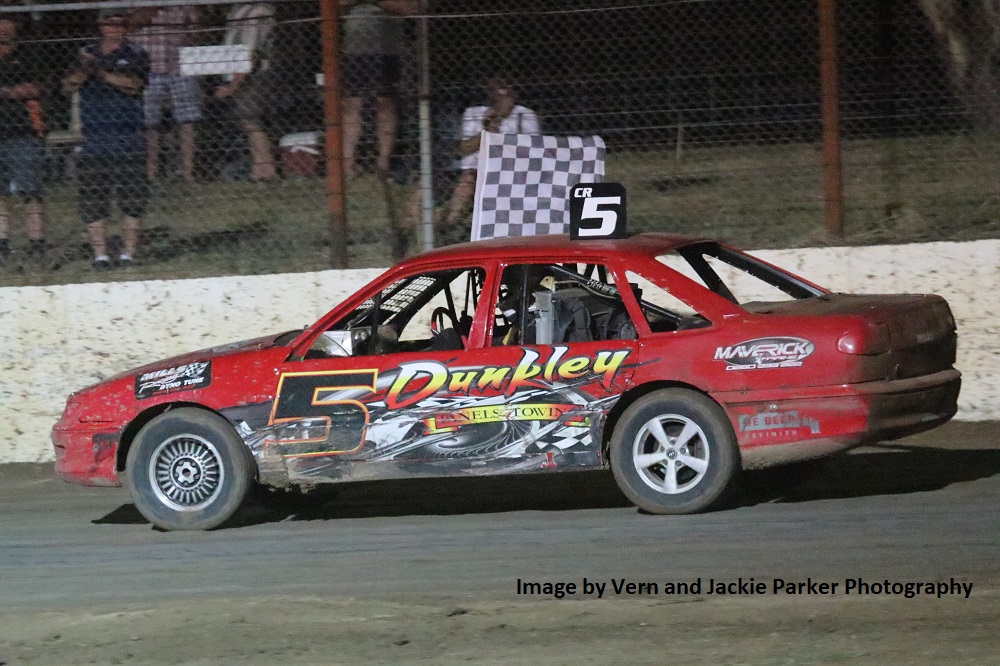 Lap six Milthorpe made his way paste Powell with Maclean making his way from last to fifth by this time. The top five didn't change all the way to the finish with Milthorpe, Powell, Cornelius, Watts, Maclean, Davey, Granger, Atkin, Bear and McDonald.
Goulburn Ovens Sedan Association would like to thank the sponsors:
Max's Motor Museum, Corowa – Maverick Boats, Corowa – QA Kitchens, Albury – Elle Mae Hair & Beauty, Corowa – Corowa Kitchens & Cabinets – Psychic Tina, Leeton – Wahgunyah Rock Yard, Wahgunyah – SMC Contracting Services – Cornelius Classic Panels, Corowa – Ace Smash Repairs, Leeton – MP Sheds, Leeton – Corowa Glass, Corowa – Dunkley Paint & Panels – Corowa
Written by
Dean Thompson
DMT Sports Media
For Goulburn Ovens Sedan Association