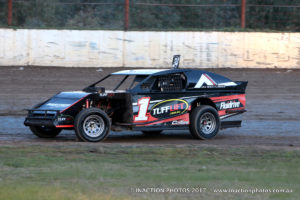 Wahgunyah Speedway held its final meeting for the season before they break until Boxing Day 2017 and the visiting AMCA Nationals and the Production Sedan national class headlined what was a well-supported show in the 'freezing cold' with Jamie Collins the Victorian AMCA Champion winning and Morwell based racer Stephen Laidlaw picking up his biggest win for the season in the Wahgunyah Automotive 1000 for the Productions.
The AMCA National category, a V8 powered purpose built Chassis class visited with a couple cars from New South Wales joining the Victorians with some class cars in the race. Dean Heseltine, Collins and Newcastle's Raymond Kime won heat races before Collins got the better of everybody in the fifteen lap final to take a win from Heseltine, leading every lap, then came Kime, Adam Cullinger and Lindsay Cornwall.
With cars from Victoria's North East, the Murray and Riverina, Goulburn & Young in NSW along with Canberra and Gippsland in attendance for the $1000 to win Production Sedan feature, the action once again was sensational, this time Australian Champion Trevor Mills a Corowa local, didn't win.
Mills started the night with a victory in qualifying before Damien McAlister, Laidlaw and Mills again won the heat races.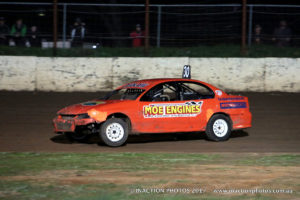 In the final Laidlaw got the best start leading another Corowa racer, Albury's Rodney Anderson then Mills, McAlister and Brett Norman. A twenty lap race for the grand had Anderson keen as he led lap two from Mills, McAlister, Norman and Paul Barklem as Laidlaw dropped seemingly out of contention when his brakes failed and he pushed up towards the concrete retaining wall.
You can't keep a great racer down though and the two times former national champion started to work his way forward. Mills led from lap three to eight before his race finished in the middle of the track 'wrecking yard' and Anderson took over again. By lap nine Laidlaw was second again and on lap eleven he was out in front once more and that's where he stayed. Laidlaw took the win from Norman, Anderson, Barklem and Jason Boardman in his retirement race.
Goulbourn Ovens Sedan racing was well supported as always in the final round of the Elite Body and Paint Track Championship. Most of the competitors are from Corowa and are supported by others from Leeton, Wangaratta and around the Albury area. Nathan Shortis from Wangaratta won the first qualifier, then class President Dave Walton was next, Victorian Champion Clint Henderson won the third and Walton won the fourth heat over the former Victorian Champion Ross Maclean then Daniel Creek and Daniel McCarten won the last two qualifiers.
McCarten who blew up his engine the last time he raced, was red hot this time out with Maclean, Henderson, Walton and Frank Gordon amongst those in the chase. Maclean, then Walton then a swap to and from Maclean and Walton again kept the chase interesting before Maclean secured the position to the finish. McCarten the winner from Maclean, Walton, Creek and Henderson.
In other support category racing for the day, Standard Saloons had attracted Russell Hill and Scott Whittle from South Gippsland and Geelong respectively for no reason other than to beat each other on next seasons Victorian title track, Hill would take the win in a 351 Cleveland powered Ford Falcon from Whittle, Brendon Eames, Team Joosten and Col Yeomans from the Latrobe Valley.
Stanley racer Rhys Collins won the Sports Sedan final from Martin Heiner, Tommy McDonald, Chris Fitzgerald and Matty Chiminello. Toby Carmichael won the All About Window Tinting unior Sedan Track Championship final from Jack Brudenell, Rhys Lansdown, Jake Cottier and Jack Yeomans, whilst earlier Ashleeh Bunt had a big shunt and went off to hospital, she has since been cleared of major injury and Gemma Laidlaw won the Ladies from Kylie Creek and Fluer Heiner.
Corowa – Rutherglen Speedway Club is proudly supported by:
B & B Freight – Dickens Engineering – Canns Bus Lines – Pigdons Holden Corowa – Falcon Spares – Bindaree Caravan Park – QA Kitchens – Dunkley Panels – Elite Body & Paint – All About Window Tinting – McLardy McShane Insurance & Financial Services – Milthorpe Transport – Winton Motor Raceway – McCartie Motors – Corowa Upholstery – Corowa Furnishings and Floors – Dawson's Haulage – Stevo's Painting Services – Cellarbrations Wahgunyah – Hartnett Transport – Heritage Motor Inn – Upton's Steel Supplies – All Day Electrics Rutherglen – Corowa Kitchens – Marshall Batteries – Cofield & Co Plumbing – Corowa Super IGA – Rod Stone Automotive – Max Maclean Building Supplies – Maverick Marine – Wahgunyah Rock Yard – BJ Burton Trophies – Federation Tyrepower – Quantum Printing – Corowa Meats – Vern & Jackie Parker DVD – Inaction Photos
Written by
Dean Thompson
DMT Sports Media
For Corowa – Rutherglen Speedway Club t/a Wahgunyah Speedway