Wahgunyah Speedway was the host venue of the latest Goulburn Ovens Sedan Association event with competitors also getting their last chance to compete at the venue before the Victorian title scheduled in April, Clint Henderson was sensational in a pole shuffle and went on to win the QA Kitchens GOSA 1000 ahead of Troy Frost and Six heat races determined qualifying spots for ninth to last and a top eight field to contest the pole shuffle.
Tom Barnard (#69 Heiner Race Prep – Commodore) began the first heat of the night from the front of the field with Frost, Chelsea Cornelius, Danny McCarten and the current Victoria number two driver Nathan Shortis some of those in the field. Frost made short work of taking the lead with Cornelius and McCarten following through on lap one to form the top three.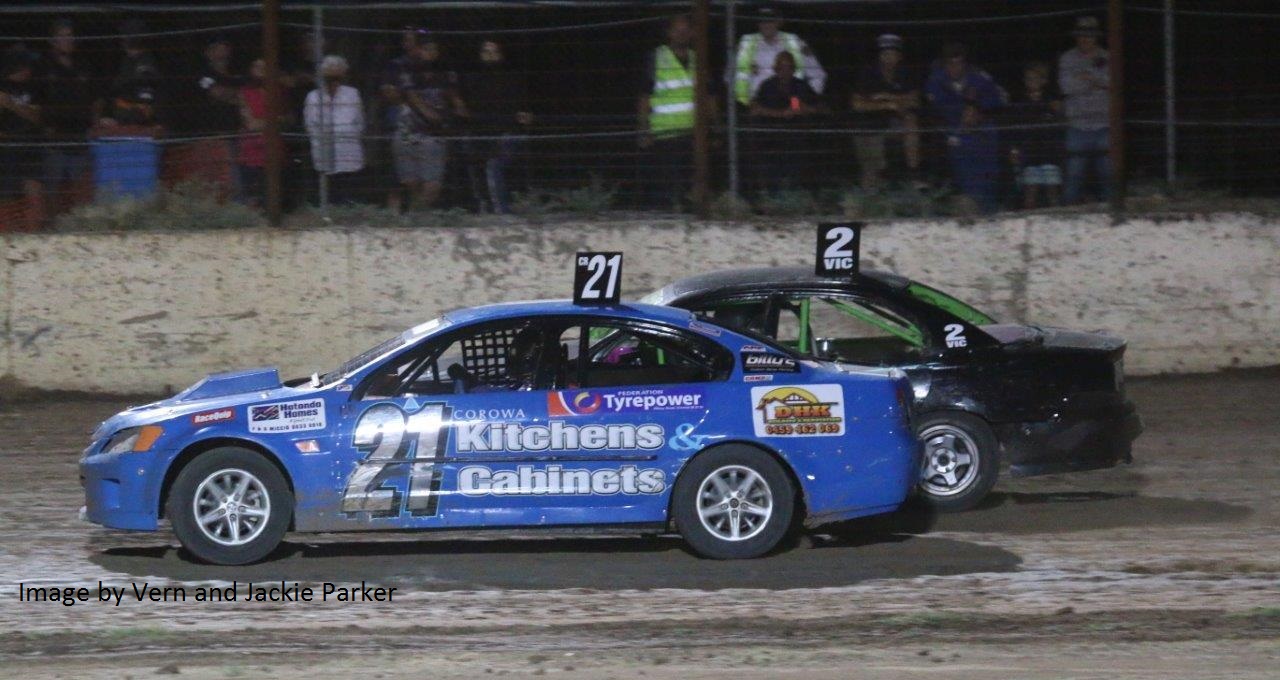 Shortis (#2 Stickemon Stickers – Commodore) and Barnard followed around in fourth and fifth and for the race distance the top five didn't budge. Frost picked up the win; Cornelius was second, McCarten, Shortis, Barnard, James Powell, Andrew Robl, Daniel Creek, Brendan Brewer (#16 Bicknell Signs – Commodore), Todd Atkin and Joel Copeland a rookie having his first race at the back of the field.
Steve McDonald (#15 Stevo's Painting Services – Commodore) and Jamie Atkin began at the front of the field in the second heat with Henderson on the second row, Jack Milthorpe, Scott Callender and Ross Maclean some of the challengers in the pack.
Jamie Atkin led lap one from Henderson (#21 Corowa Kitchens – Commodore) before the powerful LS1 powered VE Commodore took the lead on lap two. Harry Walliss was having a good run in third spot until lap three when Maclean (#1 Maclean Hardware – Commodore) and Milthorpe got past. It took until lap five for Maclean to move up into second and Milthorpe third as Atkin dropped back to fourth.
Henderson took the win from Maclean, Milthorpe, Jamie Atkin (#77 Griffith Discount Tyres – Commodore), Callendar, Walliss, Stuart Balins and McDonald.
Creek driving his father in laws race car started from pole position in the third heat with Todd Atkin alongside and Shortis and Henderson in the field. Todd Atkin (#78 Grainlink – Commodore) led lap one with Henderson from eighth to first on lap two. Shortis moved to second on lap three and Creek was in third place. Henderson then suffered wiring issues and dropped out of the lead with Shortis moving to the lead on lap six and Creek hitting the front on lap seven to go on and take the win. Creek from Shortis, Powell (#44 James Powell Mechanical – Ford), Balins, McDonald, Danny Smith, Jamie Atkin and Henderson who crossed the line despite his mechanical issues.
Maclean and Milthorpe began on the front row in heat four with Maclean the current Victorian champion and Milthorpe an emerging talent in his first full adult season of adult racing. Frost (#46 Autobarn Albury – Commodore), McCarten and Cornelius began further in the pack and were likely challengers.
Maclean led from the green with Milthorpe in tow and Frost quickly getting into third with McCarten and Cornelius (#76 Cornelius Prestige Panels – Commodore) making up a top five. McCarten pulled out at the end of lap two after hitting the wall and breaking his car, moving Cornelius up a spot. Frost made a move past Milthorpe on lap six into second as Maclean continued on to take a win from Frost, Milthorpe, Cornelius, Robl (#19 Wadley Kerbmakers Wangaratta – Commodore), Brewer, Walliss and Copeland.
Jack Milthorpe (#5 Dunkley Paint & Panels – Commodore) was the heavy favourite as six drivers greeted the flag in the fifth heat. Brewer led lap one from Milthorpe and Robl before Milthorpe and Robl moved into the lead two places on lap two. Leading every lap from then on Milthorpe defeated Robl, Brewer, Jamie Atkin, McDonald and Walliss (#96 D & M Scrap Metal – Commodore).
The final heat of the night was a disaster for a number of drivers not finishing the race. Maclean, Henderson, Creek and Smith amongst them. Maclean led lap one and two again from a pole position start with Smith alongside. Smith (#36 Billabong Agricultural – Commodore) had a good early run battling with Frost taking second on lap two before drifting back in the race. Maclean's mechanical woes occurred on lap two and Cornelius moved to the lead and was never headed, she defeated Powell, Frost, Shortis, Copeland and Todd Atkin.
With Victorian Champion Ross Maclean unable to make it to the feature race for Goulburn Ovens Sedans after blowing a diff in his last heat race, a top eight pole shuffle delighted fans with Clint Henderson making his way from around eighth place all the way into the pole position as he knocked off the likes of Troy Frost, Jack Milthorpe, Chelsea Cornelius and Nathan Shortis all before him.
The field for the QA Kitchens GOSA 1000 feature race which also doubled as a point score event in the Wahgunyah track championship supported by Elite Panels and Paint was Henderson, Frost, Milthorpe, Cornelius, Powell, Shortis, Creek, Jamie Atkin, McDonald, Brewer, Copeland, Walliss and Todd Atkin.
Henderson continued on his run from the pole shuffle and led the field on lap one from Frost, Cornelius, Milthorpe and Shortis. The field continued in that order until lap seven when Milthorpe moved ahead of Cornelius. On lap nine Milthorpe passed Frost and Cornelius and Frost had a minor collision with both seemingly able to continue.
Cornelius however pulled infield with a flat tyre and out of the battle.
On lap fourteen of Frost moved back in front of Milthorpe, with Shortis and Creek the top five. At the drop of the chequered flag the top five were followed by Powell, Jamie Atkin, Copeland, Brewer, Walliss, McDonald and Todd Atkin.
Goulburn Ovens Sedan Association would like to thank the sponsors:
Max's Motor Museum, Corowa – Maverick Boats, Corowa – QA Kitchens, Albury – Elle Mae Hair & Beauty, Corowa – Corowa Kitchens & Cabinets – Psychic Tina, Leeton – Wahgunyah Rock Yard, Wahgunyah – Stevo's Painting Services – Cornelius Classic Panels, Corowa – Ace Smash Repairs, Leeton – MP Sheds, Leeton – Corowa Glass, Corowa – Dunkley Paint & Panels, Corowa
Written by
Dean Thompson
DMT Sports Media
For Goulburn Ovens Sedan Association