Wahgunyah Speedway action on Boxing Day filled the spectator banks with all the club classes providing a great night's entertainment, including a win in the Noel McGrath Memorial to Trevor Mills for the first time ever, whilst Jacob Vuillermin, Nick Cherry, Gemma Laidlaw, Nathan Shortis and Liam Powell won other feature races.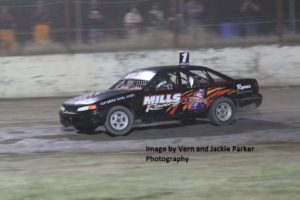 Mills had never won the Noel McGrath Production Sedan Memorial and had competed against Noel back in the day; he was delighted to come out on top whilst things were not easy during the night with a crash in qualifying damaging his and other cars.
Mills a Corowa local won the final from Brendan Harper, Rutherglen youngster Jack Milthorpe, James Hodak and Raymond Ussher. Mills won two heat and Brett Norman the defending winner the other whilst in heat two a top end crash seen a few cars tangle and Stephen Laidlaw's car along with Mills damaged, neither drivers were happy chaps afterwards.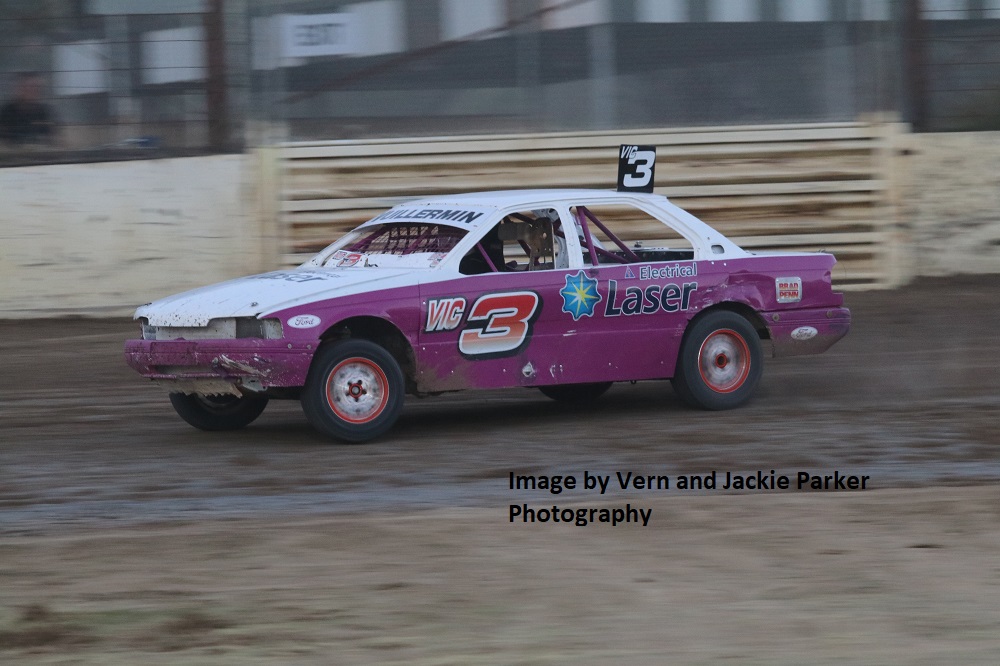 With the Victorian Standard Saloon title at Wahgunyah this season in March, a number of drivers from other clubs made the trip up to get some development time on the track and compete in round one of the North East Regionals. Gippsland competitor Jacob Vuillermin came from back in the starting order off the fourth row and turned in a superb drive to win ahead of South East Melbourne's Brad Hill with Shane Stewart, Warrick Howie from Chiltern and Aaron Marshall rounding out the top five.
Beechworth racer Liam Powell won the Sports Sedan North East Regionals round when he came out on top over the happiest second place finisher of the night Steve Akil. Akil earlier had won his first ever heat race and then to finish in the final second he was almost left speechless. Corey McDonald and brother Tommy finished third and fourth with Tom Barnard closing out the top five.
Having travelled from Coldstream down in the Yarra Valley area, Nick Cherry won three out of the four races for Junior Sedans during the evening. Cherry won the last two qualifying heats and then the final and quickly become a crowd favourite with his infectious enthusiasm that shone through in interviews with the infield announcer. Club member Toby Carmichael finished second with Ricky Cornwall, Will Heiner and Ashleeh Bunt rounding out the top five.
Gemma Laidlaw competed in two classes during the evening and came out on top of the Ladies Open Sedans North East Regionals first round when she defeated Fleur Heiner from the Kiewa Valley. Emily Porter, Melissa Jayne and Taylah Cummins rounded out the top five.
Finally the Goulburn Ovens Sedan Association were competing in a points round for association members with Nathan Shortis after an up and down start to his season coming out a winner in a great battle with James Powell. Not far behind was David Walton with Chelsea Cornelius and Troy Frost rounding out the top five. Fancied runners Frank Gordon and Ross Maclean had nights to forget and its back to the drawing board for them in order to assert themselves at the next event.
Racing at Wahgunyah returns on Australia Day weekend with the Victorian Street Stock title sure to attract a great field of competitors.
Corowa – Rutherglen Speedway Club is proudly supported by:
B & B Freight – Dickens Engineering – Canns Bus Lines – Pigdons Holden Corowa – Bindaree Caravan Park – QA Kitchens – Dunkley Panels – McLardy McShane Insurance & Financial Services – Milthorpe Transport – Winton Motor Raceway – McCartie Motors – Corowa Upholstery – Corowa Furnishings and Floors – Dawson's Haulage – SMC Contracting Services – Cellarbrations Wahgunyah – Hartnett Transport – Heritage Motor Inn – Upton's Steel Supplies – All Day Electrics Rutherglen – Marshall Batteries – Wangaratta Radiators – A1 Oils and Batteries – Hunter Electrical – Cofield & Co Plumbing – Corowa Super IGA – Rod Stone Automotive – Max Maclean Building Supplies – Maverick Marine – Wahgunyah Rock Yard – BJ Burton Trophies – Quantum Printing – Corowa Meats – Vern & Jackie Parker DVD
Written by
Dean Thompson
DMT Sports Media
For Corowa – Rutherglen Speedway Club