Heartland Raceway in Moama New South Wales played host to the Speedway Drivers Association of Victoria Hot Rods, known as the SDAV Hot Rods recently for the Legends Cup an event that honours all the previous club legends that have ever been involved and for the second meeting in a row Shannon Meakins came out the winner, his second important trophy race win of the season, with sights now set on the Victorian title.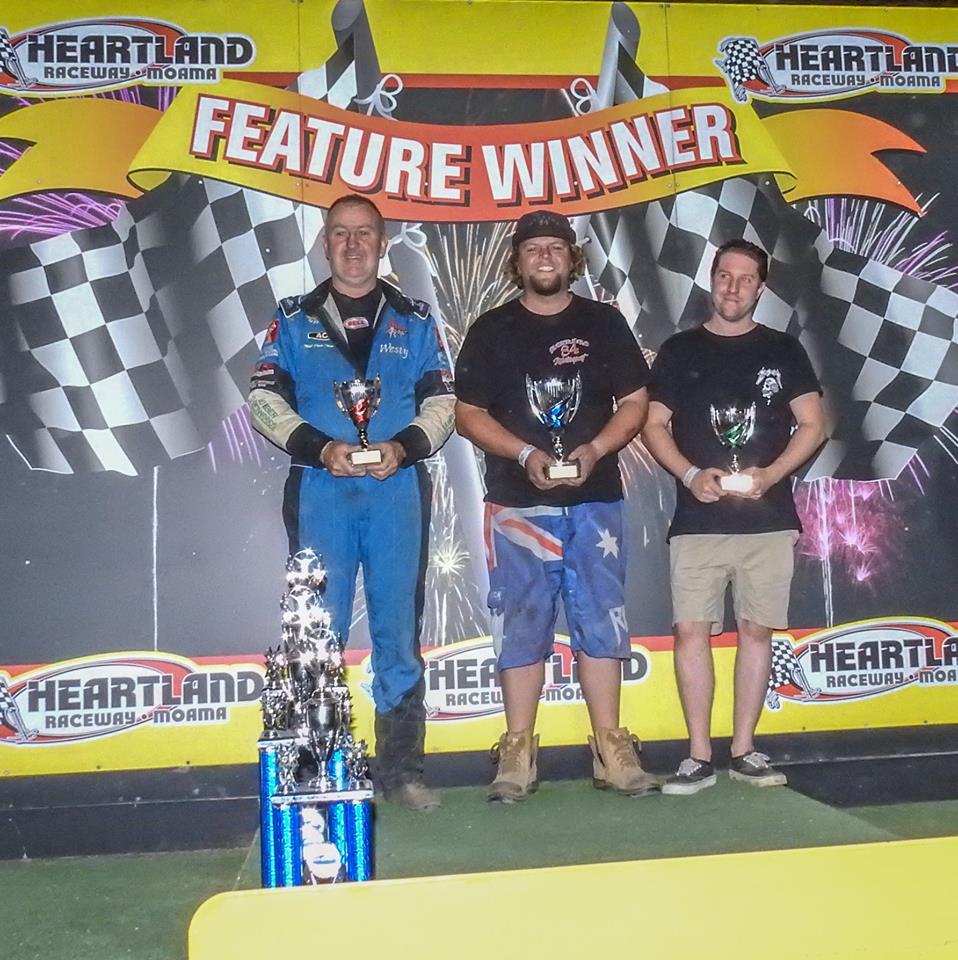 Competing on a big triple title event program with Late Model Sedans, Dirt Modifieds and Junior Sedans the Hot Rods were keen to show their best and attract new fans and supporters, this was done over three heat races to determine the field in the feature event.
Stan Marco Jnr (# 11 Stich Concrete) started heat one from the pole position with Michael Coad alongside and Jamie May, Russell Hovey, Meakins, Dean West, Glenn Lawless, Phil Jenkins, Stan Marco Snr and Kali Hovey. When the green dropped Coad moved to the lead from Marco Jnr, Russ Hovey, May and West (# 4 Lumber Softwoods).
Phil Jenkins (# 3 Consolidated Signage) pulled out with a bent valve on lap three whilst Marco Snr moved into third by lap four. Coad maintained the lead through the eight laps and went on to defeat Marco Jnr, Marco Snr, Russ Hovey, Meakins, West, May, Lawless and Kali Hovey (# 22 Pizza Box Norlane).
West, Kali Hovey, May (# 8 Peak Lubricants), Coad, Lawless, Marco Jnr, Marco Snr, Meakins and Russ Hovey began heat two. West led Marco Snr, Kali Hovey, Coad and Marco Jnr. Marco Snr was super quick on that first lap moving from seventh on the grid to second.
On lap four May passed Coad (# 55 Perry Bros Chassis) and a couple laps later Marco Snr took the lead from West. Marco Snr led the final two laps picking up the win from West, May, Coad, Marco Jnr, Meakins, Kali Hovey, Russ Hovey and Lawless (# 99 Purrfect Cool Airconditioning).
Marco Snr then began at the front of the third and final heat race with Meakins alongside and Kali Hovey, Russ Hovey (# 25 Ribeau Interstate Transport), Lawless, Coad, Marco Jnr, May and West completing the line up.
Marco Snr held the lead on lap one from Meakins (# 83 Mega Auto Parts), Marco Jnr, Russ Hovey and West. Meakins spun on lap two causing a caution light stoppage and a direction to move to the rear of the field.
On the lap two restart Marco Snr, led Marco Jnr, Russ Hovey, West and Coad to the line and a lap later Coad passed West. Marco Snr was competing with the brightest of glowing brakes that some of the spectators could remember and after Jnr passed him for the lead Marco Snr had nowhere to go and slammed into the back of Jnr and ultimately out of the race with damage and brake issues.
Marco Jnr went on to defeat Coad, Meakins who had moved from last to third and held the position by lap five with Russ Hovey finishing fourth then West, Kali Hovey, May and Lawless.
The twelve lap Legends Cup final closed out the night with Coad from the pole position and Marco Jnr alongside. West was next then Meakins, Russ Hovey, May, Kali Hovey and Lawless.
At the drop of the green Coad assumed the lead from Marco Jnr, West, Meakins and May. Meakins moved forward to second on lap two whilst Marco Jnr pulled out of the race with rear suspension concerns.
Coad was under pressure from Meakins over the next few laps and on lap seven Meakins took the lead after Coad got a little of his line and Meakins whizzed on past and into the lead position.
On the last lap Coad spun in turn two and this seen everybody rush on past him, Meakins defeated West, May, Kali Hovey, Lawless and Coad.
Racing this year in the Hot Rods has been quick and close with half a dozen drivers each week a potential winner and no runaway racer every week.
SDAV Hot Rods Club thanks their season supporters:
Mega Auto Parts – Fourth Designs – Ribeau Transport – Purrfect Cool – Pizza Box Norlane
Written by:
Dean Thompson
DMT Sports Media
For SDAV Hot Rods