As the sun beat down on the Rushworth Speedway Saturday night, the crowd piled in for a night of racing that full of V8 open wheel action supported by all the GV class battles that fans of Rushworth have come to look forward too.
The night started on a high, with V8 Dirt Modified's roaring into Sonaray Cup action with Echuca racer Steve Lodwick taking out the initial heat race in what would be his first heat race win in the class, Lodwick was able to hold off a hard charging Darryl Hickson, as well as Craig Williams. Paul Tindal would come from the back row of the grid however his quickest time of the heat was only good enough to get him to fourth place.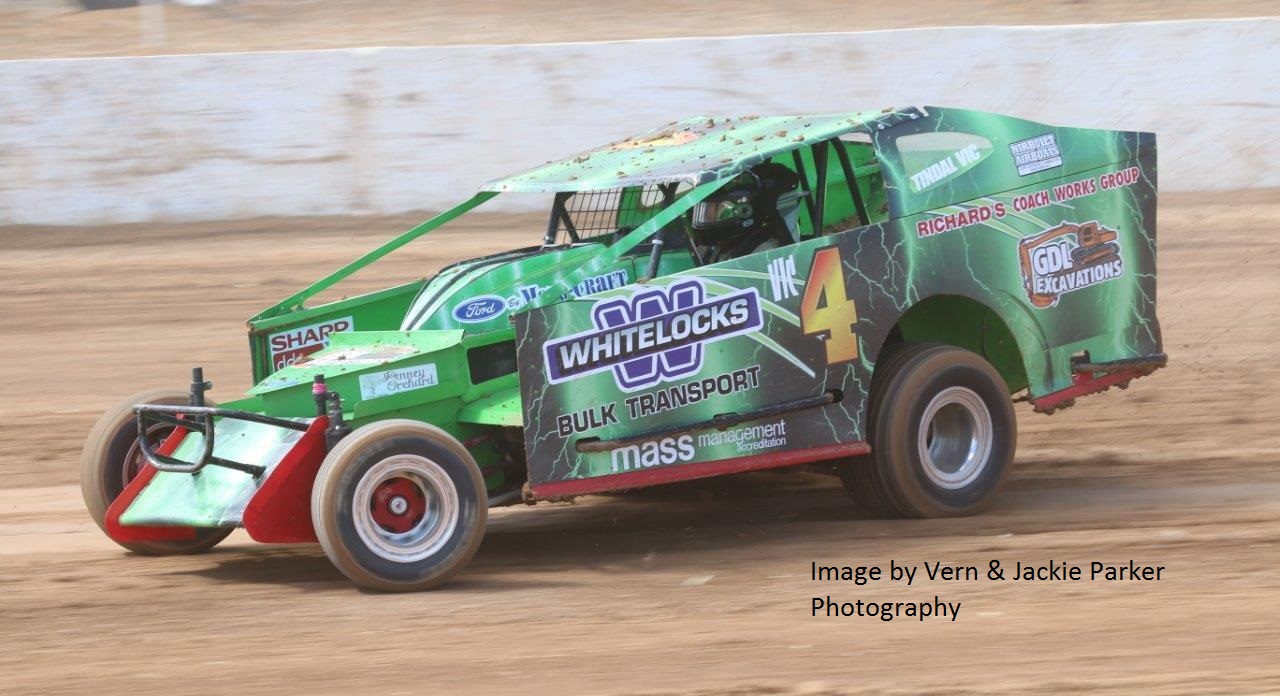 The racing only got harder and faster in the roaring V8 Dirt Modified's with Bendigo based racer Paul Tindal taking out the remaining heat races and eventually the feature race in commanding fashion by 3.9 second s. The Battle for the minor positions was sensational to watch for the enthralled crowd with Daryl Hickson and Lodwick battling it out for thirteen laps, when all of the sudden Stephen Hopkins come from nowhere to steal the final spot on the podium from Lodwick with Hickson taking second. Lodwick finished in front of another racer from Echuca in Darren Tindal.
GV Saloon nominations was spiced up with the intriguing nomination of Super Sedan driver Brad Wicks strapping in to the family run Hyundai in the Open class. Wicks came away with a heat race win where he lapped back to fourth place, however his night was short lived when an incident in Ladies racing saw the Hyundai forced into an early retirement for the night.
Phil Lamb and Adam Box yet again set the bar high both securing heat race wins, there was still plenty of action from others with Brad Simmonds, Peter Welch and Gavin Cooper also taking heat race wins.
The feature race was a belter.
Welch, Box and Lamb duked it out at the front of the field for nine laps before Welch Succumb to a technical fault with his machine leaving Lamb and Box to fight it out for the win. Lamb went on to secure another tight win over Box by just .011. With the Open Saloons and Production Sedans mixed Wayne O'Keefe finished first Production cars in the third overall place which he was understandably pleased with after making a last lap passing move over fellow Production Sedan racer Leigh Jeffery to take the third spot in the overall and first in Productions.
The top five in the Open Saloons were Lamb, Box, Mark Bergman, Brad Simmonds and Keith Simmonds whilst the top five in the Production Sedans were O'Keefe, Jeffery, Shane Hutchins, Scot Burchett and Geoff Lee.
Rushworth were also host to the Ray Welsh Memorial for SDAV Hot Rods to remember a man who was a true pioneer of the sport especially in the Hot Rod class in Ray Welsh. Racing would pay true honour to the great man with four different heat race winners from four qualifying races.
In heat racing Stan Marco Jnr rolled his car after he tangled wheels with competition and tipped his machine onto its lid. Marco was un-injured however and managed to repair his car to get out for the feature race. Russell Hovey was able to take out a strong heat race win along with Dean West with Jason and Jamie May looking in hot form as well before the unique draw from a hat for a feature race starting position that this event holds.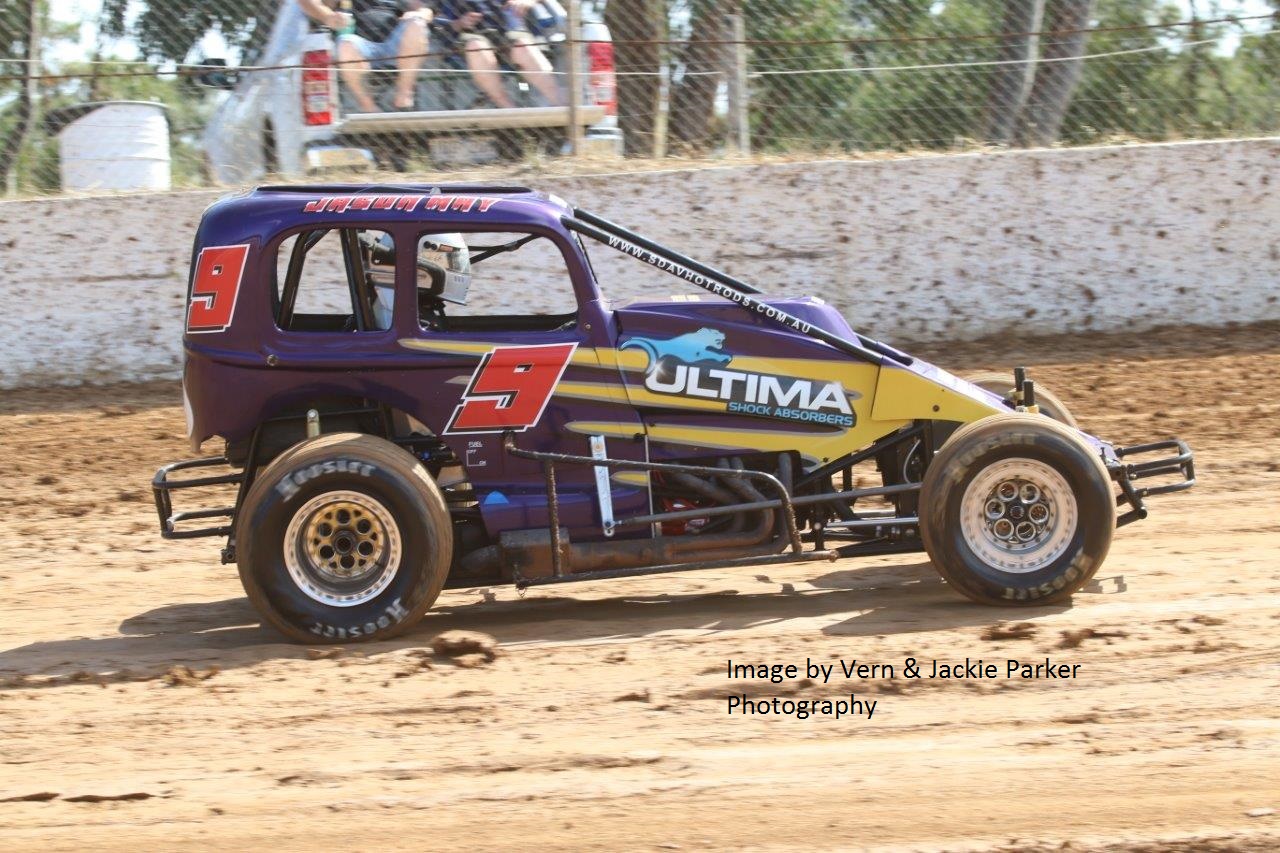 Veteran Russel Hovey ran away with an early lead as Shannon Meakins and the two May brother's cars battled behind him. Dean West began to make his way through the field, as the laps wore down Jason May would come from fourth through to the lead and did not look back. West sliced through the pack however would have to settle for second, falling just short of going back to back with Ray Welsh Memorial wins; Russell Hovey would secure a terrific third spot ahead of Jamie May and Shannon Meakins.
Junior Sedans action finished with the inform Lachie Fitzpatrick retaining his recent stranglehold on the division coming away with another strong feature win. On a hot night at Rushworth other talent such as Tristan McGraw and Daniel Smith shone through as they chased Fitzpatrick to the finish line. Smith finished second and McGraw third, the best drives of their seasons so far for both the minor place getters, Josh Cecil finished in fourth with Tyler Gahan fifth.
It was all Smiles in the Fitzpatrick camp yet again with Jacqui coming away with the win in a reduced field of Ladies Saloons after an incident early in the night saw half of the field not able to return to the track. Chloe Lamb would take out a heat race win as well as Leeanne Hodge grabbing one of her first career heat race wins. Lamb finished second in the feature to Fitzpatrick followed in third by Ally Moore.
Another fantastic night for race fans at Rushworth from all classes with action returning to Rushworth on March 11th and 12th for the Gold Rush for Super Sedans with some of Australia's best competitors coming from the East and the Goulburn Valley.
The Goulburn Valley Auto Club would like to thank the following supporters:
Super Balance Automotive – WG Panels – Goulburn Valley Oil Supplies – Provac Poultry Services – Bourke Fencing – Kyabram Motor Wreckers – The Rushworth Hotel – Kyabram Bearings – Autobarn Shepparton – Dave's Lawn Mowing & Small Engine Repairs – Marty Turpin Mechanical – Ipta Fibreglass – FunCity Entertainment Complex Shepparton – Ross Adams Cartage Contractor – Rushworth Bakery – Maxam Printing
Written by
Harley Tindal
DMT Sports Media
For Goulburn Valley Auto Club t/a Rushworth Speedway