Rushworth Speedway attracted a great crowd on Saturday April 29th when Goulburn Valley motorsport fans packed the facility to watch the running of the Victorian Super Sedan title for the 16/17 with a host of Bendigo based or raised drivers considered a big chance to win the race, as it turned out after thirty five gruelling laps Gippsland's Peter Nicola took the win from South Australian Dave Gartner for the third time in four years, this time by just over two seconds.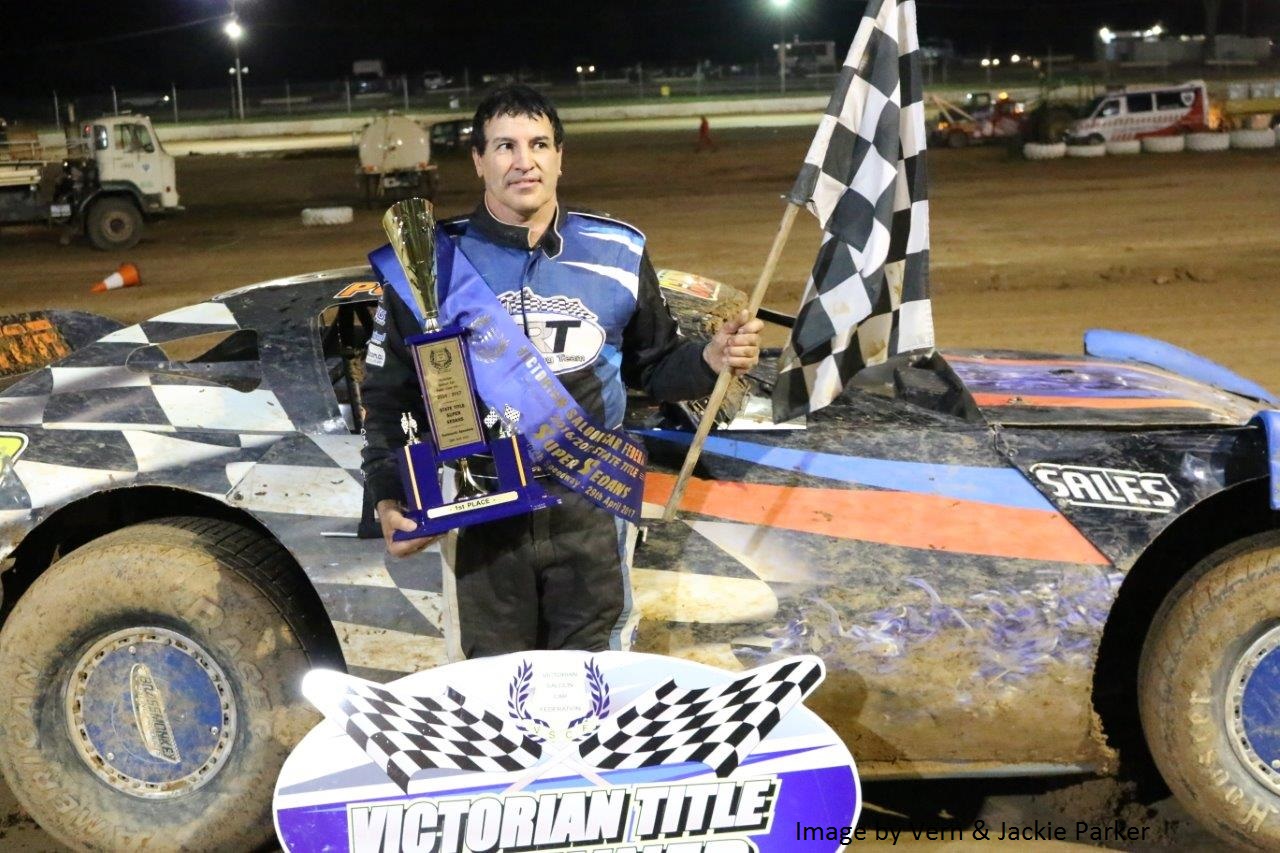 On the same program Dirt Modifieds and all the regular Goulburn Valley heroes in Sedans gave the crowd a great nights racing.
Gartner laid his cards on the table early when in hot laps, (a practice session) he recorded a 16.291 second lap pipping five times title winner Lucas Roberts by just a fraction and Tasmanian Callum Harper and another South Australian Ryan Alexander leaving nobody in doubt of their intentions clocking times around .2 of a second behind Gartner.
Qualifying action meant each driver would race three times each before determining the starting spots for the thirty-five lap final. Ash Bergmeier won the first heat of the night by .599 of a second. Alexander backed up his hot laps with a win in his first heat as did Gartner setting the fastest ten lap time of the first round.
Gartner then doubled up winning the first heat of round two with a faster time than in round one before Alexander also doubled up and set the fastest heat race time of the night at 2 minutes 46.623. Callum Harper was setting the quickest one lap times and in a win in heat six his best time was 15.559, a new track record at Rushworth. Peter Nicola had his only qualifying win in heat seven before Roberts and then Alexander for a third time took wins.
On the back of a clean sweep, defending Victorian champion Alexander began in the pole position for the title race. The most interesting starter in the title race was Mick Nicola Junior who hit the track in Anthony Nicola's race car. Juniors own car suffered mechanical issues during the night and then Anthony's car had been torn apart in heat racing. Junior hit the track in essentially a bar work chassis on wheels with no roof and no rear panel work.
Alexander commanded the race lead until around lap thirteen with Gartner chasing in second and local hope Roberts in on the hunt for a sixth state title in third. Alexander's defence then blew up as the engine let go. Gartner moved into the lead.
Nicola by lap fifteen moved from seventh on the grid up to fourth. It took until lap twenty for him to progress to third. Then second behind Gartner on lap thirty after passing Roberts and first on lap thirty two. Nicola then crossed the line with just over two seconds between he back to Gartner, with Bendigo's Bergmeier third then Harper, Lachlan Onley and Mick Nicola.
In club racing the Open Sedan battle between Phil Lamb and Adam Box continued. Rachel Pratt, Corey Knox, Gavin Cooper, Mark Cecil and Troy Britton were amongst the field.
Box and Lamb both won their first two heat races where they did not clash with each other with Box having the fastest heat race time in the first four heats and Lamb the fastest one lap time. The two finally met in heat five with Lamb taking the win over Box by just .703 of a second in a classic race. Lamb laid claim to winning the fastest heat race journey of 3 minutes 6.559 seconds whilst Box in the chase laid down the fastest one lap of 18.04 seconds. Gav Cooper won the last heat race.
On points with no feature race due to time constraints, Lamb took the win from Box, Pratt, Cooper and Knox.
Wayne O'Keefe returned to form he had earlier in the season with a bang, He won the first heat of the night for Production Sedans by over eleven seconds from a recent Production Sedan winner Shane Hutchins, O'Keefe then won the second heat. Claiming a clean sweep of racing for the night O'Keefe then won the closest heat for the night for the Productions when he pipped Geoff Lee by just .118 of a second. O'Keefe claimed the point's victory from Shane Hutchins, Ian Wilson, Scott Burchett and Lee.
Ladies racing continued with the Chloe Lamb and Jacquie Fitzpatrick season long battle. Lamb began with the first heat win before Fitzpatrick won the next two, however with no feature to determine a outright winner, Lamb's consistency across three heats resulted in her taking the win from Fitzpatrick, Leeanne Hodge, Ally Moore and Cassie Wicks.
Information on the Junior Sedans coming forward is limited however great news for Tristan McGraw picking up his first overall race night win on points from Daniel Smith, Isaiah Hodge, Tyler Gahan and Kodye Basten. A great result for McGraw whose steady improvement through the season has paid off with the top spot trophy finally.
Dirt Modified racing over three heat race events shared race results between Gippslander Brett Clarke who won the first, then Daryl Hickson running a ten lap 2 minutes 40.682 race time in his second round win before winning the last heat also. On points Brett Clarke was the winner ahead of Daryl Hickson and Melbourne's Mike Burke.
On May the 13th action returns with the Legends Cup for the SDAV Hot Rods and the VSA Sprintcars.
The Goulburn Valley Auto Club would like to thank the following supporters:
Super Balance Automotive – WG Panels – Goulburn Valley Oil Supplies – Provac Poultry Services – Bourke Fencing – Kyabram Motor Wreckers – The Rushworth Hotel – Kyabram Bearings – Autobarn Shepparton – Dave's Lawn Mowing & Small Engine Repairs – Marty Turpin Mechanical – Ipta Fibreglass – FunCity Entertainment Complex Shepparton – Ross Adams Cartage Contractor – Rushworth Bakery – Maxam Printing
Written by
Dean Thompson
DMT Sports Media
For Goulburn Valley Auto Club t/a Rushworth Speedway