Racing at Rushworth Speedway on November the 11th was headlined by the return of the Sprintcars and the Standard Saloons competing for the first time at the venue or around twenty years as the two major feature events on the program and the supported by the competitive club classes, fans were treated to a great night's entertainment.
Sprintcar action began with a time trial instead of drawing the program out to a three heat show. Adam Greenwood claimed pole position for heat one when he blistered around the track in 14.052 seconds, down on Bobby Daly's time of the last couple of seasons yet half a second quicker than anybody else in the session.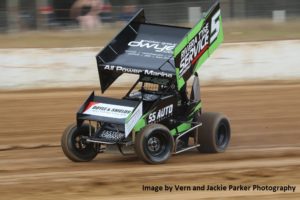 Second fastest in the time trial was Shane Steenholdt and he went on to win both of the qualifying heats setting the line up for the feature race. Steenholdt led the feature race from start to finish as Greenwood pulled infield early due to mechanical issues, Dave Dennison assumed second and Alistair Bastian made an early pass on Mark Laity to move into third. The results of the final were Steenholdt, Dennison, Bastian, Andrew Neilsen and Laity.
Some Bendigo and Goulburn Valley Club racers have stepped into Standard Saloon racing this season and although some of them didn't have cars ready for this meeting, drivers from Swan Hill, Gippsland, South East Melbourne, Geelong and Mornington Peninsula made the trip into Rushworth to compete in what was a Victorian state points round and Rushworth club feature event.
The 'Sonaray Lightning Cup' supported by Melbourne based firm Sonaray Lightning was to be a highly sought after victory for one driver and Tim Hutchinson from the Redline club started the night strongly in only his second race meeting in the car he now drives with a win, Shane Stewart had a massive win in heat two before Brad Hill won a close race over Nick Chrystie in the third.
An even closer finish in the fourth heat with Stewart picking up a second win over Russell Hill by just .357 of a second at the finish line before Hutchinson defeated Scott Whittle in his only race of the night due to engine concerns and former Victorian champion Micheal Ardley won the last heat race.
A twenty lap final awaited competitors and Stewart and Chrystie started the front row whilst Whittle with his engine concerns and Russell Hill with crash damage sustained during heat two did not start the feature event.
Chrystie moved to the lead on lap one, Ardley moved from fourth to second on the same lap as he passed Hutchinson and Stewart. By lap five Jacob Vuillermin the current defending point score champion had moved to third. Backmarkers in the field were caught by lap ten the halfway mark as Chrystie motored on lapping up to seventh place.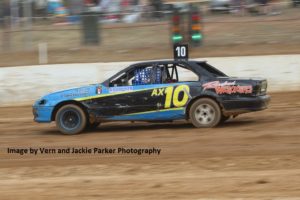 When the chequered unfurled Chrystie had won from Vuillermin who made a late race pass on Hutchinson, Brad Hill in fourth and Stewart in fifth place.
Paul Lamb and Adam Box resumed battle in the GV Open Sedan competition and early indications were it was going to be them fighting it out all night, yet that was not the case by heat three.
Getting the night started, Box picked up the heat one race win over Lamb before Lamb reversed that in heat two, Box set an 18.995 fast time during this race before he won the third heat over Steve Hopkins when Lamb finished infield and out of the placings.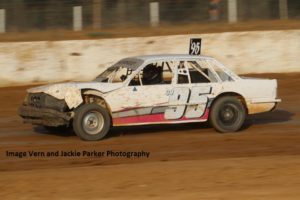 Box and Lamb then lined up side by side for the feature race event and stunned the crowd when a crash just after lap one had started broke both cars enough to have them both carted into the infield to watch proceedings and ponder what might have been. After the early leader Mark Bergman faded, Hopkins then went on to pick up the win from Brad Simmonds by just .061 of a second with Neil Johnson almost eight seconds back in third and then Braiden Simmonds and Garry Gapes rounding out the top five.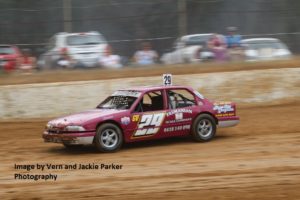 With current class champion Wayne O'Keefe absent from the entrants in Production Sedans it left the door wide open for a new winner or a return to victory lane from a past champion, and it would be a return to victory lane for a past champion that would conclude Production Sedan racing when Leigh Jeffery picked up the win.
Ian Wilson followed by Jeffery with a best one-lap time of 19.967 and then Shane Hutchins took the three heat wins between, Hutchins in the closest margin winning by .365 of a second. Jeffery then bolted to a feature race win with a comfortable margin over Hutchins with Troy Britton in third after leading the first lap and then Geoff Lee and Dale Smith.
After missing the last race meeting Chloe Lamb re-joined the field for the Ladies Saloons adding to the little competition Kelly Lamb and Felicity Roycroft had started at the last show. Heat wins went to Chloe Lamb, Kelly Lamb and then Chloe Lamb again in heat three with a fast lap time of 20.348. Chloe then defeated Roycroft by almost ten seconds after Roycroft had led the initial two laps. Kelly Lamb finished third ahead of Chelsea Hodge and Maddie Naismith.
Lachie Fitzpatrick continued his winning ways in the Junior Sedans with wins in all three heats and a fast time of 20.046 before a huge ten-second victory in the feature over Tristan McGraw, Luke Cecil, Daniel Smith and Josh Cecil concluded the Junior Sedan racing for the night.
Rushworth will next see action on December the 9th with the big powerful and exciting Late Model Sedans for their annual visit. These lightweight yet powerful machines thrill fans with their noise and the body language as the chassis twists and the front left wheels hike off the ground to get around the turns, a show not to be missed.
The Goulburn Valley Auto Club would like to thank the following supporters:
Super Balance Automotive: Shepparton – WG Panels: Rochester – Provac Poultry Services: Bendigo – Bourke Fencing: Bendigo – Kyabram Motor Wreckers: Kyabram – The Rushworth Hotel: Rushworth – Kyabram Bearings: Kyabram – Autobarn Shepparton – Marty Turpin Mechanical: Tatura – Ipta Fibreglass: Geelong – Ross Adams Cartage Contractor: Rochester – Rushworth Bakery: Rushworth – Maxam Printing: Shepparton – Pearce Concrete: Golden Square – Michel Signs: Shepparton – Sonaray Lighting: Melbourne – The McIvor: Bendigo – Superior Concrete & Construction: Bendigo – A1 Water Supplies: Tatura
Written by
Dean Thompson
DMT Sports Media
For Goulburn Valley Auto Club