SDAV Hot Rod racing on February the 24th was by way of the prestigious Ray Welsh Memorial race at Rushworth Speedway in the Goulburn Valley with a handy car count on hand battling for honours and remembering their mate Ray and it would be Shannon Meakins who put in a fantastic drive to walk away as the winner of the memorial, as a result winning a race his wife has won previously before him.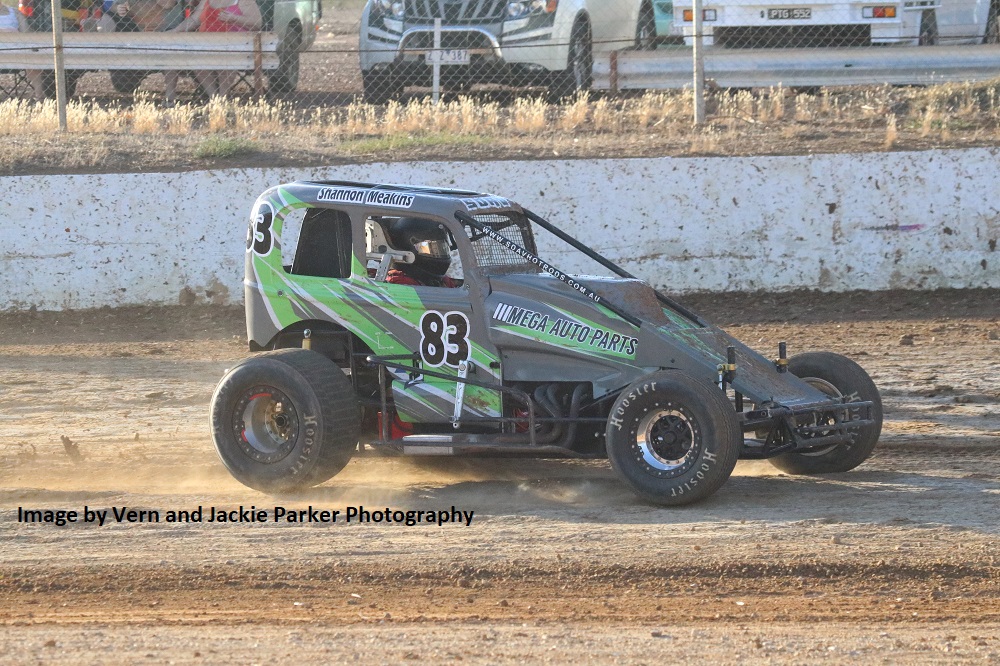 Elaine Welsh, Rays wife was on hand of course and her and the family could not wait to see what unfolded during the four heat races and the twenty lap final.
Jamie May (#8 Peak Lubricants) and Kali Hovey started heat one at the front of the field with Phil Jenkins, Shannon Meakins, Glenn Lawless, Stan Marco Snr, Vaughn Matthey (#12 Western Glass Technology) and Russell Hovey greeting the green flag.
May led lap one from Jenkins, Marco Snr, Lawless and Russ Hovey. Marco Snr drove past Jenkins on lap two and into second as Meakins moved into fifth past Russ Hovey. Lawless moved into third on lap six with Meakins into fourth as they got passed Jenkins (#3 P & S Automotive Services) and then Meakins took third on lap eight.
Matthey pulled infield with over-heating concerns and the chequered flag dropped on May defeating Marco Snr, Meakins, Lawless, Jenkins, Russ Hovey and Kali Hovey (#22 Athena Photo Booth Hire).
Dean West and Michael Coad lined up at the front of the field for the second heat race with Michael Lee, Marco Snr, Russ Hovey (#25 Ribeau Interstate Transport), Kali Hovey, Jenkins and Lawless completing the line-up. At the drop of the green Coad assumed the lead and Marco Snr slotted in behind him as they lead West, Lawless and Jenkins to the line.
A caution light on lap three as Kali Hovey's machine came to a stop on the back straight. The car re-fired however she assumed position at the rear of the field before the field continued to the finish line without a pass being made after the caution with Coad (#55 Perry Bros Chassis) defeating Marco Snr, West, Lawless, Jenkins, Russ Hovey, Kali Hovey and Lee.
Russ Hovey and Meakins were the front row for the third heat with May, Jenkins, Coad, Kali Hovey, West (#4 Dandy Bolts) and Lee with Thomas Marco un-able to start a second time for the evening. Meakins took the lead on lap one with Russ Hovey, Jenkins, Coad and May in chase. Jenkins moved to second on lap two as he and Coad passed Russ Hovey who dropped back to fourth.
On lap three Coad moved into second, May into third, Jenkins dropped to fourth and West moved into fifth as Russ Hovey dropped back to six in a string of passing moves. West moved up past Jenkins and May and as the chequered flags waved, Meakins had the win from Coad, West, May, Jenkins, Russ Hovey and Lee whilst Kali Hovey had finished infield with gear issues curtailing her run.
In the final qualifying race of the evening Lawless (#99 Wally's Design and Fabrication) and Matthey started from the front of the field with Marco Snr, Lee, West, Coad, Meakins, Thomas Marco and May. Thomas Marco's night didn't improve as he finished in the infield still unable to sort out the cars issues. His father Stan led lap one from Lawless, Coad, West and Meakins. Coad moved into second on lap two and Meakins started his move forward on lap five moving into fourth ahead of West.
On lap six Meakins went past both Coad and Lawless and slotted into second before passing Marco Snr (#5 Stich Concrete) into the lead on the next lap of the race. A caution as Lee spun bunched the field again however Meakins would continue on to win from Marco Snr, Coad, Lawless, May, West, Matthey and Lee.
A traditional grid draw by Elaine Welsh with drivers being slotted in to a spot as their names were drawn mixed the field up for the twenty lap final. Russ Hovey and Matthey were drawn on the front row with Meakins (#83 Mega Auto Parts), West, Marco Snr, Jenkins, Lee, May, Coad, Lawless and Kali Hovey in that order.
May was unable to greet the starter as the car would not fire. Russ Hovey led the first lap from Meakins, Marco Snr, West and Matthey.
Lawless past Matthey on lap two into fifth. Marco Snr past Meakins on lap four only to have Meakins whizz right past again on lap five.
On lap six Meakins and Marco Snr moved into first and second and Russ Hovey dropped back to third. Laps ran down for a while as the field hit lap twelve before Coad was able to move into the top five by passing Lawless. Coad then passed Russ Hovey on the next lap; Kali Hovey's car had front end damage that had ended her night.
On lap seventeen in the last passing of the night Coad moved to third passing West and Meakins held on at the front of the field to finish off the twenty lap non-stop feature event with a victory over Marco Snr, Coad, West, Russ Hovey, Lawless, Jenkins, Matthey and Lee.
All the competitors were delighted with their races. A non-stop race was a great effort by all. Russ Hovey hung around at the front of the field for a long time, Lawless had a terrific run and Matthey and Lee had smiles after finishing the race as finishes have been hard to come by.
Meakins after the race could not contain his delight at picking up the Ray Welsh Memorial win. "It is an honour to now have my name on this trophy with the other great winners including my wife, so far.
Thank you to the Welsh family for continuing to join us for this event, thank you to Rushworth and everybody involved with the association. Thank you to my wife and family for their support of my racing."
Next up for the Hot Rods is the Legends Cup at Heartland Raceway in Moama just over the river on March the 17th.
SDAV Hot Rods Club thank their season supporters;
Mega Auto Parts – Fourth Designs – Ribeau Transport – Purrfect Cool – Pizza Box Norlane
Written by
Dean Thompson
DMT Sports Media
For Speedway Drivers Association of Victoria Hot Rods