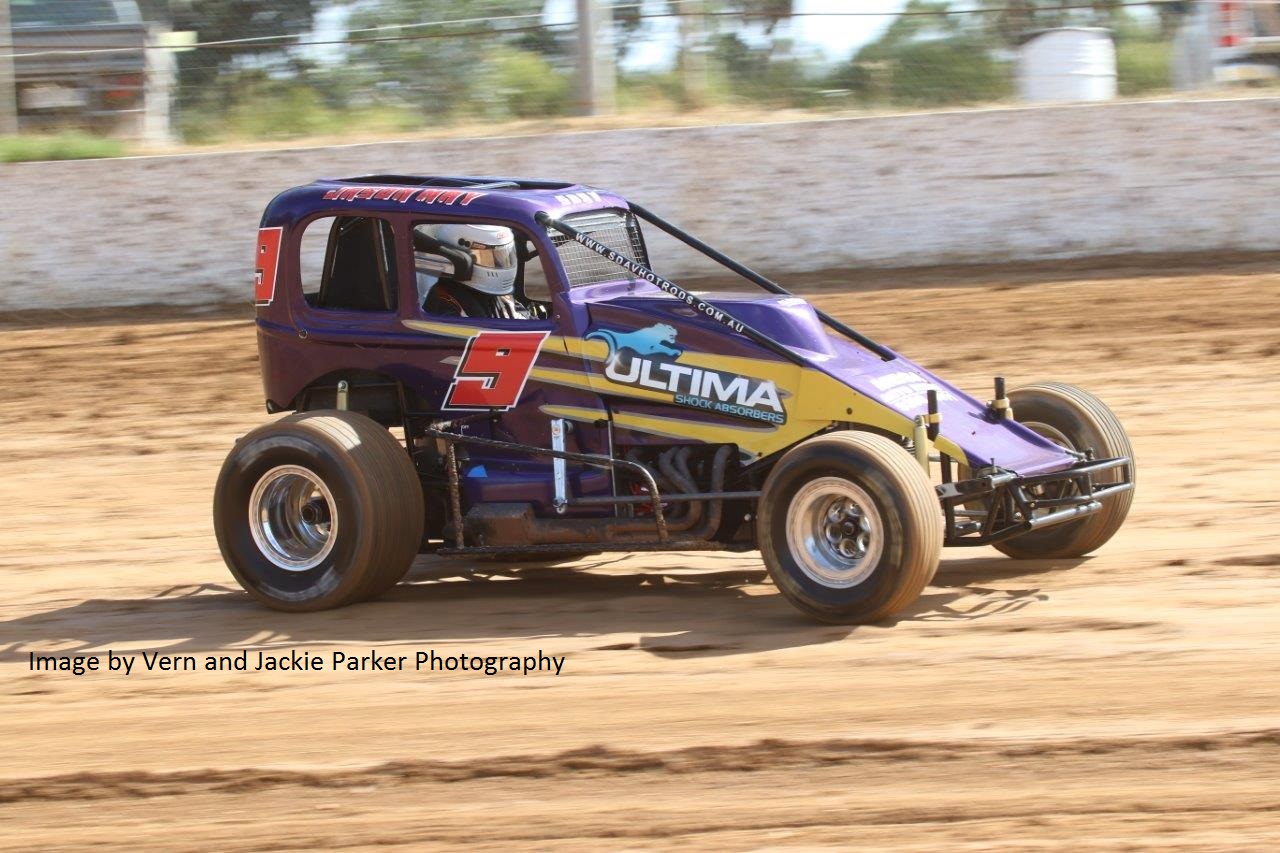 The Speedway Drivers Association of Victoria Hot Rod Club recently ventured to the Goulburn Valley for the annual twenty lap Ray Welsh Memorial feature event and this season the honour of winning the race went to Jason May ahead of defending winner Dean West and club stalwart Russell Hovey when the event featured in front of a great crowd on February 4th.
Four Heat races were held with no bearing on the feature race placings at all with the starting positions for the final drawn and anybody could have started anywhere.
Glenn Lawless (#99 Wally's Fabrications) a winner last season at Drouin Speedway started from poll position with Kali Hovey alongside and the defending winner of the event and Victorian Champion Dean West starting on the second row. West had no plans on staying there and moved quickly into the front of the field Kali Hovey chasing and Jason May in third. May moved to second on lap two whilst Stan Marco Jnr came to a halt with no power steering.
On lap seven (Jason) May (#9 Ultima Shock Absorbers) moved to first spot passing West and at the chequered flag it was Jason May over West, Shannon Meakins, Kali Hovey, Lawless, Stan Marco Snr and Graeme Briggs.
Phil Jenkins, Jamie May and Russell Hovey (#25 Ribeau Interstate Transport Carries) joined the fray in the second heat with front of the field starting spots whilst Marco Jnr didn't get on track due to the power steering issue. Jenkins didn't make it past the start line on lap one when he had braking issues and Jamie May led Russell Hovey and Russell's daughter Kali, and Russell's son in law Meakins on lap one, it's a family affair in the SDAV.
On lap five Kali Hovey and Meakins (#84 Kilmore Towing & Transport) passed Russell Hovey for second and third place however when the laps ran out it was Jamie May winning his first ever heat race from Kali Hovey, Meakins, Marco Snr, Russell Hovey and Briggs (#88 Clegg Road Panel Services).
Jason May and West (#1 Lumbar Softwoods) then began at the front of heat three pitting the two strongest performing drivers in a heads up match up. Jason May secured the lead and went about leading lap one before he spun after passing the start finish line in turn one.
A complete restart and this time West led Meakins, Kali Hovey (#22 Pizza Box Norlane), Russell Hovey, Jason May and Lawless. Jason May drifted back in the field on lap four as West secured a heat race win ahead of Meakins, Kali Hovey, Russell Hovey, Lawless, Jamie May, Jenkins (# P & S Automotive) and Jason May.
Finally Marco Jnr (#2 Darby Paints) and Marco Snr got to line up side by side on the front row in heat four with Marco Snr taking the led as they finished lap one with Jnr behind him then Russell Hovey, West and Jason May.
Lap two and the lead across the line went to Marco Jnr as his old man faded back through the field, Jason May moved into third behind Russell Hovey. Hovey moved to the lead on lap six and Marco Jnr drifted back and Jason May moved into second.
Jason May again spun and lost his chance of a win, this time on lap seven in turn three with Marco Jnr and Jamie May having nowhere to go accept into the stricken car, Marco Jnr collided and then rolled over. All competitors were ok.
Russell Hovey went on to win from West, Jamie May, Jenkins, Lawless, Marco Snr (#5 Johnny Dyno Engines) and Briggs.
With the drawn final determined Meakins a former Victorian Champion was selected to start from pole position with Russell Hovey alongside.
Briggs and Jamie May drew the second row with Jenkins and Kali Hovey on the third. Marco Snr and Jason May drew the fourth row with Lawless and Marco Jnr behind them and West, the defending champion just happened to draw last spot.
Russell Hovey who loved competing against Ray Welsh and travelling around Victoria to go racing would have been a fairytale story to win this Memorial, so Hovey set hearts aflutter when he led lap one from Meakins, Jamie May, Jason May and Kali Hovey.
Jamie May moved into second on lap two as Meakins dropped back to third whilst West who began in eleventh place was in fourth behind a third placed Jason May on lap three.
Caution flags came out when Marco Jnr spun on lap six and then again on seven when Marco Snr spun. On lap eight Russell Hovey's time at the front ended when Jason May took the lead with Jamie May in third and then West and Meakins.
West moved into second on lap twelve with Russell Hovey back to third and Jamie May to fourth and then a few laps later on lap fifteen Marco Snr hit the wall breaking his diff and putting him out of the race.
Lawless pulled infield as his car started to overheat and the first lap after the restart Kali Hovey did the same.
Jason May led West, Russell Hovey, Jamie May and Jenkins on lap seventeen and that's how position remained to the finish with Meakins trailing the top five in sixth spot.
Jason May was elated at the presentation as all drivers to date have been when winning the race in honour of the great man Ray Welsh. His wife Elaine was part of the presentation process which always adds to the occasion. May went on to say "The Welsh family and in particular Ray contributed a lifetime to our club and our sport, I could not be happier than I am right now to have won a race. It is always special to see Elaine here also, well done to Dean and Russell on their results and my little brother Jamie, I am very proud of his fourth place finish tonight."
Another event recently was the Bairnsdale Speedway 'Thunder Down Under' series round and the Victorian Champion Dean West was able to out gun Marco Snr and Jnr who both completed the podium. Kali Hovey and Jamie May rounded out the top five.
Written by
Dean Thompson
DMT Sports Media
For DMT Sports Media