The 20117/18 season has been a season of re-establishment for the Victorian Speedway Council Unlimited Sedans with a set of new rules agreed to back in July 17 finally being written and implemented in December to take effect from January 1st 2018 and adhering to the those rules a dozen purpose-built chassis cars competed in the Victorian Unlimited Sedan title with Warrick Taylor clean sweeping the night in taking out the title victory.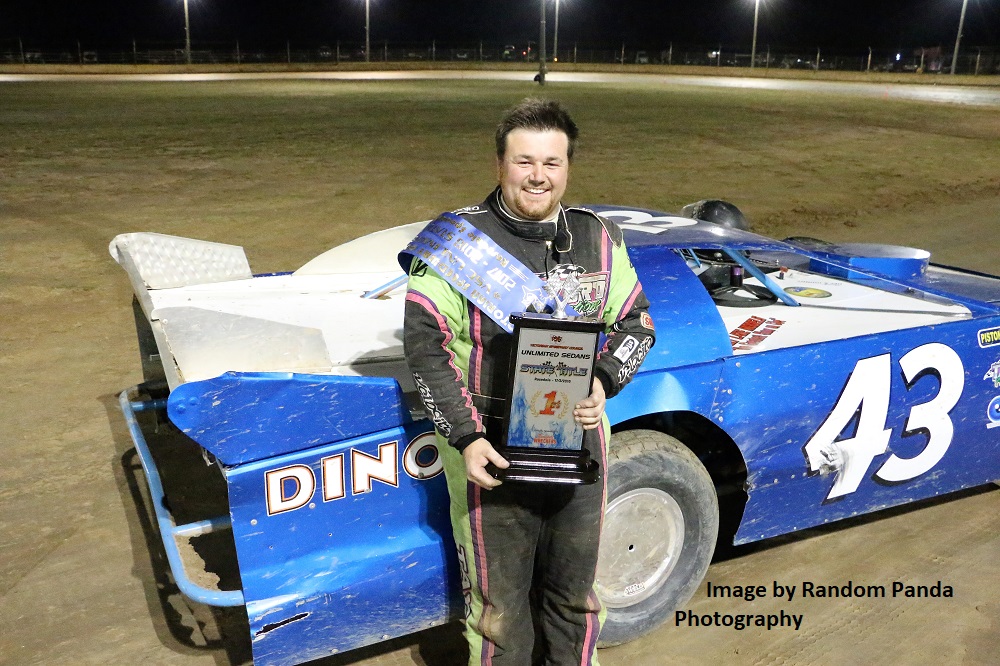 Competitors now registered in the class come from Bendigo, Geelong, Melbourne's Western Suburbs, Melbourne's Eastern and South Eastern Suburbs, the Yarra Valley, Latrobe Valley and East Gippsland and a dozen of them competed in the title.
Competitors raced in three of four heat races with Warrick Taylor, Lennie Bonnici, Sean Lister the reigning champion, Darren Nelson, Nathan Fawns, Johnny Young, Dale Mead, Daryl Nicolson, Peter Cox, Nathan Lightburn, Daniel Angus, Adam Hutchison and Alan McKinnon on hand to chase the win.
Heat one results showed Lister ass being the fastest on track with a 19.818 one lap time as the race went green to chequered non-stop with Taylor in his Late Model Sedan chassis picking up the win over Nagambie Club driver Bonnici who moved from the inside third row to finish second, Lister, Nelson and Fawns rounding out the top five.
Young, Mead and Nicolson were all on the lead lap in sixth to eight then Hutchison, McKinnon and Cox a lap down.
Lap times approved again in the second heat with Taylor dropping below the 19 second bracket slotting in an 18.754 one lap time as he defeated Cox and Bonnici who both ran faster than the first heat best lap time. Fawns finished ahead of his car owner Nelson as those two picked up fourth and fifth. Nine of the ten starters finished on the lead lap with Lightburn sixth, then Angus, Hutchison, McKinnon and Young a lap down.
Lap times slowed down in the third heat however a new ten lap fast time was put in the books with Taylor winning in 3 minutes 20.592 seconds making it three from three after starting from row three for Taylor when he beat Lister whom he had to pass to take the lead to the finish line with Fawns, Lightburn and Mead rounding out the top five places. McKinnon, Nicolson and Angus finished sixth to eighth.
The final heat of the night was an opportunity for competitors to pick up a win with Taylor having completed his three heats. Lister took that chance and converted coming out ahead of Bonnici by around 100 metres. Nelson, Cox who had a good run from seventh and Lightburn rounded out the top five. Rounding out the rest of the field Nicholson was sixth then Hutchison, Angus and Young and Mead who both finished after spending time infield.
In heat four Dale Mead crashed hard and bent the rear end of his car and also sustained some front-end damage. He ended up with sore ribs however was cared for by the medics.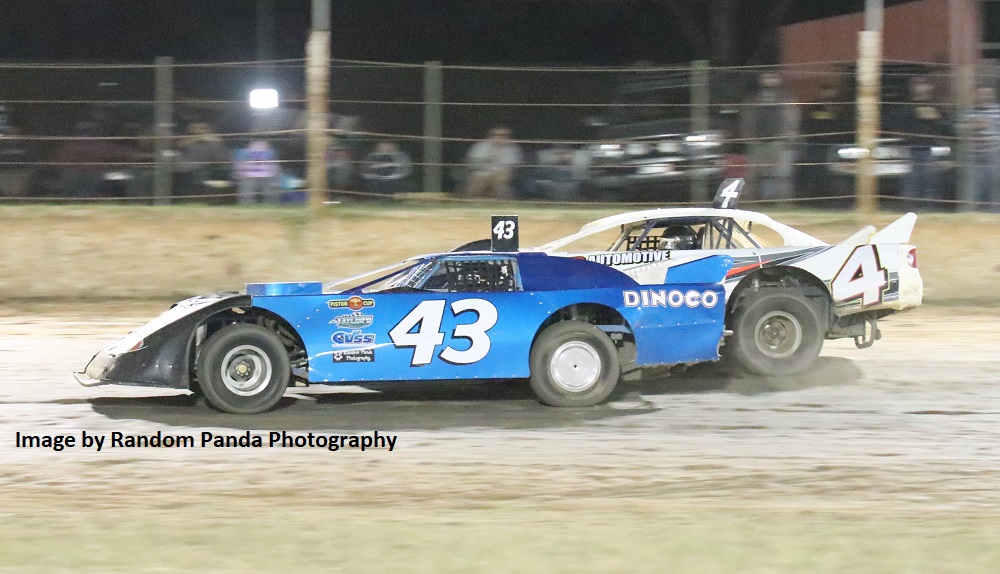 A massive thirty five lap final was greeted by twelve drivers after a track water and pack. Taylor and Lister started on the front row with Bonnici, Fawns, Nelson, Lightburn and Cox the top runners.
Moisture really came through the track for the feature race and times were the best they had been for the whole night with Taylor, Nelson and Lister in the mid to low 18s and Taylor putting down a 18.231 lap time.
Taylor was hustled most of the way by Lister from Geelong. Through the early to middle stages Taylor did get to a half a lap lead before cautions pulled him back to the field. Bonnici had the better of Nelson until after the half way point of the race and Fawns, Nicholson and Lightburn in their similar race cars had a great battle until Fawns finished infield on lap twenty one with a flat tyre a lap after Hutchison pulled infield with his car over-heating.
For the last race re-start with ten laps to go all the cars on the lead lap were nose to tail with each other awaiting the green flag with all the hard work Taylor had done in putting a gap on the field gone. Any mistake would be all Lister, Nelson or Bonnici would need to pounce and take control of the race, a perfect start was needed for Taylor, the game was on.
The green dropped, Taylor nailed his re-start and began the process of creating a gap and pulled out to a more than five second lead.
Nelson was closing on Lister and Nicholson got the better of Lightburn with Angus and McKinnon a few laps behind, the chequered dropped and Taylor won from Lister, Nelson, Bonnici, Nicolson, Lightburn, Angus and McKinnon.
Taylor after the race spoke to media representatives with passion about the class. "This class will really take off. We have a group of competitors that enjoy each other's company and a laugh. You can bring whatever you can afford and come and join us, we help each other and the crowd loves the sound and unique look of what we have to offer. It is a thrill to win tonight's Victorian title and I would like to thank Max Jones of the VSC and Dough Parker a consultant of the group for their support along with others in the background who have been helping. Come and talk to us and get on track to have some fun."
Written by
Dean Thompson
DMT Sports Media
For VSC Unlimited Sedans