The SDAV Hot Rod Club made the trip recently to Rosedale Speedway for their latest point score event with thirteen competitors ready to go, it would be Michael Coad from the South West Coast of Victoria who would come out on top after a hard fought on track battle.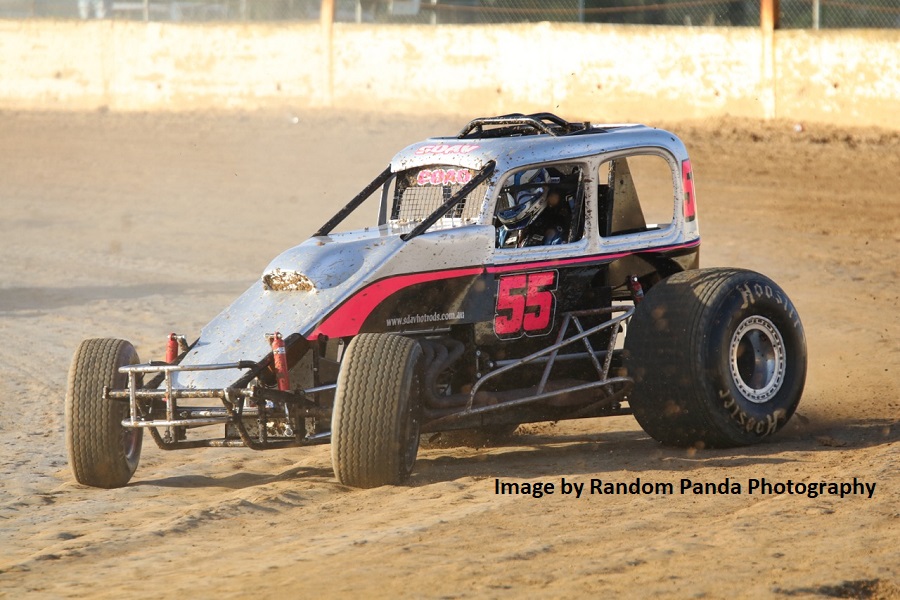 Four heat races with each driver engaging in three would lead into the fifteen lap feature later in the evening. Coad would not see the track until the second heat along with Shannon Meakins in his new race car, Thomas Marco and Stan Marco Snr.
Russell Hovey (#25 Ribeau Transport) would line up at the front alongside Phil Jenkins in heat one with Mick Lee, Glenn Lawless, Vaughn Matthey, Jamie May, Kali Hovey, the returning Dean West and Stan Marco Jnr (#11 Stich Concrete).
Russ Hovey got away to the race lead on lap one with May, West (#Lumber Softwoods), Lee and Jenkins giving chase. The freight train kept their machines in order right through to lap seven where they lapped Lawless whilst Kali Hovey pulled out with mechanical issues.
Hovey pushed on and took the first win of the night from May, West, Jenkins, Marco Jnr, Lee and Lawless (#99 Purrfect Cool).
Thomas Marco lined up from pole in heat two with Meakins (#83 Walts Wishes) in his new car, the ex Jason May Victoria #1 car. Sadly for the class and the sport of Speedway Jason May has recently had to retire due to physical pain. After Meakins in the line-up were Lawless, Matthey (#12 Westside Glass Technology), Marco Jnr, Coad, Kali Hovey, Jenkins, Marco Snr and Jamie May.
On the lap one the stewards black flagged Jenkins (#3 Consolidated Signage) after the steward could not get his attention due to the driver ear piece not working, the black flag put Jenkins infield.
Lawless led lap one from Meakins, Marco Jnr, Coad and Marco Snr (#5 A1 Automotive & Balancing) before Coad moved into second by lap two with Meakins behind.
The order stayed continuous until lap nine when Meakins spun sending him to the back of the field. Lawless held strong and crossed the line on lap ten ahead of Coad, Marco Jnr, Marco Snr, May (#8 Mega Auto Parts), Meakins, Kali Hovey and Matthey.
May started from pole in the third heat with Marco Snr, Coad, Meakins, West, Jenkins, Thomas Marco (#27 Stich Concrete), Matthey, Lee and Russ Hovey. At the first attempt of the race May spun and was sent to the rear of the field.
Marco Snr led lap one from Coad, West, Jenkins and Thomas Marco. Marco got by Jenkins the next lap before dropping back through lap four where Marco Snr, Coad, West, Jenkins and Russ Hovey were holding the top five places. Meakins and Russ Hovey then passed and re-passed each other before the laps ran down with Marco Snr the winner from Coad, West, Jenkins, Russ Hovey, May, Meakins, Matthey, Marco and Lee (#23 Lee Racing Team).
The final heat race of the evening began with Kali Hovey (#22 Pizza Box Norlane) starting on the front row with Marco Jnr, then West, Lee, Marco Snr, Russ Hovey, Coad, Marco, Lawless and Meakins.
Marco Jnr was the first to lead on lap one with West, Marco Snr, Kali Hovey and Meakins the top five. Meakins and Coad (#55 Perry Bros Chassis) passed Kali Hovey and Russ Hovey on lap two before a couple of caution periods interrupted the race. A crash on lap nine where Meakins spun and Lee with nowhere to go smashed into him.
Rear end damage to Meakins and front end damage to Lee.
Marco Jnr won the race from West, Coad, Marco, Marco Snr, Lawless, Kali Hovey, Russ Hovey and Lee who was classified at the back due to the crash not being his fault.
Feature race time and a coin toss fell the way of top qualifier to the rear of the field with Matthey elevated to the pole position with Kali Hovey alongside, then Jenkins, May, Lawless, Russ Hovey, Marco Snr, Marco Jnr and Coad.
Lee, Meakins and Marco all didn't start due to damage and mechanical issues.
Kali Hovey led lap one of the feature with May, Marco Jnr who had a great start, Matthey and Coad across the line. By lap three Coad was in second spot then a lap later he hit the lead. Marco Snr also carved his way through moving into third. The leaders made their way past Lawless and Jenkins putting them a lap behind and the fifteen laps quickly ran out with Coad the winner from Marco Jnr, Marco Snr, Kali Hovey, West, May, Matthey, Jenkins and Lawless.
The competitors and the families of the SDAV Hot Rods would like to acknowledge Jason May's achievements in his career and look forward to seeing him support his brother Jamie with his racing and continue to be a part of the SDAV Hot Rod family. Members are all heartbroken for Jason however cannot wait to see what his knowledge can give to Shannon and Jamie with their racing.
SDAV Hot Rods Club thank their season supporters:
Mega Auto Parts – Fourth Designs – Ribeau Transport – Purrfect Cool – Pizza Box Norlane
Written by
Dean Thompson
DMT Sports Media
For SDAV Hot Rod Club