Redline Raceway on Mount Buninyong closed the current Speedway season on Saturday night with the second of what will be an annual Speedway closing Queen of the Mount event and this time the Crown sat atop the head of New South Welshwoman Kiona Sunerton when she piloted the Reg & Kath Corbett owned Falcon to victory ahead of last season's winner Brooke Ferguson in a sensational finish where she made an outside pass in turn four to secure the lead and ultimately the spoils with two laps to go.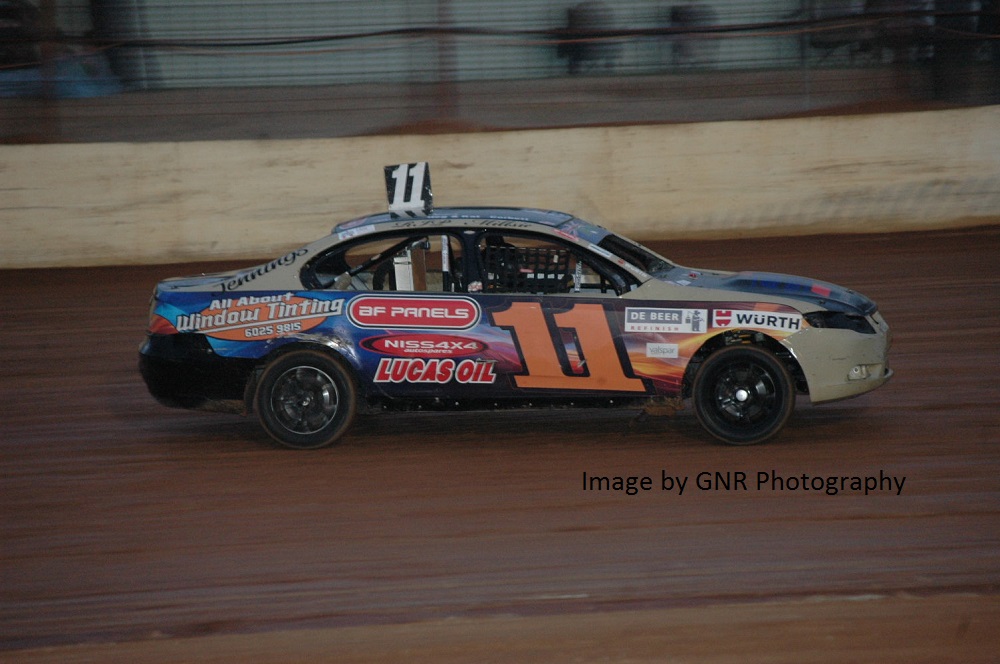 Joining the Ladies Street Stocks as feature events for the evening was the Speedway Sedans Australia Junior division with finals in the Piston Cup for both A Grade and B Graded competitors and local classes.
After nine qualifying races the Ladies settled in for their feature with Brooke Ferguson, Megan Forrest and Karen Ferguson the top three whilst Sunerton zigged and zagged through the field from further back.
Forrest was putting the pressure on Brooke Ferguson as the girls made their way through backmarkers, it would be contact with a backmarker coming out of turn four that would launch the Forrest machine slamming into the concrete with passenger Paul Razum having the stuffing knocked out of him, Megan Forrest who was closest to the wall, is tough as nails though and she got out telling Razum to suck it up.
Next of the front runners to exit was the Taleah Dolic driven car as she was battling for position with Kellie Atkins and tagged the wall on the back straight and soon headed infield. For a while the Ferguson Daughter and Mother combination of Brooke and Karen held sway at the front then Sunerton put herself in between the two.
With two laps to go, Sunerton who on her first ever visit to the venue, had worked out that you could launch yourself around others running high in turn four. Sunerton took advantage of this and flew around Ferguson into the lead and ultimately the win with two circulations to go. Sunerton becomes the Queen of the Mount from Brooke Ferguson, Karen Ferguson, Kellie Atkins and Belinda McCoubrie.
The qualifying races were won by Brooke Ferguson, Forrest, Dolic, Forrest again, Brooke again, Sunerton, Karen Ferguson, Atkins and Brooke Ferguson to make it three from three for her.
A number of sponsors awards resulted with the following distribution:
Highline Racewear with team gear – Best Presented Car – Reg & Kath Corbett NSW 11 car owners
Campton Graphics with work voucher – First Ford Racing Competitor – Kiona Sunerton
Hedges of Eden supplied a Slab and Wine to lucky Car owner – Jo Storer
Razztech supplied First Finishing Holden plug leads, plugs and a crank sensor – Brooke Ferguson
Studio 516 awarded qualifiers 11 & 18 a $50 voucher and & $89 Hair Pamper pack to Natasha Curtis & Felicity Roycroft
EB Photographics awarded Hard Charger Kayla Apps a Voucher worth $150 to spend
SD Canvas awarded an encouragement award gift card and trophy to Michelle Hetherington
GNR Photography supplied prints to the every racer, 2 each to the top five and 3 each to the other feature race qualifiers.
Threadworx Custom Embroidery supplied caps with position finish to the top five drivers
Forever in Focus Photography supplied a Park Hotel Ballarat voucher to Belinda McCoubrie for finishing 5th
Forever in Focus Photography supplied a Park Hotel Ballarat voucher to Ricky-Lee Ross for finishing 17th
Maryborough Exhaust and 4WD Centre supplied to the first driver who didn't qualify for final a Movie package this was Jo Storer
Maryborough Exhaust and 4WD Centre supplied to the person who finished 12th the same prize to Kayla Apps
Mental Racewear supplied a Custom Designed Race Suit to the Driver of the night awarded to Belinda McCoubrie
Next Level Graphics gave a voucher to the most banged up car and a Slab of Jimmy Cans to the owner and that went to Megan Forrest and her partner Darren
Intencity contributed a Ladies Hamper to the person to finish last at the chequered flag after the feature and consolation race that went to Tamieka Beeton
Intencity contributed a Ladies Hamper to the winner of the Non qualifier race – Jo Storer
Mental Racewear gave a voucher to Most Improved over the Night 1st Time Driver – Steph McKenzie
Mental Racewear gave a voucher – Mel Crutchley
Mental Racewear Customer Designed Single Layer Suit – Most Improved Driver of the night –Sharolyn Pollard
Every driver got a Ladies Goodie Bag with support from Intencity, ClayFace, Arbonn, Avon, It Works, Street Stock Nationals, Northern Radiators, Good Guys Performance Centre, Elite Shock Services
Belmont Speedway Drivers Club put up cash prizes to the top five finishers.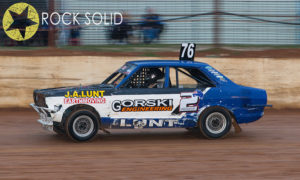 In his last ever Junior Sedan race, Jackson Lunt the Australia 2 ranked driver won another outstanding stoush with Australia Champion Angus Hollis. The two drivers had been swapping paint and race wins all season with Lunt securing a memorable last race win from Hollis, Rick Cornwell, Darcy Giblin and Jamie Pumpa in the A Grade Junior Piston Cup.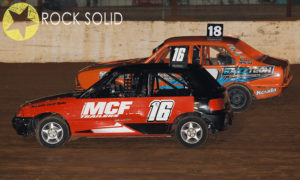 Jade Moule who has only been competing in Speedway Sedans for a month, won her first ever final when she rocketed to a win in the B Grade Juniors Piston Cup. Moule defeated Rhi Campton and Kasey Ferguson to make it an all Girl top three with Rhys Meakins and Bella Rizzoli rounding out the top five.
Timothy Hutchinson pulled off a rare double when he won two features on the same night.
Hutchinson firstly won the Open Sedan final in a Commodore when he out gunned Lucas Conder, Josh Brown, Frank Dickson and Ricky O'Meara then he pulled off the double by winning the Standard Saloon in a 'Pink' Sigma catching and driving around the early leader Hayden Clifford and Ben Hutchinson. Ben Hutchinson would finish second, Clifford in third and then Shell Sinclair and Dave Chivers.
Lowlights included a massive rollover to Open Sedan competitor Scott O'Brien who seen bits and pieces of his car fly after a big turn one dump.
To keep up with what's going on at Redline Raceway and when, you can follow them on their Website and Facebook pages with next year's race dates already announced online.
Belmont Speedway Drivers Club thanks the following supporters:
Ipta Fibreglass – PR Fittings – Trax Racewear – A.Y Electrical – Hennessy Transport – Dean Miller Photography – Rock Solid Productions – GNR Photography – True Design Homes – Smartline Garages & Sheds – Ballan Plumbing – Nunn Bros Haulage – ANT Transport – Mobile Sandblasting & Painting Services – I C Weeds & Gardening Geelong – Whitehorse Freightliners & Mercedes Benz Truck Centre – United Forklift & Access Solutions – Lister Automotive – Revolution Racegear – SPW Engineering – Allsport Trophies – Steve Forte Metal Fabrications – S.D Canvas – Johnny Dyno Engines – Metowu Mechanical Services – Redline Race Engines – Pedder's Suspension – Norman Street Automotive – Duo Mobile – Burson Autoparts – UBC Web Design – Bulleen Towing – WBW Metal Fabrications – Dann's Auto Wrecking – Jeff's Auto Detailing – Autoparts Professionals Ballarat – Leejay Trailers – IG & JL Greville – Natrad Ballarat – PP Designs – Power FM
Written by
Dean Thompson
DMT Sports Media
For Belmont Speedway Drivers Club t/a Redline Raceway