AMCA Nationals returned to the Mountain top Redline Raceway on March the 25th for another point score event for the visiting class and Dean Heseltine found his way back to the front of the field and his early season winning ways with a victory over the current Victorian Champion and a class field, meanwhile all the club classes put on great racing to keep the fans happy for another Saturday.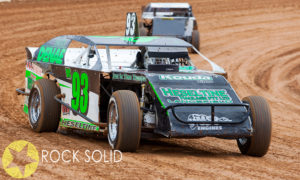 The V8 powered AMCA Nationals division is always entertaining and heat results again showed this to be the case with five different winners in the six races before starting the all important feature race. Heseltine picked up two wins and a second whilst Collins, Jeremy Moore from South Australia, Matt Mills and Jamie Mills picked up the other wins.
The top three in the final all were heat winners along the way and Heseltine picked up a great win over Collins, Moore, Paul Sullivan and Trevor Thierry.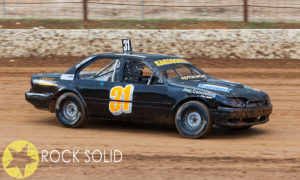 Marsh Modified Sedan racing also paid a visit to the Mount, the class is a regular on much of the states far away race tracks and to get a run close to home pleased the local competitors. Gary Kakoschke the current Victoria # 2 driver picked up the win over the Maryborough lads Greg Knight and Stewart Knight with George Potts in fourth and the new Victorian Champion David Parker back in fifth.
Queensland Street Stock champion and local racer Darren Giacometti picked up a win on his home track with Rocky Grima showing the talent we have all seen in securing a great second spot finish, Mark Purdie fresh from celebrating his birthday filled the podium with Gerrard Mabbitt and Scott Secombe rounding out the top five.
Tim McCubbin made it three from three as far as feature race wins is concerned when he won the V8 Thunder Sedan final ahead of Steve Hodder and Kieran Brennan Jnr. John Agosta and Kieran Brennan Snr rounded out the top five.
Ricky Ashmore picked up a great feature race win in the Open Sedan final with a win over Tim Hutchinson, Craig Phillips, Codey Millican and Kayla Knox. Some fancied competitors had issues; however Ashmore could not be denied still picking up a win over Hutchinson and Phillips who have been strong performers in the class through the season.
Jay Dickson who won at Darlington last week picked up another Standard Saloon win this time at Redline when he defeated Hayden Clifford, David Chivers, Ashlee Beth and Ian Walsh.
Belmont Speedway Drivers Club thanks the following supporters:
Ipta Fibreglass – Spencer Race Engines – Trax Racewear – A.Y Electrical – Hennessy Transport – Dean Miller Photography – Rock Solid Productions – Bryant's Sales & Service – I C Weeds & Gardening Geelong – Automotive Suspension Ballarat – Australian Racing Products – Whitehorse Truck Centre – United Forklift & Access Solutions – Lister Automotive – Revolution Racegear – SPW Engineering – Allsport Trophies – Steve Forte Metal Fabrications – S.D Canvas – Johnny Dyno Engines – Metowu Mechanical Services – Motorsport Hauler – Pedder's Suspension – Norman Street Automotive – Duo Mobile – Burson Autoparts – BMS Automotive – UBC Web Design – Bulleen Towing – WBW Metal Fabrications – Dann's Auto Wrecking – Jeff's Auto Detailing – Autoparts Professionals – Leejay Trailers – IG & JL Greville – FMP Group – True Design Homes – Cylinder Head Shed – Natrad Ballarat – PP Designs – Power FM
Written by
Dean Thompson
DMT Sports Media
For Belmont Speedway Drivers Club t/a Redline Raceway