Saturday night February the 24th Redline Raceway hosted three major Speedway races with the visiting "Serpentine Roadhouse' Formula 500s Association series round and two state and club class feature events and after a night of very quick racing on a perfect track, Chris Bellman had taken the win in the 500s, Leigh Bourke in the 'Flying Brick Cider Co' Sports Sedan Masters and Scott Whittle in the Standard Saloon Chivers Memorial.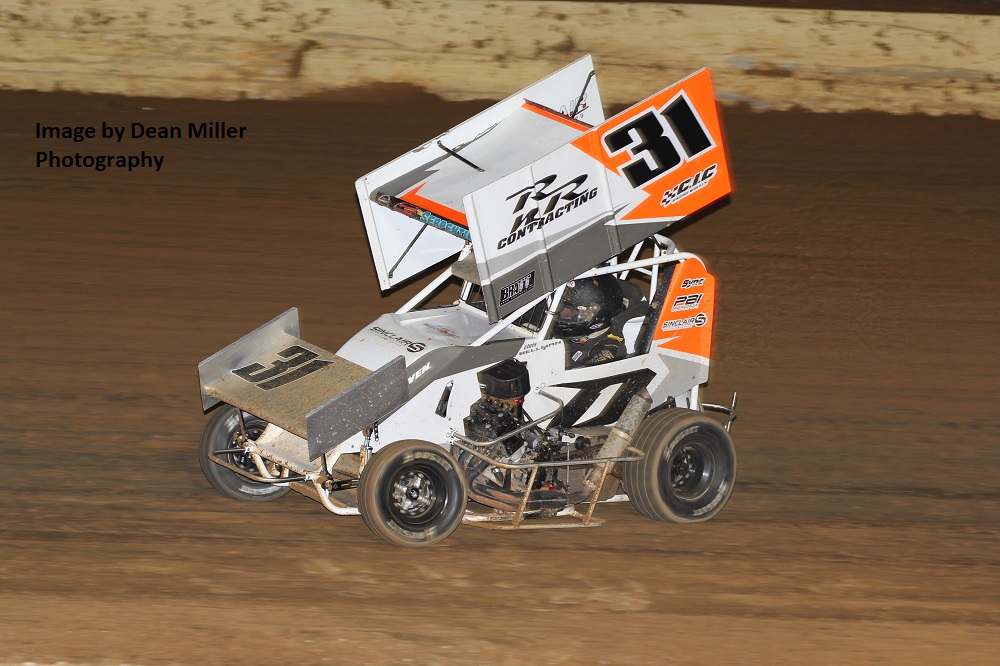 The Formula 500s were the quickest class of the night with most powered by 600cc engines. The favourite entering the event Chris Bellman qualified well and after a early crash in the feature race that finished with the demise of the top qualifier Daniel Burleigh in a turn two crash, Bellman took charge and set some blistering laps on his way to a win.
Bellman would come out in the first heat and win across the line recording a fast lap of 13.8, however the Chief Steward penalised him for not adhering to a drivers talk instruction and the win was given to Mark Lincoln. Ash Sinclair then won the second heat by more than a third of lap and went even faster than Bellman had.
Second round wins went to Adam Turner who had scorched around the track in 13.543 seconds and then Steph Munn a South Australian now living in the Greater Geelong area picked up a win in the last qualifier by just .111 of a second.
A first attempt to start crash seen heavy damage to Ashlee Aranyosi's car and Burleigh's. Other drivers for various reasons at this point failed to restart including Adam Turner and then a second stoppage on the re-start attempt seen the end of Jordan Rae's feature race.
Bellman then quickly shot to the lead and back behind him Angus Hollis was chased down by Jake Hose, Dale Sinclair was flying forward from deeper in the field. As the twenty laps rolled through Bellman, picked up the big win from Hose, Ash Sinclair, Hollis and Dale Sinclair.
The Chivers Memorial is one of the state's biggest Standard Saloon features and as some of the podium finishing competitors noted, it's an event they all dearly would like to win. Drivers from Gippsland, Bendigo, Portland and as far as Corowa had come to compete with local regular competitors Scott Whittle and Tim Hutchinson among the favourites and Whittle got the night under way with a victory in the first of nine qualifiers.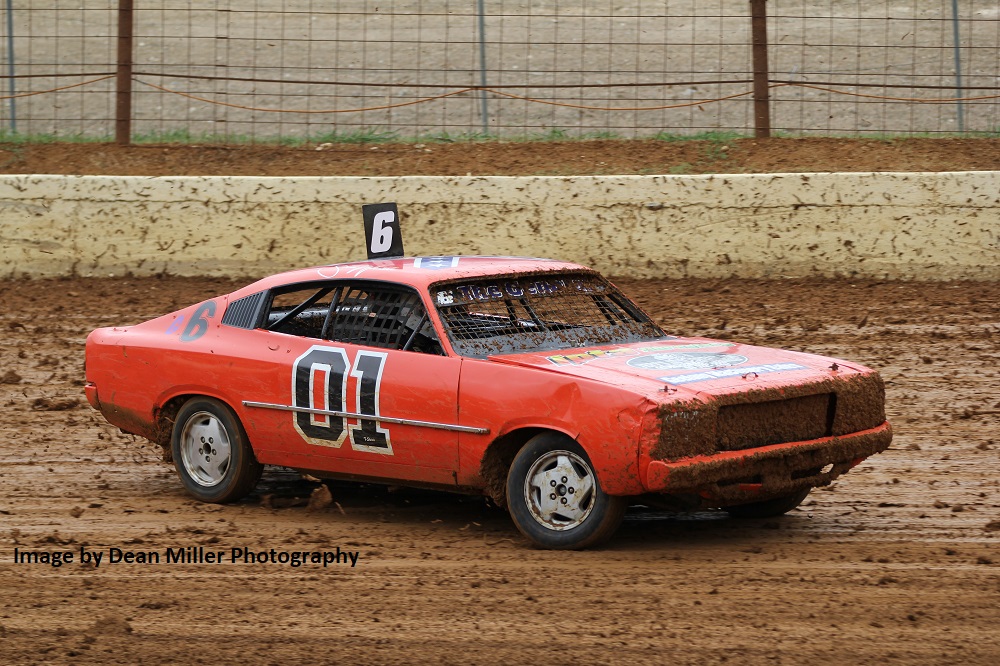 Whittle, Aaron Marshall, Tim Hutchinson, Russell Hill, Craig Templeton, Marshall again, Whittle for a second time, Nick Chrystie and Jake Vuillermin all won heats.
After a season and a half with much dominance from 4 Litre powered Standard Saloons, an all V8 powered front row of Whittle and Hill lined up with the field behind them for the twenty five lap feature event.
Whittle and Hill had strong starts and initially put a little gap between them and the field before Vuillermin clawed his way back and into the fray. At one stage he split Whittle and Hill before Hill got back past with speed off turn two and down the back straight.
Whittle has had a mixed season of break downs and wins however he was fixed on winning the Chivers in a lead up to the upcoming Victorian title. Whittle in his Valiant and Hill in his Ford Falcon took the top two places over Vuillermin, Chrystie and Hayden Clifford.
After the race Whittle was reflective in winning the Memorial which means so very much to a local Speedway family, the Chivers and quietly confident of a strong showing in the Victorian title coming up. "Firstly thank you to the Belmont Speedway Drivers Club and the Chivers family for continuing this great event and giving so much respect to it. I think all of us drivers tonight did the event proud. Well done to the other podium finishers and thank you to my family for their support. Especially all the work dad puts in to the car, thank you mate. I am very happy with how it ran tonight and I am confident we are ready for the Victorian title at Wahgunyah in two weeks. This is a great class and it is going to be a tough race to win." Shared Whittle.
The Sports Sedans were competing in their first ever feature event at Redline Raceway and with some effort behind the scenes put in to the event by Leigh Bourke a club member in finding support for the event, $500 became the top prize thanks to Flying Brick Cider Company. Competitors from Alexandra Speedway Club in the Yarra Valley supported the event well with local representation.
In six heat race events Bourke and Dale Smith won the first four heats at two apiece between them with Bourke and Ricky Ashmore winning the last two and this meant that Bourke would start at the front with Smith and a strong field including Ashmore, Lucas Conder, Josh Service and Corey Knox behind them.
In the feature race, Bourke and Service started very well, Ashmore got the better of Smith and the twenty five laps looked likely to be a hard thought affair. Bourke cleared out early and had a handy leave.
Corey Knox chased down Service and Ashmore and eventually got the better of Service who moved back before a caution period.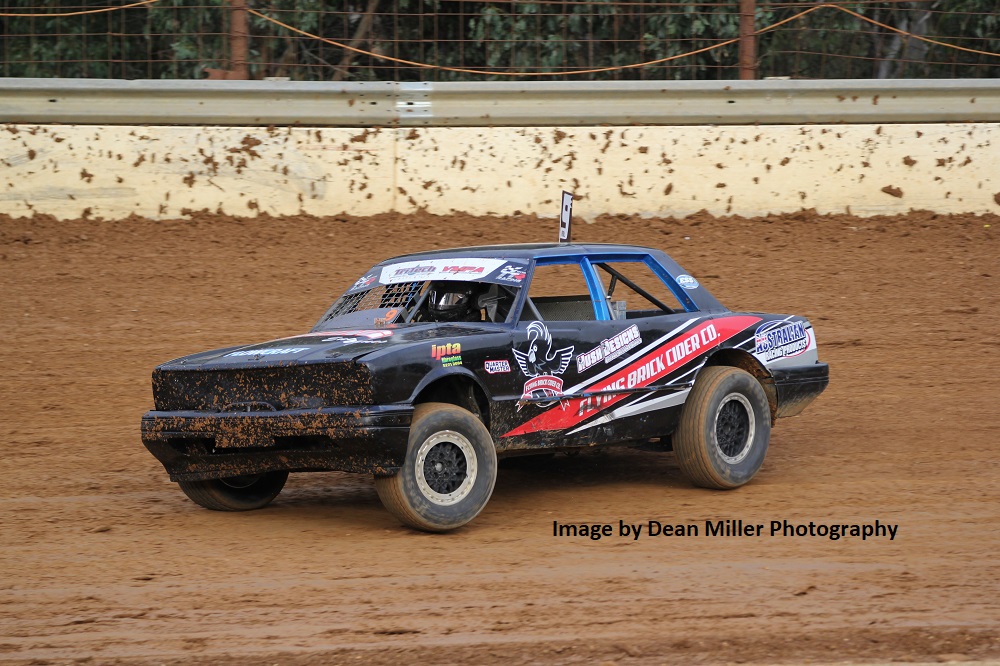 Bourke managed to get away again after a race restart, Knox had went back and then forward again and by the time the chequered flag dropped on the Sports Sedan Masters, Bourke had taken the win from Ashmore, Knox, Service, and Conder.
In Street Stock support race action Mick Hetherington was a popular winner in a fifteen lap final taking a win from Dave Barrie who after a very bad start roared through the field from last to second using the high side of the track from Adam Timberlake, Peter Bryant and Scott Purdie.
Thunder V8 racing was spoiled by a major crash during the heats that wrecked Greg Raggatt's car, put Scott Stephenson out for a while and damaged Wally Huckers car. Steve Hodder, however, went on to win from Stephenson and Stephen Cole setting lap times in the 15.5 second bracket.
Redline Raceway returns on Labour Day weekend for the two day Street Stock King of the Mount spectacular and a Late Model Sedan feature event.
Belmont Speedway Drivers Club is proudly supported by:
Duo Mobile – IPTA Fibreglass – Hennessy Transport – Regional Contacting – CamKat Earthmoving – Johnny Dyno Engines – Crowies Paints – Jeff's Auto Detailing – Steve Forte Metal Fabrication – PR Fittings – Startech Windows – United Forklift & Access Solutions – Ballan Plumbing – Norman Street Automotive – True Design Homes – Mobile Sandblasting & Painting Services – METOWU Mechanical Services – UBC Web Design – I C Weeds Gardening Services – Whitehorse Truck Centre – PP Design – Bulleen Towing – Dean Miller Photography – Rock Solid Productions – Hutchinson Towing – Autopremier Fleet Maintenance – Power FM
Written by
Dean Thompson
DMT Sports Media
For Belmont Speedway Drivers Club