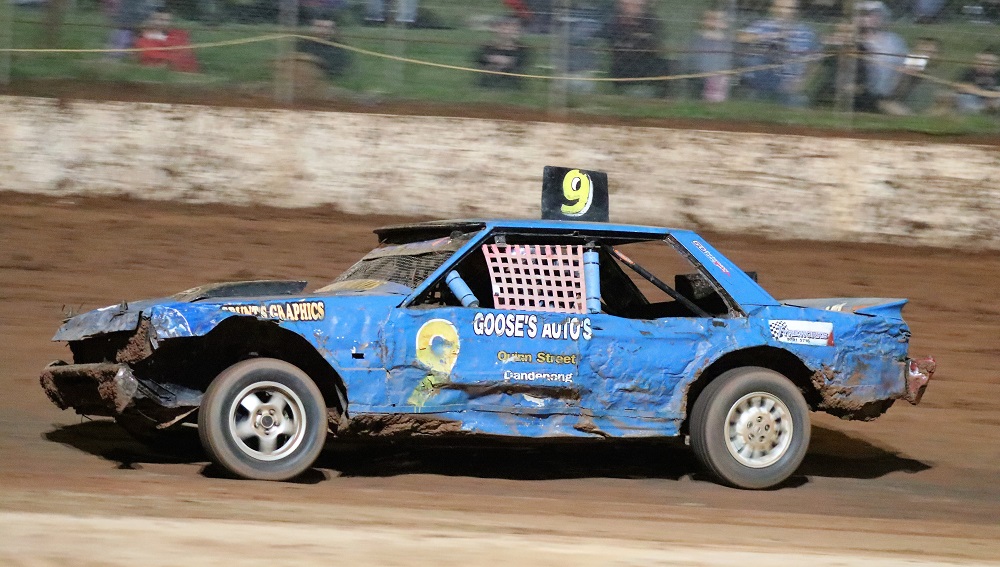 Crash and Bash racing returned to Nyora Raceway on February 25th with twenty plus competitors on hand to spin, side swipe, bump and run and slam and dump anybody they could on their way to the finish line and it was Jake Young on the back of a big week of television interviews after catching a crim trying to steal a mates car who would go on to take victory ahead of last start winner Brad Warren.
Three qualifying rounds sorted out the starting positions for the three wide feature race starting grid with a large crowd on hand to enjoy the calamity of the Crash and Bash.
Round one started with Lee Beach in his XF Falcon with a FG engine spanking the competition by sixteen seconds with his best lap almost two seconds quicker than any of his challengers, he defeated Warren, Ronza George a lap down, Ian Lamb, Chris Aarts, Lennie Bonnici, Daniel Williams and Justin Prins.
Nathan Fawns got around Nyora Raceway ahead of the rear of field starting Young in the second heat and just managed to hold on for a 1.177 second victory margin in the second heat with James Kane and Darren Mitchell with Anthony Segond, Bungy Judd and Aaron Cahill recorded as non-finishers.
Grant Attewell picked up a win over family when he defeated Steve Brown in the third heat with Rob Bushell, Matthew Haby, Daniel Wanders, Ryan Brown in his brand new car which practically went through the heat races almost un-touched before copping some touch up's in the final, Rob Disher, Adrian Brown, Frank Sinclair and Alan George.
Into round two the lead cars started to get around in the nineteen second per lap bracket and completing races in under three minutes. Bushell at his home club won the fourth heat of the night with Disher, Kane, Alan George, Lamb, Ronza George, Wanders, Richard Lewandowski & Mitchell the finishers.
Haby won the fifth race whilst Warren picked up another second spot result. Bonnici, Williams, Attewell, Young, Cahill, Prins, Fawns and Segond rounded out the results with half a second between first and second at the line.
Steve Brown then picked up the first win of the night for the Browns in the sixth heat, whilst the Brown fellows would have been hoping for a break from the grid draws after all starting in the same heat for the second heat in a row. Beach finished second, Ryan Brown, Adrian Brown, Sinclair and Aarts all clicked over on the transponder system.
Disher banked a win in seventh heat with just over six seconds in distance between he and second placed Ryan Brown. Brown set the fastest lap of the night to this point and the heat race time was the fastest all evening last just 2 minutes 38.887 seconds for the eight laps. Adrian Brown was third then Mark Hebblethwaite and Bonnici.
Sprintcar star Brad Warren who is talking the talk and walking the walk in Crash and Bash picked up a win in heat eight and put himself into the plumb pole position, Williams finished second then Aarts, Lamb, Ronza George and Cahill whilst Lee Beach who suffered a puncture climb to the top of the speed sheet with a 19.232 single lap time during this heat.
In the last heat of the night Young from last took a great win putting his car onto the second row for the feature race. Attewell continued to be consistent with another second place then Bushell, Steve Brown, Dave Sheridan who came out for his first race of the night and Kane.
Always the showman, Warren decided that it would be a great idea for the benefit of the class and the crowd if he started rear of the field, Nyora official and business manager Dave Rowlands from Russell Steel stepped up and offered a $500 donation to the 'Camp Quality' Children's Cancer Charity of Warren could win from the rear before Dave Wilson and Anchorage and Abba Boarding Kennels stepped up with similar offers.
The challenge had been set, with Warren at the rear of the field and Steve Brown, Rob Bushell, Grant Attewell at the front, Warren had his work cut out for him. The front three started well before a lap two caution flag waved to bring the field back together, by then Warren had passed fourteen cars and lined up in twelfth for the first restart.
Leaders started to succumb to being caught and spun or break downs and tyre flats and Jake Young eventually hit the lead with Ryan Brown and Lennie Bonnici carving up the backmarkers. Numerous yellow light cautions allowed Warren to get into the top five, a spin by Bonnici and Brown getting caught up in action elevated Warren to second before a final caution when 'Sheriff Jimmy Kane' rolled over bringing the race into a exciting, green, white and chequered finale.
Just on the rollover Kane drove away from the scene of the accident and if he didn't have a flat tyre, would have been keen to continue on, the crowd loved it.
Young had great mumbo under his hood and he got a great jump at the final green flag and Warren try as he might, just could not get close enough to Young to catch him and spin him out of the lead.
Young took the win from Warren, Beach, Attewell, Bushell, Bonnici, Hebblethwaite, Ronza George, Sinclair, Williams, Haby, Sheridan and Ryan Brown.
Almost a dozen drivers didn't finish with Adrian Brown and his cousin Steve Brown came together with Steve copping a flat tyre and putting him out of the race whilst Adrian's left hand front end broke and he was a no go. Cahill, Fawns both with one and Alan George with two flat tyres could not go on, Anthony Segond popped a head gasket, Ian Lamb a watts linkage broke, Daniel Wanders broke engine mounts and shoved his fan into his radiator when he crashed into Josh Mitchell whose seat mount broke and finally Rob Disher broke the flywheel of the crank finishing his race.
Gully Tattoo's helped continued the giggles along when the Hard Charger award supported by the business went to Warren for his charge from last to second, Warren is a clean skin and now has $150 to go towards a tattoo, DNAirbrushing also continued their support of the class with a voucher for the best Rollover of the night, with only one rollover and a big one at that James Kane was the recipient of that voucher.
Crash & Bash Association wish to thank its current Club supporters:
Total Auto's Pakenham – Blackburn Trailers – The Mobile Truck Doctor – Gully Tattoos – DNAirbrushing
Written by
Dean Thompson
DMT Sports Media
For Crash and Bash Association – Victoria