Now that almost a month has passed since Corowa's Trevor Mills secured a back to back national championship win in the Speedway Sedan's Australia Production Sedan division, the driver has had some time to let it sink it and reflect on the weekend and the people around him and the Mills Racing team and wanted to take a moment to look back and share how it all went at Queensland's Maryborough Speedway back in April.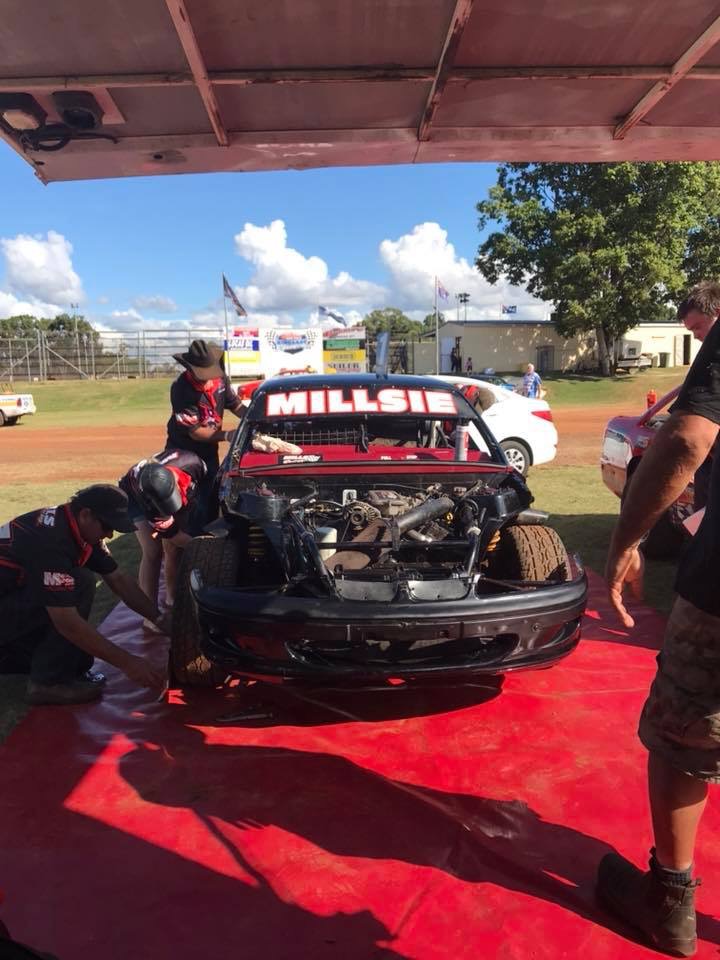 Mills, who had won his national championship at Wahgunyah Speedway just a year earlier after more than 25 years trying, became the first driver in fifteen years to go back to back in the Production Sedan national title since his toughest regular rival Stephen Laidlaw did it winning at Esperance WA and Rosedale VIC back to back.
The weekend got underway with a practice session where sixty-one of the seventy entrants took part, Mills timed in at 42nd place, well down in the standings if times mattered and at this point they didn't as the opportunity to test handling and shocks and springs and get a good eye in for what the track potentially was going to do across the next two nights of racing took priority.
When racing began the following evening nobody could laugh at that 42nd fastest time result on practice night as it was all but forgotten with a win and two, second place finishers leaving Mills second on the points standings behind Queenslander Joel Berkley who had won twice and finished third in the other.
In round one on his way to victory, Mills was getting around just a little quicker than nine local Queensland competitors in the fastest ten after the round. Starting the first heat, Mills lined up in the first heat of the weekend from fourth spot with Mark Quirk, Adrian Stott and Daniel Henshaw ahead of him and Tim Atkin and Matty Smith amongst those behind him.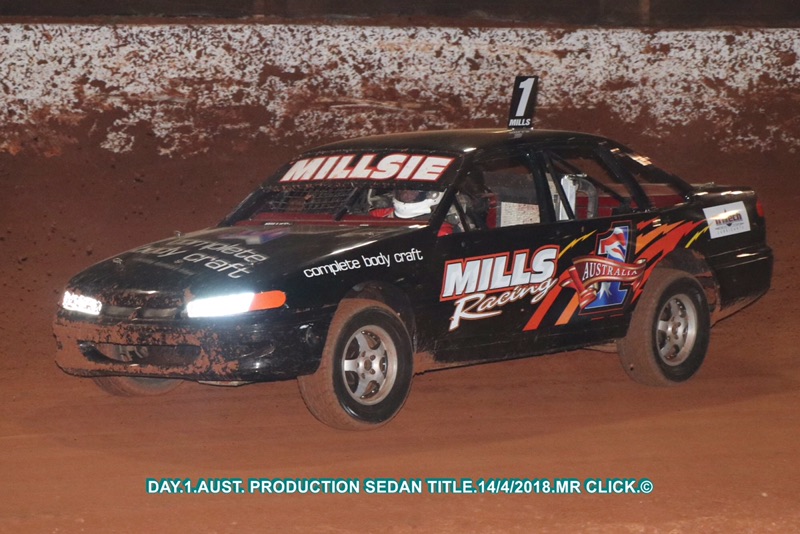 In quick succession Mills made short work of Henshaw and Quirk and slotted in behind Stott on lap one of twelve and brought the car home right on the tail of the eventual winner just .278 of a second behind with great speed making him the fastest in the heat race, and the team satisfied with how their driver and car combination had got the start they needed to have converting a top of the field start into a top two result.
Almost everybody went even faster in round two including the Australia #1 car with Mills behind the wheel and a second placed finished was notched up with Mills still in the top five fastest competitors behind Tim Atkin, Josh Harm, Brett Baxter and Scott Thomsen.
Starting from second place with Matt Hutchison alongside of him and Kev Young, Quirk, Stephen Laidlaw a former two times national champion, Brendan Pacey, Tim Smith, Atkin and Super Sedan racer Steve Jordan all behind him, Mills blasted straight to the front on lap one with Atkin from back in the field working his way through and up into second.
In the fastest heat race of the weekend so far and the fastest when round two was finished, Mills won in 3 minutes 18.426 and by a margin of 2,825 seconds, Pacey was back in third in this one and Queensland champion Tim Smith in fourth.
The most important heat for Mills for the weekend was the third and final heat on night one where the champ started dead last in the field of ten starters. In front of Mills in the line-up were brothers Damien and Craig McAlister, Mills protégé Jack Milthorpe, Jordan and Stott who had beaten Mills in his first heat of the weekend.
At the end of lap one Mills had passed Stott, Jordan and Cameron Vicary then South Australian Adam Wilson on lap two and Andrew Beaton on lap three to move him into sixth position. On lap five Mills passed Craig McAlister as Maddie McGee dropped out and Mills moved into third and on lap six passed Milthorpe for second place as Damien McAlister held firm at the front and took the win with Mills just .459 behind.
The second round heat overall race time, would hold firm all night and beyond the final round on night two and be recorded as the fastest race all weekend in the Production Sedans.
Into night two and the final qualifying race to cement a starting place in the big national championship, Mills would start seventh on the grid with Joel Thomas, Tim Smith and former Australian number two Wayne Bourke ahead of him.
Thomas led lap one and Bourke and Mills passed Beaton on lap one, they both passed Wade Filkweet on lap two and Mills was in third place before getting passed Bourke on lap three and then into the lead on lap four and Mills went on to win by almost three seconds and secured the pole position in the championship race.
Mills having won his first Australian title the season prior was now in prime position to go back to back, something that had not been achieved in some time. Mills had Queenslander Tim Atkin on his outside with Stott, Berkley, Brad Scherer, Peacock all Queenslanders behind him before Damien McAlister the second New South Welshman in the line-up slotted in. Rounding out the top ten was Josh Arthur, Brett Barron, Chris Pagel and Richard Cook all Queenslanders.
Mills elected to start the forty lap title race from the outside of the front row allowing former national champion and Multiple times state champion Tim Atkin to start in the prime spot and take the initial race lead. Scherer passed Mills on lap four to take control of second and Mills was now in third place and not long after Stott moved into third shuffling the defending champion to fourth, the very next lap Mills reclaimed third and then Berkley and he entered into a struggle for position.
On lap fourteen Atkin exited the race with a flat tyre handing the lead to Scherer with Mills moving up to second and Berkley third before the latter succumbed to a ball joint malfunction. Good fortune continued for Mills when Scherer on lap twenty seven suffered a flat tyre also and his championship run was curtailed.
Mills led Peacock with a fair distance between the two with thirteen laps to go, however Peacock brought himself right up alongside the champion with just ten laps to go. A great little battle lap after lap continued until Mills controlled the race lead firmly over the last few laps to win his back to back national championship by just over a second from Peacock, Kev Young, Brett Barron and Maddi McGee.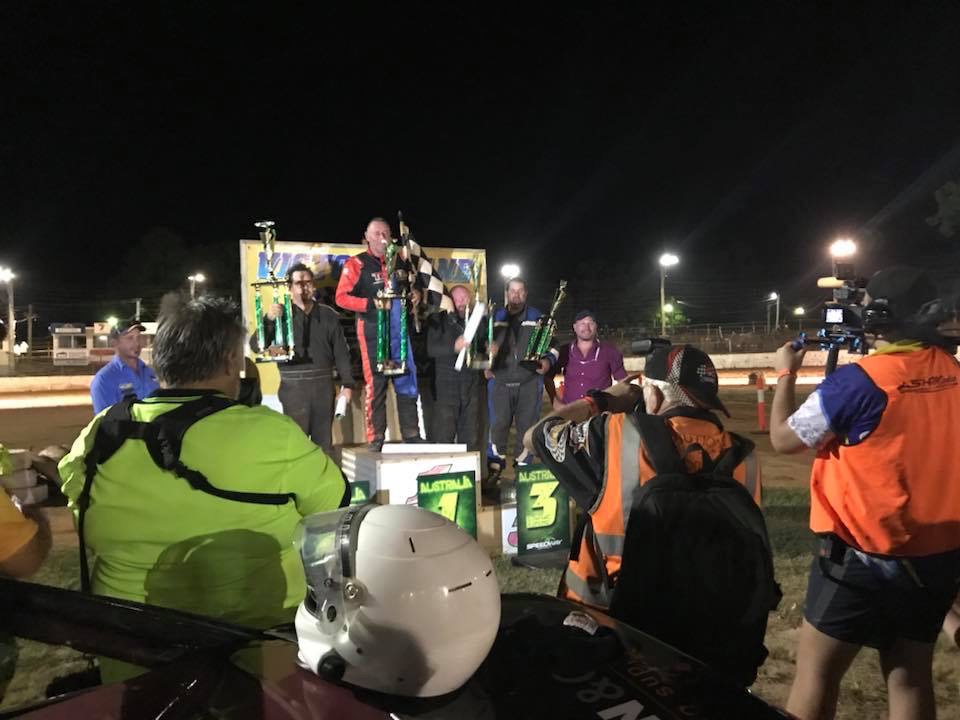 After the race Mills understandably wanted to thank his crew. "I do the driving out there however without the people around me none of these consistent top of the field results are possible, thank you to Rod Milthorpe who I could not do without, he is my crew chief as well as his son's and he does an incredible job. Mark Barton, Chris Bourke and his family Fiona and Ollie who keep my car immaculate after every race."
Mills went on to thank his family. "Helen (his partner) If it wasn't for you we would not go anywhere, you keep me on the right path and get everything organised so that I can just concentrate on racing, you make this racing caper so much easier, thank you and to Jacob my son who made sure Brenton rode along with us this weekend by ensuring I put an Australian flag under my driver's seat, it meant a lot to me son."
Mills Racing thanks the following supporters for their assistance and friendship:
Complete Body Craft – Max Maclean Hardware – Brody Automotive – Glare N Shine – Tritech Lubricants
Written by
Dean Thompson
DMT Sports Media
For Mills Racing