An enthusiastic field of Grand Prix Midget competitors assembled at Avalon Raceway for this seasons version of the annual Jason Glynn Memorial event with recent Victorian title winner Danny Stainer coming out on top when he went on to defeat Australian champion Trevor Perry, however, he did not have it easy as he suffered ignition issues early in the night.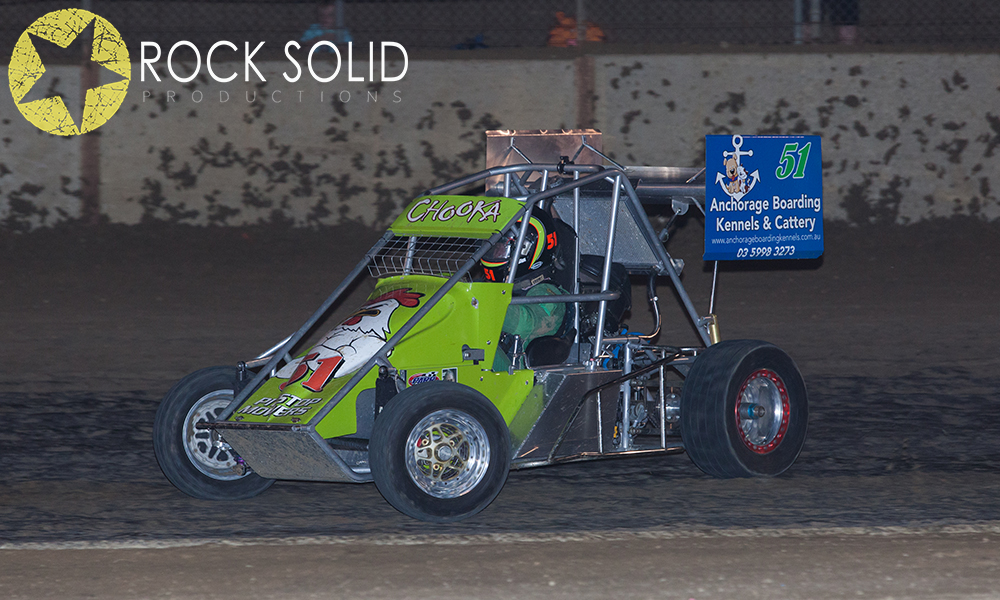 Heat one of two started with eleven competitors on the grid led by Mark Blackeby, Shawn Ward, Travis Florimell, David Bacon, Sean Denning, Lisa Chalcraft, Stainer, Jason Crawford, Chris Fowler, Trevor Perry and Troy Buis.
In his recently acquired Perry built race car, Ward (#88 Fry's Service & Repairs – Suzuki )led lap one from Florimell, Perry, Chalcraft and Stainer in the first heat. Florimell moved to lead though on lap two as the engine in Wards car went 'Kaboom' in a heartbreaking situation for Ward who has a very competitive car now to boost his return to the sport.
From the restart Florimell (TM Lineboring & Engineering – Suzuki ) led Perry, Stainer, Chalcraft and Crawford with Fowler being the next casualty a few laps in when his steering broke and he careered into the concrete wall breaking the whole rear end of the car and not long later Stainer caused another caution when the car came to a stop in turn three with ignition issues.
Eventually making it to the chequered flag Florimell defeated Perry right on Florimell's tail all the way to the finish with Crawford (#50 Pitstop Mowers – Yamaha), Chalcraft, Blackeby, Bacon, Denning and Buis rounding out the field.
In heat two Crawford, Stainer, Chalcraft (#15 Oil Hydraulics – Suzuki), Denning, Florimell, Bacon, Perry, Blackeby and Buis was the starting order with Fowler and Ward out of the race. Stainer beat team mate Crawford across the start line to complete lap one with Perry, Chalcraft and Florimell chasing.
Perry passed Chalcraft into fourth on lap three then Florimell into third on lap five, however the two Mark Shiells owned race cars at the front finished the race out front with Stainer defeating Crawford, Perry, Florimell, Chalcraft, Bacon (#36 DB Cleaning & Kanga Hire – Yamaha), Blackeby, Denning who was stuck in the wrong gear trying to complete the race and Buis.
The twelve lap Jason Glynn Memorial got underway with nine starters with Florimell the pole position qualifier and Crawford alongside then Perry, Stainer, Chalcraft, Blackeby (#10 Kyabram Steel & Fabrication – Yamaha), Bacon, Denning and Buis completing the line-up.
Crawford was quick out of the blocks as he gained the upper hand on lap one and led Florimell then came Stainer, Perry (#1 Perry Bros Chassis – Suzuki) and Chalcraft, however the lead lasted only a lap before Stainer moved from third to first. For the next five laps it was Stainer (#51 Anchorage Boarding Kennels & Cattery – Yamaha) from Crawford and Florimell before Perry passed Florimell on lap seven.
Perry took until the tenth lap before he moved to second however could not quite catch Stainer who took the win from Perry in what some Grand Prix Midget historians are saying was the race of the season and possibly of the past few seasons with the top four close earlier in the race before Stainer established a lead only to have Perry start to reel him in.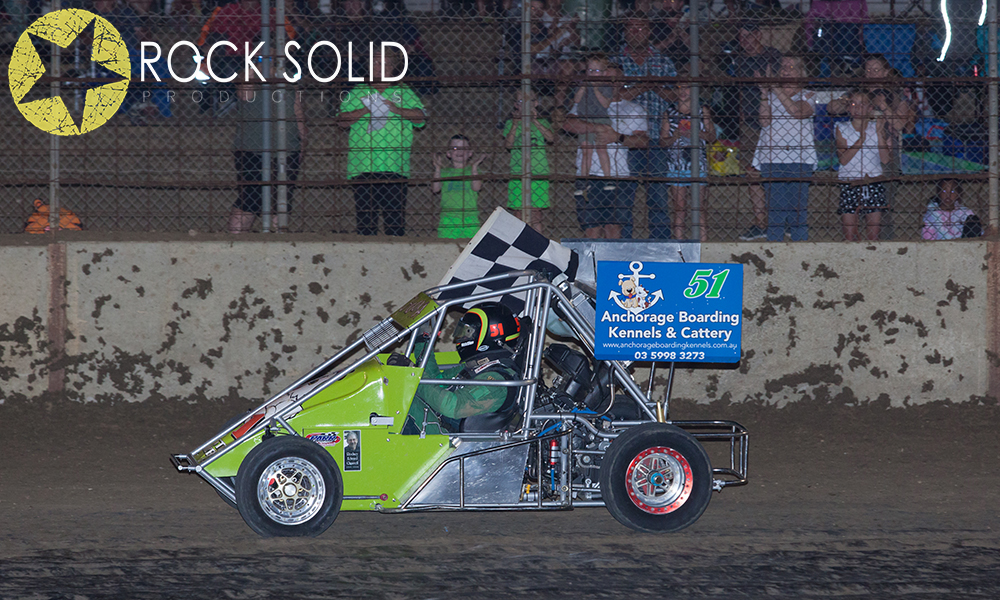 It all came down to the white flag lap when Stainer and Perry hit some lapped traffic in their own little race battle. The top pair passed Denning coming out of turn two and with Blackeby ahead of them Perry went high as they entered turn three and Stainer went low and passed Blackeby at the same time. Stainer got better drive off turn four as the pair came to the finish line almost side by side with Stainer claiming the win and denying Perry a third Memorial win in succession.
Behind the lead two came Crawford, Florimell, Chalcraft, Bacon, Blackeby, Denning (#52 AR Fencing – Yamaha) and Buis to finish off a great Jason Glynn Memorial.
Competitors now head to Nowra Speedway in New South Wales for the Australian title.
The Victorian Grand Prix Midgets association thank Club Supporters:
Ballistic Performance Parts – Anchorage Boarding Kennels & Cattery – ABBA Boarding Kennels & Cattery – Oil Hydraulics – Jacobson Transport – Super Balance Automotive Shepparton – Pitstop Mowers – Rock Solid Productions – Vern & Jackie Parker Photography
Written by
Dean Thompson
DMT Sports Media
For Victorian Grand Prix Midget Association