The Grand Prix Midgets got their season underway after a rainout a couple weeks earlier delayed the start, Redline Raceway in Ballarat hosted the first event for the season and it was more of the same from Victorian and Australian Champion Trevor Perry who won the final comfortably ahead of his competition.
Amongst the line-up was David Bacon, Lisa Chalcraft, Sean Denning, Mark Blackeby, Chris Fowler, Perry, the returning Shawn Ward, Travis Florimell, Jason Crawford and multiple times state and Australian Speedway champion Danny Stainer in a brand new car, all looking to take the early lead in the Ballistic Performance Parts Masters Series.
Much of the talk has been about whether Stainer and his machine could compete with Perry and his, however, to only focus on those two could lose focus on the very tough competition the likes of Florimell, Chalcraft, Fowler and Crawford amongst others, already provide.
Heat one lined up with Crawford (#50 Pitstop Mowers – Yamaha) at the front of the field and Perry and Stainer towards the back. When the green flag dropped, Crawford assumed the lead with Florimell, Chalcraft, Perry and Fowler (#13 RMG Signs – Suzuki) slotting in behind him.
Perry was on a charge and he moved into third on lap two and into second when Florimell dropped out on lap five with a broken drive shaft. By lap six Perry had dashed past Crawford and Fowler moved up to third having passed Chalcraft a couple of laps earlier. When laps ran out, Perry was the winner over Crawford, Stainer, Fowler, Chalcraft (#15 Oil Hydraulic – Suzuki), Blackeby, Denning, Bacon and Ward.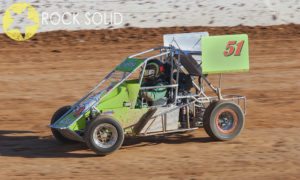 Stainer was delighted the car didn't break in his first hit out. "Deano, I have only been up and down my driveway in this thing before bringing it here tonight, so to go well and not break, that's a positive step, I will wring its neck in the second and see how it holds up." Shared Stainer.
The second heat had all sorts of drama. Even before it began Chalcraft was out due to engine failure. Bacon and Fowler began at the front and Stainer at the rear of the field, however by the end of lap one Stainer was in first, doing as he suggested, wringing the neck of his little rocket. Chasing him was Florimell (#81 TM Lineboring & Engineering – Suzuki), Perry, Fowler and Crawford.
Perry moved into second on lap five, Crawford pulled out on lap six due to a wiring issue, however, he pulled out as the oil pressure light for the motor came on and he didn't want to risk blowing one up.
As drivers headed into lap seven Florimell and Perry who were having a rip snorter of a battle clashed, it was contact from Perry to Florimell that finished with Florimell fenced, that copped the eye of the steward who penalised Perry by ejecting him from the race.
Florimell would not be seen again for the rest of the night as his car had sustained a broken shock mount and a broken rear end or as one observer put it when looking at the car "She's Cactus". Other casualties to this point included Denning (#52 AR Suburban Fencing – Yamaha) with fuel pressure issues, at the restart Stainer led Fowler and Bacon to the finish line with Ward also failing to finish with a broken brake line.
Blackeby (#10 Kyabram Steel & Fabrication – Yamaha) and Perry began the final heat from the front row and Stainer was again at the back. Perry had mechanical issues on lap one and Fowler jumped to the lead with Stainer finding his way quickly into second. Bacon had good speed and came through with Stainer and moved into second and that lasted until lap four when Crawford passed by him.
Stainer (#51 R & P Stainer Grinding Services – Yamaha) led until lap six and then his machine broke a chain and that was it for the team for the rest of the night, Crawford moved to the lead and went on to win from Fowler, Bacon, Denning, Ward (#88 Fry's Service & Repairs – Suzuki) and Blackeby.
The twelve lap final lined up with the lowest point scorers in qualifying starting at the front from the highest who began at the rear of the field. Ward and Blackeby were the front row starters with Denning, Perry, Bacon, Crawford and Fowler completing the field.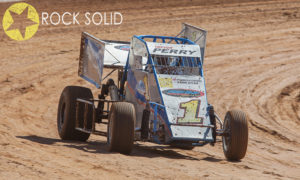 Immediately, Perry (#1 Perry Brothers Chassis – Suzuki) moved to the front of the field and took off. Crawford moved into second and Fowler into third. Blackeby, Ward and Bacon had a good little battle going, Bacon had lost that speed he had the race prior though. From start to finish Perry dominated, he won from Crawford, Fowler, Blackeby, Ward, Bacon (#36 DB Kanga Hire – Yamaha) and Denning.
After Christmas, the racers head to Rushworth Speedway for the Ironbark Classic also in the point score and then the Victorian title is in February at Nyora Raceway.
The Victorian Grand Prix Midgets association thank Club Supporters:
Ballistic Performance Parts – Anchorage Boarding Kennels & Cattery – ABBA Boarding Kennels & Cattery – Oil Hydraulics – Jacobson Transport – Automotive Super Balance Shepparton – Pitstop Mowers – Rock Solid Productions – Vern & Jackie Parker Photography
Written by
Dean Thompson
DMT Sports Media
For Victorian Grand Prix Midget Association