With rain a constant thorn in the side to the hard working volunteers at Redline Raceway, the club overcame not one, but four rain disruptions to their show on April the 8th before local Daylesford racer Will Lamb trumped a great field to win his fourth Victorian 3 Litre Sedan title on a super quick race track amazingly assisted by the rain disruptions.
Almost twenty competitors were on hand for the Victorian title for 3 Litre's with last season's top three drivers in amongst the action. Six qualifying races were held in the lead up to the thirty five lap feature event with Daniel Wilson from the Goulburn Valley, Lamb, Lennie Clark and Kevin Clarke both from Bendigo then one the last four hears between them with Lennie consistently the fastest driver on track with the fastest heat one lap time of 16.559 whilst wining the fastest heat over ten laps in 2 minutes 50.117 seconds.
Kevin Clarke then started from pole position with the consistent Lamb then Clark, Troy Simpson of Swan Hill, Wilson, Michael Boyle also from Swan Hill, Zac Swanson (Ballarat), Andrew Ahearn and Jason Ahearn from the Heartland club, Matt Gerlach from Horsham, Scott Mallon from the South West of Victoria, Kellie Atkins (Hamilton), Keegan Duff from Horsham, Lucas Conder also from Ballarat, Matt Renshaw (Heartland), Teejay Pollard of Shepparton, Andrew Robl from Wangaratta and Matt Callanan of Heartland.
An interruption of rain just as the race was trying to get started delayed proceedings, however once the green flag dropped and racing began Lamb assumed the lead spot and the chase was on. At times Lamb got away from Clark, at other moments Clark was gaining.
Clarke the pole sitter finished infield when his car broke down ten laps into the race and Swanson was next of the fancied runners to pull out on lap nineteen then Mallon and Simpson both on lap twenty-six.
Lamb and Clark were threading their way through backmarkers lapping a broken down Callanan a number of times as he circulated to finish and Andrew Ahearn the third of the leaders sat back almost two seconds behind the lead two.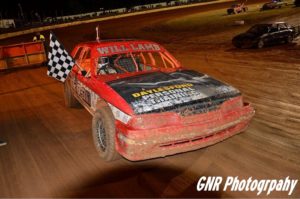 At the chequered flag Lamb took the win by .554 of a second from Clark, Andrew Ahearn, Boyle, Conder, Wilson, Gerlach, Duff, Pollard and Callanan with Clark again the fastest driver on track with the fastest lap of the night at 16.345 as the top six cars set laps under the 17 second mark.
Lamb was delighted to win in front of a home crowd. "It is getting harder and harder to win these things, Lennie again so close and so fast. What an amazing job by the Redline volunteers to keep fighting back after rain, the track was the best ever that I have raced on here.
Well done to everybody else, thank you to my family and crew, especially dad Albert who is just amazing with all his effort on the car."
Grand Prix Midgets competed in the latest Victorian series round and it was Jason Crawford who took a win out over Travis Florimell who had earlier won all three-heat races. Chris Fowler was third with Lisa Chalcraft whom earlier had a brush with fire after who car exploded into a ball of fire as oil leaked from the car and the flame entered into her cockpit during heat racing, finished fourth ahead of Sean Denning.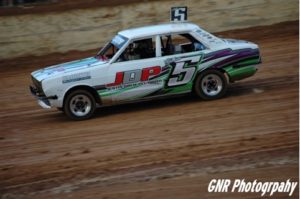 Junior Sedan racing put B Division and A Division racers against each other all night with trophies separated after the final for both classes. Darcy Wilson from Ballarat was the overall winner in the feature ahead of Courtney Meakins and Darcy Giblin whilst Meakins won the A Division from Giblin and Tyler Barton and Wilson won the B Division from Rhys Meakins and Kasey Ferguson.
Street Stock racing produced wins in the heats to Mark Purdie and Mitch Viney twice and Gerrard Mabbitt and Stuart Robinson once each before Purdie went on to win the feature race ahead of Nevano Cowan, Robinson, Chris Bohdal and Mabbitt.
Corey Knox then took the win in the Open Sedan final across the line ahead of Victorian Champion Sean Lister, Rob Burgess, Andrew Brown and Scott Whittle, Lister whose car is way more powerful than the other competitors in the class dropped himself from the podium results in the feature allowing Burgess and Brown to move up spots.
Racing for Redline Raceway includes the Victorian and Australian Speedway Go Kart titles over consecutive weekends before returning for car action on April the 29th for Track Championship day.
Belmont Speedway Drivers Club thanks the following supporters:
Ipta Fibreglass – PR Fittings – Trax Racewear – A.Y Electrical – Hennessy Transport – Dean Miller Photography – Rock Solid Productions – I C Weeds & Gardening Geelong – Whitehorse Freightliners & Mercedes Benz Truck Centre – United Forklift & Access Solutions – Lister Automotive – Revolution Racegear – SPW Engineering – Allsport Trophies – Steve Forte Metal Fabrications – S.D Canvas – Johnny Dyno Engines – Metowu Mechanical Services – Redline Race Engines – Pedder's Suspension – Norman Street Automotive – Duo Mobile – Burson Autoparts – UBC Web Design – Bulleen Towing – WBW Metal Fabrications – Dann's Auto Wrecking – Jeff's Auto Detailing – Autoparts Professionals – Leejay Trailers – IG & JL Greville – Natrad Ballarat – PP Designs – Power FM
Written by
Dean Thompson
DMT Sports Media
For Belmont Speedway Drivers Club t/a Redline Raceway