Wahgunyah hosted the latest round of the Ballistic Performance Parts Masters series as drivers had their last chance to test set ups before the upcoming Australian title in April and Jason Crawford went back to back with victories for the first time this season.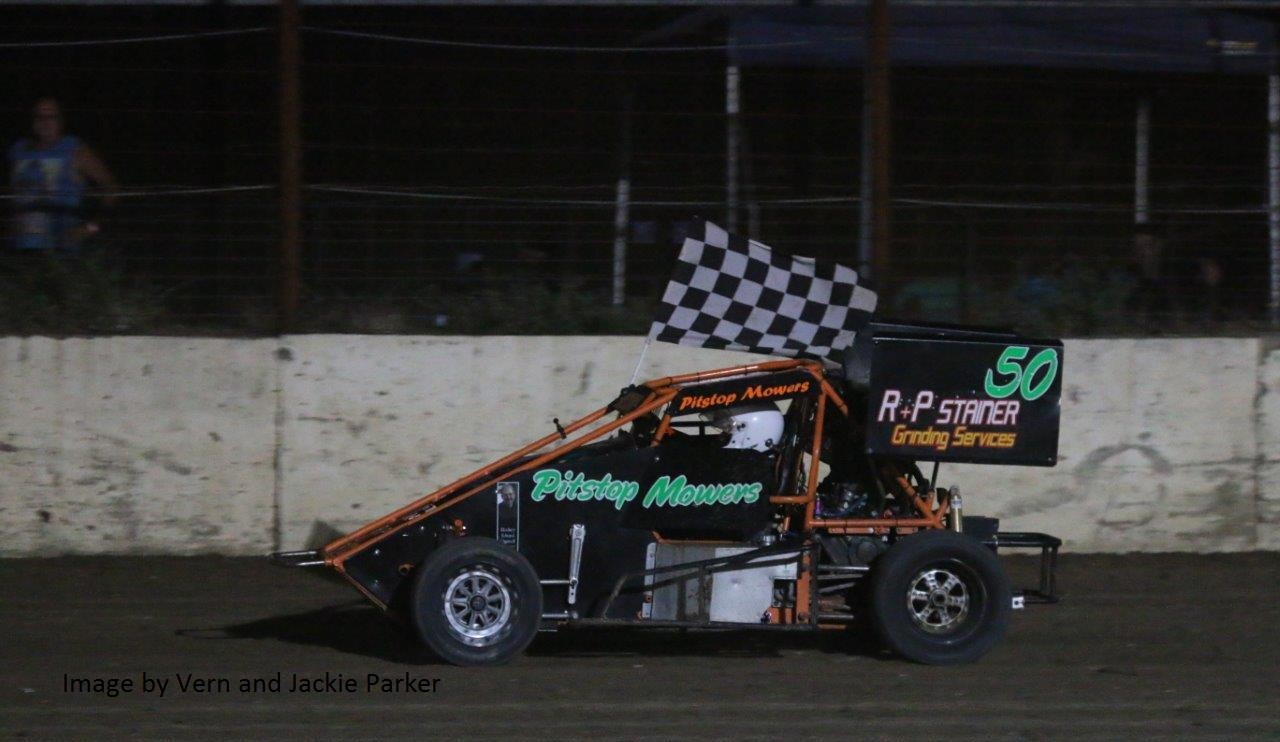 Each driver competed in three heat races before the feature race where Crawford finally out ran Trevor Perry, the undisputed fastest driver on track in a small yet competitive field.
Six drivers greeted the starter in the first heat with Chris Fowler (#13 Castrol – Suzuki), David Bacon, Perry, Lisa Chalcraft, Jason Crawford and Sean Denning the line up. The 610-metre track is hard work however Perry who won the Thunder on the Murray at the same track back in January, led lap one from Chalcraft and Crawford. Crawford would spin in on lap five and be sent to the rear for the restart before coming back to fourth. Perry the winner from Chalcraft, Fowler, Crawford, Denning and Bacon.
Chalcraft (#15 Western Gulf Oils – Suzuki) and Denning then started at the front of the second heat race with Crawford, Fowler, Bacon and Perry lined up behind them. Chalcraft showed great speed and led lap one from Crawford with Perry in third. It took until lap five for Perry to get past Crawford and Chalcraft and he went on to take the win with Fowler in fourth, then Denning and Bacon.
Perry (#55 Perry Bros Chassis – Suzuki) from the front row is a tough proposition and with Crawford pole and Denning, Bacon, Chalcraft and Fowler the line up, he made short work of getting to the front where he led all six laps to defeat Crawford, Chalcraft, Fowler, Denning and Bacon (#37 DB Kanga Hire & Cleaning – Yamaha) who was having mechanical issues.
Lining up for the final Denning (#52 AR Suburban Fencing – Suzuki) and Fowler started at the front with Crawford and Chalcraft behind then Perry. Bacon didn't start due to injector issues that began in the race prior. Chalcraft and Crawford were tied on points and Chalcraft won a coin toss and elected to start in the outside second row spot.
When the green set the field flying, Fowler led lap one ahead of Crawford (#50 Pitstop Mowers – Yamaha). A couple of laps in and Crawford moved past Fowler, then Perry made a turn three pass as Fowler washed up high and spun without causing a caution and continuing on.
Crawford out front proved a little too quick for Perry and Chalcraft whilst Fowler caught and passed Denning on the last lap of the final to take fourth place.
The Victorian Grand Prix Midgets association thank Club Supporters:
Ballistic Performance Parts – Oil Hydraulics – Jacobson Transport – Automotive Super Balance Shepparton – Pitstop Mowers – Rock Solid Productions
Written by
Dean Thompson
DMT Sports Media
For Victorian Grand Prix Midgets Association