The Victorian Grand Prix Midgets Association took the Ballistics' Performance Parts Masters Series to Nyora Raceway for the first ever time and whilst there was no doubt who was quickest, the win went to Jason Crawford who kept all four wheels attached to the race track.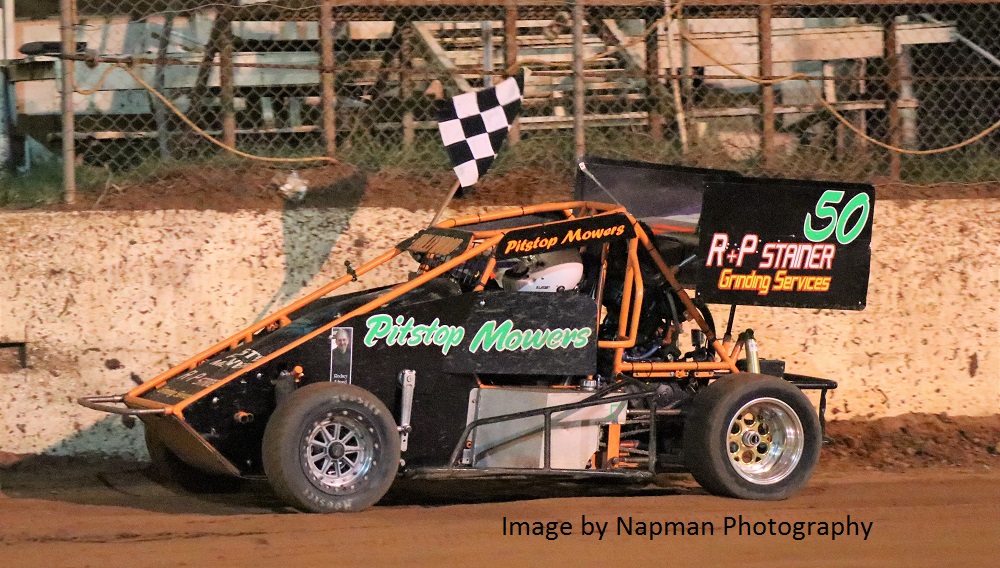 A smaller than originally nominated field parked in the pits ready to do battle over three heats and the final with the top three drivers in the point score Trevor Perry, Lisa Chalcraft and Crawford all in attendance.
Perry (#55 Perry Bros Chassis – Suzuki) quickly moved to the lead in heat two getting around Chalcraft on lap one. Competition between second and third was close, in fact so close that the steward deemed Crawford at fault when he and Chalcraft came together putting them both off the track. The Steward put Chalcraft back into second, Crawford to the rear of the field and Perry took the win from Chalcraft, Sean Denning, Marty Job and David Bacon whilst Chris Fowler didn't finish due to electrical fault.
Perry was setting laps in the mid to low fifteen second bracket and in the second heat was recorded under the fifteen with 14.894 on a stopwatch. Starting from sixth Perry led lap one of heat two from Chalcraft (#15 Oil Hydraulics – Suzuki), Crawford, Denning, Fowler and Bacon before Fowler's electrical problem put him out of the race and team mate Job lost his brakes when the brake calliper broke. Perry took the win from Chalcraft, Crawford, Denning (#52 AR Suburban Fencing – Suzuki) and Bacon.
Crawford started from the front in the third heat and Perry chased him around the little bull ring with Fowler (#13 Castrol – Suzuki) in third. Perry reached the front on ,lap four and set about distancing Crawford before his race came to a crashing halt on lap six when he dumped upside in turn three. The race was declared with Crawford winning from Fowler, Chalcraft, Denning, Job (#31 Wilko's Waterslide Hire – Suzuki)and Bacon.
A twelve lap final finished the night and for Perry it was a race he just didn't make, another ten minutes would have seen the car repaired and on track however that wasn't to be. Chalcraft qualified top point scorer and she started at the rear of the field with Crawford alongside. Fowler after a terrible night, started pole and he took the green flag and locked in the lead on lap one.
Following Fowler on lap one was Crawford, Chalcraft, Denning and Bacon (#37 DB Kanga Hire & Cleaning – Yamaha). Six laps into the twelve lap race Crawford took the lead from Fowler after Fowler spun with Crawford lucky to get through and avoid contact with Fowler, Chalcraft and Denning slipped past Fowler also who then recovered back into third the very next lap.
At the chequered flag on lap twelve Crawford (#50 Pitstop Mowers – Yamaha) had the win from Chalcraft, Fowler, Denning and Bacon whilst Job broke a drive shaft.
Points after five rounds have Crawford 383 points just 13 in front of Chalcraft. Perry is third 2 points back then Denning into fourth spot with 282 points and Fowler 275. David Bacon, Job, Travis Florimell, Scott Laird and Greg Campbell round out the top ten with eighteen drivers having competed in at least one event so far this season.
The Victorian Grand Prix Midgets association thank Club Supporters:
Ballistic Performance Parts – Oil Hydraulics – Jacobson Transport – Automotive Super Balance Shepparton – Pitstop Mowers – Rock Solid Productions
Written by
Dean Thompson
DMT Sports Media
For Victorian Grand Prix Midgets Association