The Grand Prix Midgets again battled at Speedway Wangaratta for another round in the Ballistic Performance Parts Masters Series and with a couple of the fancied runners from around Victoria unable to make it, Trevor Perry dominated once again.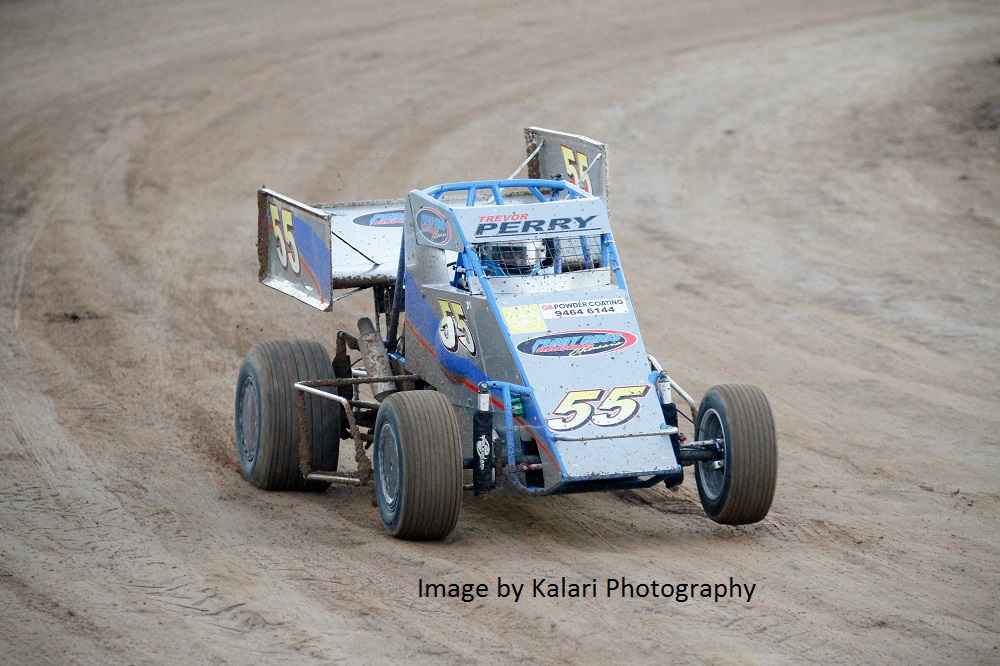 Welcome additions to the field were New South Wales based competitors Keiran Macklyn in the #24 Marulan Auto Spares supported and Kawasaki powered machine and Geoff Marsh with both drivers having an unfortunate welcome to Victorian racing when their cars couldn't get past the first heat race.
Lisa Chalcraft began the first heat with Macklyn alongside her then Marty Job (#31 Wiko's Waterslide Hire – Suzuki), Chris Fowler, David Bacon, Trevor Perry, Travis Florimell, Sean Denning, Geoff Marsh and Mark Blackeby returning to racing having purchased the Nathan Caddy car.
Chalcraft led Florimell (#81 TM Lineboring – Yamaha) who started sensationally with Perry, Macklyn and Fowler following her across the line on lap one. More of the same for lap two with Fowler passing Mackyln before trouble struck Florimell as he broke a drive shaft on lap three and he exited the race as did Denning with ignition problems leaving Perry to chase Chalcraft.
On lap six Perry moved to the lead with Chalcraft (#15 Freers Panel Works Mooroopna- Suzuki) and Fowler the chasers before the race wound up on lap eight with Perry winning from Chalcraft, Fowler, Macklyn, Job, Blackeby, Bacon and Marsh.
Bacon (#37 DB Kanga Hire and Cleaning – Yamaha) lined up at the front of the field in heat two with Perry alongside and Chalcraft and Job behind, whilst Marsh didn't start with engine concerns and Macklyn on the last lap of the first heat broke a wheel hub and had no spare and his night was finished resigned to watching with Marsh.
Perry led lap one of the second heat however he had stiff competition from Fowler (#13 Castrol – Suzuki) and with Perry up high and Fowler on the pole line the two went side by side for a number of laps before Perry finally got the better of Fowler and ran away down the back straight.
Job was having a strong run in what was his most competitive run in his short Grand Prix Midget career and Blackeby was quickly getting used to the ten car which needed a little tuning along the way. Perry took the win from Fowler, Job, Blackeby, Chalcraft, Denning (#52 AR Suburban Fencing – Suzuki) and Bacon.
Fowler started from pole position in the last heat with Job his teammate on the outside and Perry, Bacon, Chalcraft, Denning and Blackeby rounding out the field for the last qualifier. Perry didn't get himself tangled up in a battle in this one though, as he surged to the lead over Fowler and Job. Chalcraft caught and passed Job on lap five and at the chequered flag Perry (#55 Perry Bros Chassis – Suzuki) had the win ahead of Fowler, Chalcraft, Job, Denning, Blackeby and Bacon who had been suffering through the night with injector issues whilst Denning ran on two cylinders out of the four all night.
Denning then started at the front with Bacon, Job, Chalcraft, Fowler and Perry and the returning Blackeby at the rear of the field behind the top qualifiers.
It did not take long at all for Perry to stamp his authority on the final leading lap one from Chalcraft who had been running on three cylinders during the night and Fowler. Chalcraft might have been down on power, however it seemed like she didn't need the rest as the track slickened off for the feature and it took Fowler eight laps before he could get past and into second.
Blackeby caught and passed Job who was having mechanical concerns of his own and Perry romped to another win over the twelve lap distance from Fowler, Chalcraft, Blackeby, Job and Denning. After the race Job discovered he had a broken front axle which occurred with around a lap to go in the final.
The Victorian Grand Prix Midgets association thank Club Supporters:
Ballistic Performance Parts – Oil Hydraulics – Jacobson Transport – Automotive Super Balance Shepparton –Pitstop Mowers – Rock Solid Productions
Written by
Dean Thompson
DMT Sports Media
For Victorian Grand Prix Midget Club