The Goulburn Ovens Sedan Association made a long-awaited trip to Sonic Speedway Swan Hill to compete in round one of the Goulburn and Murray VSC State GOSA point score and the Leeton registered drivers came out on top with Mitch Watts defeating club mate Mark Gordon whilst GOSA President David Walton finished in third place.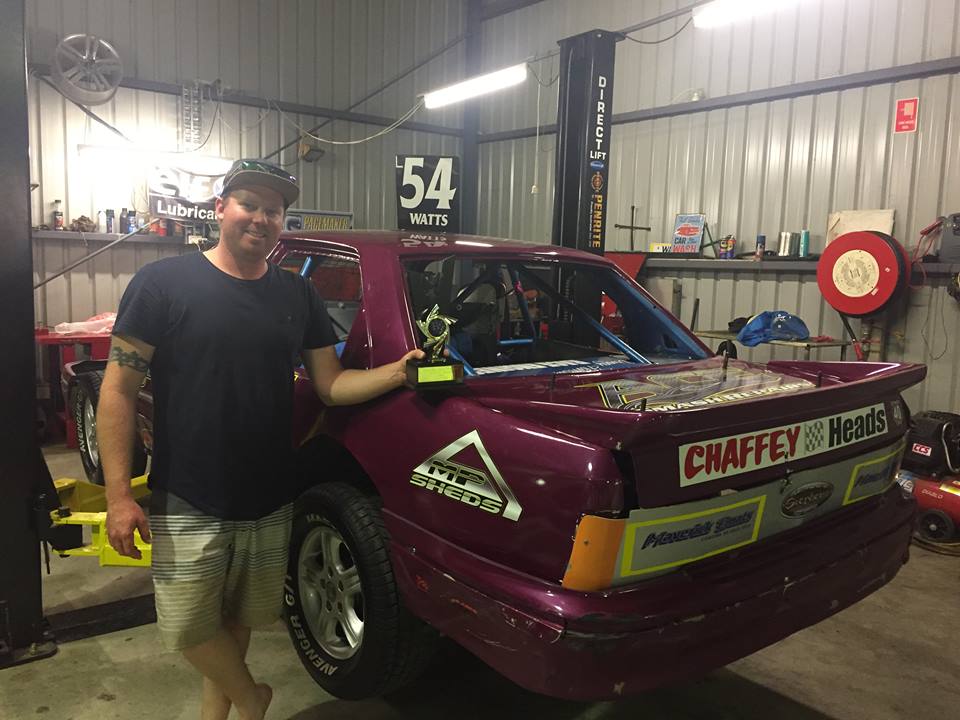 Four heats were held with drivers competing in three of them each, new members from the Swan Hill area were welcomed and the racing was fast and furious with Peter Schmetzer setting an eight lap record, Mitch Watts a 1 lap record, Ross Maclean a seven lap record and Watts a new fifteen alp record at the venue.
'Flash' Gordon (#91 Euroley Engineering – VL Commodore) started the evening in fine form winning the first heat ahead of Watts by just .251 of a second race margin, extraordinarily Walton was in third place just a further .006 back form Watts at the line. Jamie Atkin finished fourth with Jack Bear and Andrew Trainor (#17 NJC Irrigation Systems – EF Falcon) completing the result. Lap times for the fast cars were in the 22.3 bracket for heat one.
Peter Schmetzer lost power to his coil in the VL Commodore and also decided his gearing was way too low for Swan Hill and parked infield. Mick Bunt broke a ball joint on his AU Falcon after hitting the wall and also finished the race infield.
In heat two Schmetzer made up for the DNF result in heat one by setting the eight lap record which looking at faster racing later in the night, should be broken next time the class attends Swan Hill, Schmeltzer's time was 3 minutes 2.383 seconds. He defeated Watts by .727 of a second with Ross McLean next across the line then Atkin, Justin Granger, Colin Plumridge (#93 Country Tracks Swan Hill – VX Commodore), Bear and Trainor.
Watts took a win in the third heat with a new fast time of the night for a lap reaching into the 21 second bracket. Gordon ran well finishing almost two seconds back behind Watts with Granger (#29 Juts Race Engines – VK Commodore), Walton, McLean, Plumridge, Trainor and Bear (#19 Hartnett Transport – VL Commodore) closing out the result.
A shortened seven lap heat race in heat four finished with a race time of 2 minutes 38.825 and it is fair to say that the Sheriff is going to hang on to this one for a long time as it is rare for seven lap races to be run. McClean defeated Granger, Walton (#42 Maverick Marine – VS Commodore), Gordon, Schmetzer, Plumridge and Atkin. Trainor didn't finish with fuel pump issues.
Closing out the evening was a fifteen-lap final that Watts (#54 Ace Smash Repairs Leeton – VS Commodore) was keen to go on and win. Gordon, Walton, McLean and Granger were all in the mix to cause some issues for Watts, however setting a one lap record time of 21.793 along the way Watts defeated Gordon, Walton, Bear, Atkin (#12 Rosco Race Engines – VL Commodore), Plumridge and Schmetzer a lap down with a broken universal joint after a race incident where he and Walton clashed. Race margin was a healthy 7.5 seconds and a new fifteen lap record time of 5 minutes 32.498 was recorded.
Maclean (#27 Dunkley Paint and Panels – VY Commodore) had a power steering issue and parked his car infield whilst Granger pulled infield when the throttle cable came off.
Picking up the win Watts was understandably pleased. "I had an absolute ball here tonight, win, lose or break down. I can't wait to come back here and race again, I hope the Swan Hill people enjoyed having us. Thank you to all my supporters, my family and wife Karissa and the other competitors for being fun to compete with."
The next round of the Goulburn Murray point score is at Nagambie Speedway on April the 29th.
Goulburn Ovens Sedan Association would like to thank the sponsors.
Max's Motor Museum, Corowa – Maverick Boats, Corowa – QA Kitchens, Albury – Elle Mae Hair & Beauty, Corowa – Corowa Kitchens & Cabinets – Psychic Tin, Leeton – Wahgunyah Rock Yard, Wahgunyah – SMC Contracting Services – Cornelius Classic Panels, Corowa – Ace Smash Repairs, Leeton – MP Sheds, Leeton – Corowa Glass, Corowa – Dunkley Paint & Panels, Corowa
Written by
Dean Thompson
DMT Sports Media
For Goulburn Ovens Sedan Association