This year the Ladies Crash and Bash has exploded into a category the girls are clamouring to be involved with, as evidenced by the fifteen plus cars that competed in the second event of the season and the first round of the 'Butchers Shop Hotel' Gippsland Cup at Drouin Speedway on Sunday December the 10th.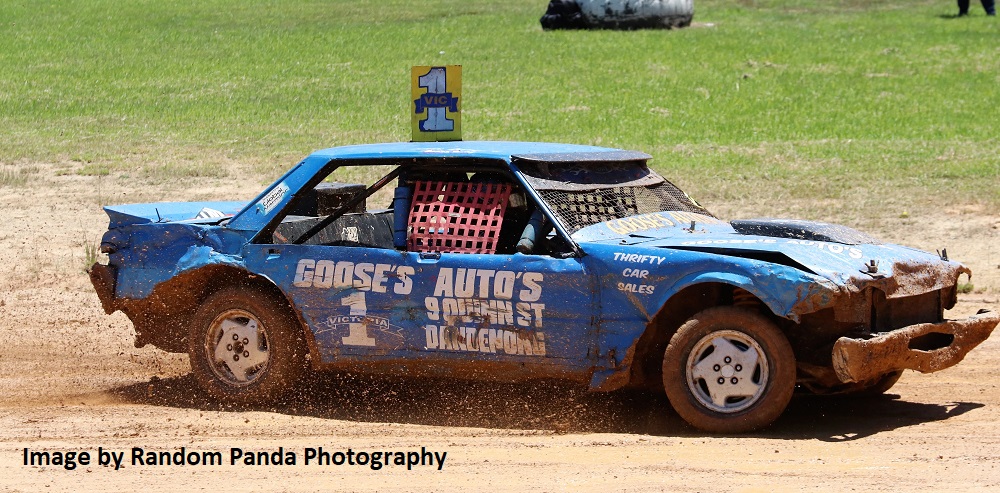 Current Victorian Champion Leanne Young went on to win from Bianca Brown and Lea Judd.
Six heat races in the 'Gooses Auto Stampede' determined the starting line-up for the feature event which would be over fifteen laps. Heat races were won by Young, Judd, then Young and Judd and in the final round by Maleah Brown and Young.
With a front row start in the first heat and Kiara Brown starting alongside and Jess Warren, Hayley Hutchins, Sharon Morrison, Alyssa Montebello, Maleah Brown and Kelly Oliver making up the rest of the field, Young took the early lead before Warren hit the wall causing a restart. On the second attempt to run Hutchins a rookie Crash and Basher from the Standard Saloon ranks took the lead and Young followed her across the line with Morrison back in third.
Young wrested the lead from Hutchins on lap two and Morrison and Maleah Brown who had moved forward from last were having a good stoush with each other. Brown moved into second by lap five and from there a run to the flag seen Young win from Maleah Brown, Morrison, Warren, Hutchins and Oliver. Whilst Kiara Brown and Montebello did not finish.
A front row start for Judd in the second heat put her on outside pole with Bridgette Morgan the pole sitter. Sarah Price and Amanda Burrows both the from the Standard Saloon posse were on the second row then Dette Miles, Clara Lynch, Kellie Latham and Bianca Brown completed the field.
Judd took to the front of the field straight away with Morgan chasing, Price got stuck right in and moved to second by lap three before coming un-stuck on lap four and firing up a lap or two down on others. Miles made her way to the second after Burrows and Morgan got in a tangle and from there it was all Judd to win from Morgan who recovered, Bianca Brown, Burrows, Miles, Price and Lynch whilst Latham who was fourth at the time failed to cross the finish line and thus copped the red pen of doom from the lap scorer marking her as a non-finisher.
Burrows turned up to Drouin to at the most be a passenger in a Standard Saloon with her fiancé on her birthday no less or to enjoy the action in the crowd. Instead, she wound up settling into Anthony Segonds Panel Van as the racer because Tegan 'Stubby Legs' Bullard couldn't reach the pedals! Lap one and two of the third heat looked good for Burrows as she led Bianca Brown and then Young. However she wasn't fast enough to stay away from the big bumper of the Victorian champion and around she went.
Young went on the lead every other lap in heat three and win from Maleah Brown, Morrison, Bianca Brown, Burrows and Lynch whilst again a couple of racers didn't cross the finish line according to the by the book lap scorers, they were Price and Kiara Brown.
From the very back of the pack Judd moved to the lead on the very first lap of the fourth heat. Hutchins the pole sitter and Montebello connected with each other and got stuck together. Montebello eventually got loose and Hutchins thought her car was broken and went into the infield 'Junkyard'.
On lap four a big crash put Warren and Oliver out for the day. Oliver's car suffered damage and Warren was a little winded after a hard hit into the concrete wall. Judd led every lap of the fourth heat with Morgan making her way into second by the end and Miles finishing in third ahead of Hutchins who despite being two laps behind came back on track and finished the race.
Judd then quickly moved to the front of the race in her final heat with Maleah Brown chasing her. Lynch had a good start however the next lap she was at the rear of the race and Price was gunning for Judd who had been passed by Brown. Brown and Judd swapped the lead a couple times in a great race before Brown settled in for the win from Price, Hutchins, Morgan, Judd, Miles and Lynch.
In the final qualifier of the day Bianca Brown from pole moved quickly trying to put distance between her and the Victorian champion Young. She did well enough to stay away for three laps whilst back in the field Latham and Burrows had a tangle. Young took the lead on lap four and then from there she was able to take the win from Bianca Brown, Montebello, Morrison, Kiara Brown and Burrows with Latham a non-finisher.
There is always a couple racers who do not quite make the final race, Lynch was one of those as her crew chief Dinky Parker shared. "Both left-hand doors opened up and out like a Sardine can, the boot was pushed in 3 inches and we broke a Watts link and rear shocker mount, we only got the car a week ago and we were proud to get it out there, now I have to spend two weeks in the shed to put it back together again, that's going to be a lot of Coffee!" Kelly Oliver also didn't start as her engine let go on the way to the dummy grid to start the third heat.
Lining up for the final the 'Butchers Shop Hotel Bunyip' Gippsland Cup first round, Young would start from pole position with Maleah Brown, Judd, Morgan, Bianca Brown, Morrison, Hutchins, Miles, Burrows, Price, Lynch, Montebello, Kiara Brown and Latham in the car Jess Warren was driving earlier.
Young was quick to get to the lead with Maleah Brown, Judd, Bianca Brown and Hutchins who was a natural at this Crash and Bash stuff chasing hard. Things quickly changed at the top with Bianca Brown into second on lap two and Latham right up there with Hutchins. Morgan was one of the early competitors to be lapped and Miles who had qualified so well was another at the halfway mark. Montebello left the race with a flat battery.
Third, fourth and fifth spots back in the pack changed frequently whilst Young and Bianca Brown carved up the field. Morrison who was a start of day potential favourite, was harsh on her self-assessment, reporting that "I drove like a first timer down a freeway, everybody went Woosh right by me, I could not control the car and then when I got down to driving on a rim with no rubber I just chucked a hissy fit and pulled infield."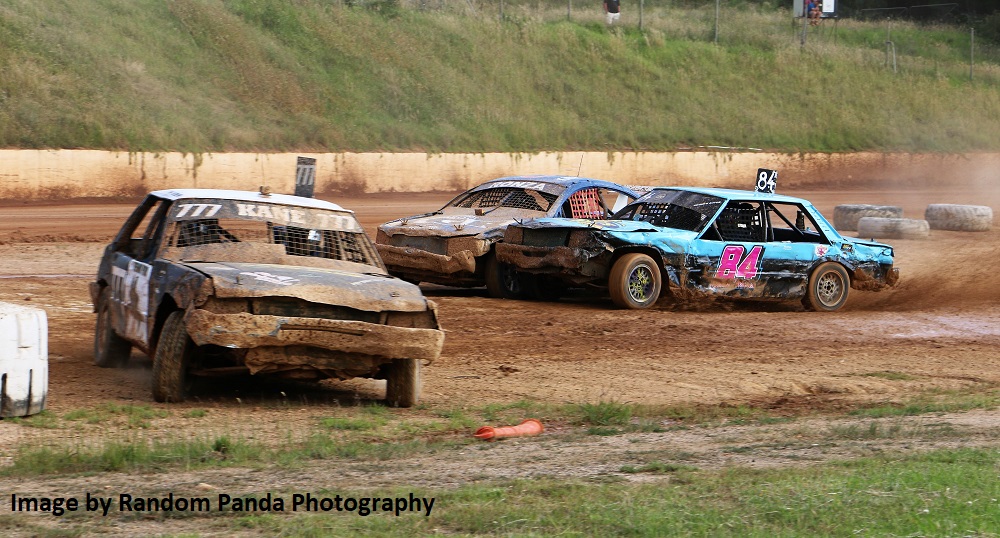 When the chequered flag dropped, Young was the winner from Bianca Brown who banked some more serious points on the back of her recent first ever feature win at Nagambie Speedway and she had following her, Judd, Hutchins, Maleah Brown who recovered from being spun, Latham, Burrows, Miles, Price, Morgan and Kiara Brown.
Some of the first-timers had an absolute ball and now Standard Saloon racing is at risk of a few jumping ship to Crash and Bash land for good. Latham competing in her Valiant without power steering is a little sore a couple days later. "No power steering, oh my god my arms they hurt. I killed the Valiant in the third heat when I said hello to the concrete wall and got offered a driver by Brad and Jess Warren of their car, thank you guys so very much. I had a fantastic day." Shared Latham.
Rookie racer Kiara Brown had a blast in her Valiant, she had a window net fall down during heats and she had to go infield for safety reasons, she got spun a couple of times and she finished the final in her first ever meeting, she was pretty happy with that.
Finally, Sarah Prices daughter took her mum for show and tell at school on Monday and her husband was last seen Monday night checking out potential Cars for Sarah to destroy at the next show in January.
And just for the record, Tori Warren was not there even if the announcer said so!
The Crash and Bash Association thank sponsors for this season:
Ladies Crash and Bash Supporters:
Pakenham Towing – Longbeach Metal Polishing – Butcher Shop Hotel – Miles Mechanical – Trik Trailers – Pakenham Towing
Open Crash and Bash Association Supporters:
DNAirbrushing – Gully Tattoo – Random Panda Photography – Gooses Autos
Written by
Dean Thompson
DMT Sports Media
For Crash and Bash Association of Victoria