Drouin Speedway racing on Sunday the 11th of February provided great action for motorsport fans with the return of Wingless Sprint competition to the venue after some time out of the calendar for the class and a feature for Sports Sedans headlining the action, Jordan Abbott and Nathan Fawns took the wins in each respectively.
John Rotheram began the day well in Wingless Sprints picking up a first heat victory before rolling over in the second heat won by Abbott. Quick repairs by Rotheram and he was back out and competing in heat three where he finished third behind Abbott and Evans and seven starters greeted the flag for the feature race.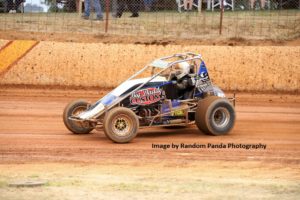 Abbott had settled well into a groove around Drouin and kept hitting his marks lap after lap and he went on to take a win in front of Travis Evans, Mick Lovell, Rotheram, Chris Skilton and Viv Rockliff.
Having won every race the night before in Ballarat, Lucas Conder looked the driver to beat in the Sports Sedan Gippy Blitz and began the day with victory in race one. Nathan Fawns who had grown up racing at Drouin before moving away from the area picked up the next two wins in his new car before starting the feature race alongside Conder.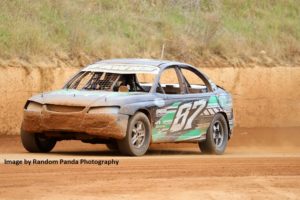 Fawns got the best of the starts and Conder found the going tougher with Jeff Blencowe and Scott Angus giving him a bit of curry. Fawns drove superbly to win from Blencowe, Angus, Conder and Steve Akil in the state points Sports Sedan event.
Junior Standard Saloon competitors were competing in a 'Boost 2 Drive' series event and Lewis Williams began the day with the first win before Kasey Ingram picked up the second race victory, Rhys Lansdown went on to win the third heat before the feature race lined up.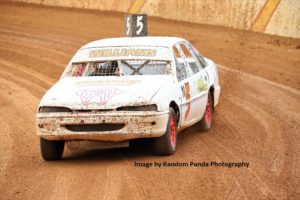 It was anybodies race to win for the feature after having three different heat race winners and Williams looked good having won at Drouin at the last race meeting. As the race settled and a few passing moves were made Williams took off and stormed home to victory ahead of Ingram, Jack Yeomans, Lansdown and Deegan Benson rounding out the top five finishers.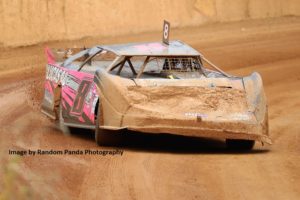 Standard Saloon action was hard fought with Leigh Gooding taking the win from Leigh Mitchell, Dale Walkinshaw, Tracey Ingram and Bailey Perkins. Darren Nelson won the Unlimited Sedans ahead of Nathan Fawns and Daniel Angus and Tracey Ingram won the Ladies Standard Saloons ahead of Allan Ardley, Ashlee Wilson, Kate Stuchbury and Stephanie Evans.
Racing returns to Drouin again on March the 18th with Street Stocks and Mini Sprints the main events.
Drouin Speedway Club would like to thank their club supporters:
Active Graphics – Alberni Engineering – Ampworks Audio – Baw Baw Shire – Berwick Legal – Boost 2 Drive – Random Panda Photography – Haze Hair by Design – Keena Fencing – Laser Electrical – Latrobe Waste Recycling – Leigh & Anne Gooding – Longwarry Hotel – Longwary Meat Safe – Miles Mechanical – Monckton Concrete – Norstar Steel Recyclers – Onsite Rentals – Pakenham Tilt Tray – Polish & Shine – Prorent – Ramsdale Wreckers – S.S Plastering & Painting – TNT Auto Parts – Victorian Crane Trucks – Wilkar Construction
Written by
Dean Thompson
DMT Sports Media
For Drouin Speedway Club