The latest action at Drouin Speedway on a freshly resurfaced race track almost got washed and then blown away with the weather playing havoc on March the 18th, however persistence by the club officials and volunteers finished with a complete show for motorsport fans with Lenny Bates winning back to back 'Onsite Response' Street Stock Rumbles whilst Leongatha's Owen Schnoor took the win in the Mighty Mouse Magic for Mini Sprints and Cranbourne's Warrick Taylor in the Panda Cup feature for Open Sedans.
The Street Stocks known as a popular national Sedan class in recent seasons have only run once a year at Drouin and Lenny Bates from Melbourne's Eastern Suburbs returned to defend last season's victory with a back to back result.
Bates won the first heat race in front of Morwell's Chris Stewart as he did the second with Eugene Bennett second in both of those runs. Bennett then picked off a win in the third heat race defeating Stewart and Bates. In the final though Leigh Gooding put himself in amongst the lead three and a terrific tussle between Stewart, Gooding and Bennett over the twenty lap feature seen positions change a number of times.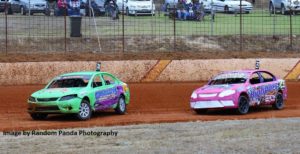 Bates finished comfortably out in front for the win with Stewart second and Bennett across the line third ahead of Gooding until the Steward penalised Bennett for a race incident and Gooding was inserted into the podium position. Darren Giacometti finished in fifth.
In Mini Sprint action for the Mighty Mouse Magic event Ally Moore started superbly whilst Dave Alie ended up in a wreck. At the restart after Alie's car was carted into the infield Jason Lynn hit the re-start cone and was penalised to the rear of the field for a further restart where Matt Moore went below the starting cone on the track instead of to the outside, he too was penalised. Ally Moore won the heat eventually before Darren Schnoor won the next two heat races.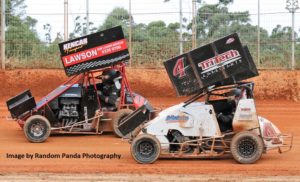 Owen Schnoor then started very quickly in the feature event and he was never in trouble as he led Darren Schnoor, Lynn, Andrew Burleigh who had earlier left the track to head into the local township to fix a hole that had been punched through his radiator and Kyle Stathopoulos.
The feature event for the Open Sedans included eight Unlimited's and one Sports Sedan competing with Graeme Nugent new to the group bringing in many years of experience from other similar classes and Craig Mitchell brand new to racing who just happened to be sponsoring the event along with his business partner.
Peter Cox won the first heat against the number two ranked driver in Victoria Sean Lister after race leader Warrick Taylor suffered a mechanical break-down. Taylor returned in the second heat to win ahead of Lister and Alan Stockdale before winning the third ahead of Lister also.

Lister qualified from pole position and got a terrific and smart start as he hugged the pole line on a track that had lost moisture and drive due to being windblown by the server winds hitting Victoria on the day. Lister lead through re-starts and looked set to pick up a victory over the Victorian champion until the gap was opened wide enough for Taylor to get down below Listers race car on track and Taylor pressed forward and into the lead to go on and win from Lister, Stockdale, Cox and Daniel Angus.
In other racing the Standard Saloon feature was dominated by Andrew Dike who had only recently put the car back on track for his mother and he to share. Dike defeated Daniel Walkinshaw and Mick Coomer whilst in heat racing Johnny Watson picked up a win before Dike won the last two.
In Junior Standard Saloon racing Jack Yeomans finished out front of a heard fought battle with Lewis Williams trying to stay in touch.
Williams would eventually finish second ahead of Kacey Ingram, Deegan Benson and Damon Ingram after Benson had won two of the three qualifying heat races and Williams the other.
Finally, the Ladies Standard Saloons competed in their last opportunity to test on the track before their upcoming Victorian title on April the 8th and Tegan Bullard a former Standard Saloon club champion at Drouin, won from Victorian champion Tracey Ingram who hails from Warragul and Amanda Burrows, Kate Stuchbery from Bairnsdale and Natasha Curtis.
Drouin Speedway will see competition again on April the 8th with the Ladies Standard Saloon title, Division 2 Hot Rods, Vintage Super Modifieds and club classes.
Drouin Speedway Club would like to thank their club supporters:
Active Graphics – Alberni Engineering – Ampworks Audio – Baw Baw Shire – Berwick Legal – Boost 2 Drive – Random Panda Photography – Haze Hair by Design – Keena Fencing – Laser Electrical – Latrobe Waste Recycling – Leigh & Anne Gooding – Longwarry Hotel – Longwary Meat Safe – Miles Mechanical – Monckton Concrete – Norstar Steel Recyclers – Onsite Rentals – Pakenham Tilt Tray – Polish & Shine – Prorent – Ramsdale Wreckers – S.S Plastering & Painting – TNT Auto Parts – Victorian Crane Trucks – Wilkar Construction
Written by
Dean Thompson
DMT Sports Media
For Drouin Speedway Club