Jake Young from Melbourne's South Eastern Suburbs won his first Victorian title when he was able to bump and grind his way through the thirty car starting field and then out gun everybody else on his way to a Crash and Bash Association title win at Alexandra Speedway.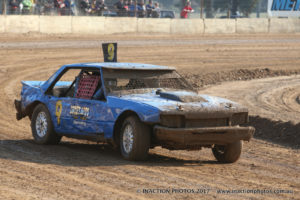 Young was one of five winners for Saturday night with Lenny Bates winning Street Stocks, Brendan Miller the Sports Sedans, Ricky Cornwall the Victorian Speedway Council Juniors and Kasey Garlick the Speedway Sedans of Australia Junior Sedan winner.
With thirty plus cars in the Victorian title feature race, a massive crash in the first turn of the dog leg entry with a number of cars jammed up against the concrete wall put out some of the main players, a re-start and a crash on the out section of the dog leg again before any lap had been completed also took out a number of cars. Grant Attewell, Lee Beach, Rod Disher were three strong competitors knocked out before a lap had been run.
Damien Miller was early leader and didn't look like he would be in trouble or under pressure from his competitors for a number of laps. Then a flat tyre meant he had to go off track and have the tyre changed and come back into the course to continue. This happened three times for him.
Young never had to enter the pit enclosure at all over the forty laps, whilst others had to a number of times. Young went on to win by a lap over Rob Bushell, Andrew Corlett, Daniel Williams and Beau Evans.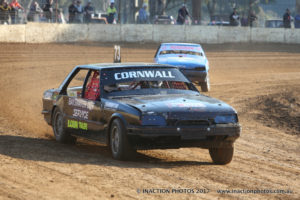 In the Victorian Speedway Council Junior Sedans feature Ricky Cornwall competing in a Sports Sedan with race rubber, was to strong and took victory ahead of the Victorian Junior Standard Saloon champion Adrian Lawrence competing with only four millimetres of tread as per rules he must abide by, Toby Carmichael, Jack Brudenell and Ally Morrison.
Brendan Miller sent a clear message out to entrants in the upcoming 100 Lap Derby when he won the Sports Sedan feature in front of Alexandra local Luke Fallon. Steve Kershaw from the Eastern Suburbs was third with Tim McPherson and David Donegan rounding out the top five competitors. Earlier Andrew Jordan had a massive roll at the final turn in the dogleg when the stewards deemed contact from McPherson flipped Jordan over.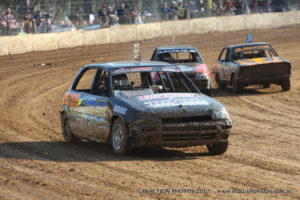 The nationally sanctioned SSA Junior Sedans feature was won by Kasey Garlick from Lilydale. Kasey stamped her authority early in the night in qualifying racing and was just too good in the final winning from Courtney Meakins, Caleb Lincoln, Tyler Barton and Nick Cherry.
Lenny Bates also from the Eastern Suburbs took victory in the Street Stock final ahead of Jamie Lock, Matt Nelson, Colin Tate and David Barrie.
Alexandra returns on the Queen's Birthday weekend when the 100 Lap Derby for Open Sedans is held. One Hundred competitors from right across Victoria and possibly from Canberra and other parts of New South Wales will compete for the prestigious victory along with other major events the Shamrock Cup for Standard Saloons and the Victorian Short Circuit Championship for the SSA Junior Sedans.
Fastest one lap times for the weekend were:
Ricky Cornwall in VSC Juniors – 35.786
Courtney Meakins in SSA Juniors – 36.728
Tim McPherson in Sports Sedans – 33.669
Lenny Bates in Street Stocks – 34.980
Tim Cole in Crash and Bash 35.039
Alexandra Speedway Club is very thankful for the support provided by all these businesses:
360 Diffs & Gearboxes – Air Anywhere – Alexandra & Yea Pre Mix – Australian Racing Products – Blackburn Trailers – Burco's Metal Fabrications – Campton's Graphics – DIY Auto Parts Broadmeadows – Eastern Suburbs Locksmiths – Fallon's Bus Services – FSM Recycling – GB Racecars – GYB Civil – Healesville Directional Drilling – Highline Racewear – Inaction Photos – Kilmore Towing & Transport – Lake Eildon Houseboat Sales – Lincoln's Earthmoving – LS Quarry – Metro Tow – Murrindindi Kitchens – Onsite Response – Pakenham Caravan Storage & Repairs – Quality Fire Protection – Revegetation Victorian – Rumbles Indoor Playcentre – Smooth Suspension – Shamrock Hotel Alexandra – Trax Racewear – Tyrepower Alexandra – Waverley Exhaust & Brake Centre – Weeks Radio – Yarra Valley Towing
Written by
Dean Thompson
DMT Sports Media
For Alexandra & District Speedway Club