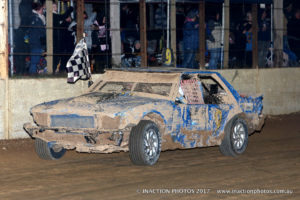 To be a legend of the Crash and Bash Association, you have to be involved in the biggest hits, win the hardest races or win Victorian titles and in the future Jake Young will be known as a Crash and Bash legend, he secured this by winning the Victorian Crash and Bash title at Alexandra Speedway on May the 13th.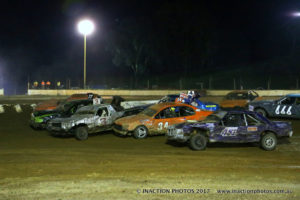 The title held with Belkweld Fabrication support attracted almost fifty entrants to compete on the dog leg circuit and through the twelve heat race events drivers competed in to qualify for the final as close to the front of the field in order to avoid likely carnage back in the pack, a number of drivers finished consistently at the front of the field.
Wins in the twelve heats went the way of Daniel Jorgen, Tim Cole, Beau Evans, Grant Attewell twice in a row, Lennie Bonnici, Damien Miller, Jimmy Kane, Evans once again, Ryan Brown, Jorgen once again and finally Jake Young who had not finished either of his first two qualifying races.
Top qualifiers in the feature event proved how consistent you need to be to avoid early feature race trouble with Jorgen picking up two wins and a second in qualifying at the front of the field. Andrew Miles was a surprise front of the qualifier consistently logging top three results with a third and two seconds putting him out of third place for the title race. Bonnici and James also didn't miss out with three top three results in each of their qualifiers.
Raffle car winner Jeff House began his career in Crash and Bash in the most perfect way, he rolled his car over on lap one of his first ever heat race! One of the pre-event favourites Craig McKendry also rolled over after refusing to leave the track when showed a defect flag by officials, that will teach him or maybe not!
Miller won the fastest heat race of the night with a 4 minute 59.570 second time winner heat 2C. The closest result was a 0.777 second win by Bonnici in heat 2B over Jorgen and Miller had the biggest win by over 16 seconds in heat 2C.
This all led to the final with the top ten to start lining up as Jorgen, Bonnici, Miles, Miller, Lee Beach, Kane, William Leeson, Rob Bushell, Evans and Grant Attewell.
A Crash and Bash final should always have, well Crashing and Bashing and that came in a HUGE way when on turn one, lap one a number of cars found themselves stuffed into a spot where only three cars fit.
The scenario was best described by Darren Mitchell who said " I spotted a gap from towards rear of field at the start, it turned out there was no gap and I slammed the ole mate Daniel Wanders up the clacker and got then got crunched by somebody who must have seen the same gap that I did! I broke steering and my race was done, but geez did I have a ball."
Attempt two to start the race seen another huge and this time very high speed crash down the back straight as cars headed into turn three, a number of cars sustained heavy damage.
When the race finally got underway, Miller was quick to assume the lead, Jorgen held strong in second. From the back and making waves were the likes of Matt Nelson, Young, Bushell and Andrew Corlett.
Lap twelve and Millers race started to unravel, flat tyres affected many drivers, some with multiple flat tyres, Miller himself had three, Nathan Fawns and Bonnici suffered the same.
Other drivers just kept getting crunched or parts broke, Gav Fenton suffered after a hard slam, Justin Prins had broken ball joints, Rob Disher simply said "I had broken everything's." Daren Skilton's car simply died when the battery ran out of power due to damage internals, Rick Pedler's steering rack broke, Stephen Mitchell also got hammered and popped three tyres, Jorgen and Miles suffered flat tyres and Chris Aarts, well his car handled like a Woolworths Shopping Trolley in a Dandenong car park.
Nelson made a play for the top of the field and early as he charged to third from the back of the field by lap seven, then after a patch up job through heat racing on a blown clutch, it let go again on lap thirteen.
Young assumed the lead on lap thirteen when Miller had his first flat tyre, Corlett from lap seven was never outside the top five and bounced from fifth to fourth to third. Bushell was another like Young who came from the back of the field. By lap sixteen he was fourth then third by lap twenty one and second by lap thirty five.
Daniel Williams made it into the top five by lap twenty one and Beau Evans was second by lap fifteen and most of the way until lap thirty three then passed by Corlett and Williams after needing to put for fuel.
Will Leeson was very consistent through the final and with five laps to go his fan belt came off and finishing in the top five was no longer going to happen.
Young was a big distance out in front of the field and for most of his time in front, was more than a lap almost two laps ahead of everybody else. Young has won already this season and has momentum on track, although he would have liked to have beaten Brad Warren who didn't compete preferring to go and enjoy an expensive dinner wearing a suit and tie somewhere.
Overall results of competitors who completed at least half the race distance were Young, Bushell, Corlett, Daniel Williams, Evans, Cole, Jorgen, Miles, Josh Attewell, Miller, Bonnici, Nathan Fawns, Leeson and House.
After the event catching up with drivers Adrian Brown came clean and said "I'm too old for this stuff I better hand the keys to Bianca, well he didn't exactly say that however Bianca can dream. Jimmy Kane explained how his feature went, "I get walled in the back straight in the big lap one smash the panels rubbed on my tyres causing flats and my thermo fans were buggered until Mark Miles gave me a hand."
Grant Attewell one of the pre-event favourites was also involved in the turn one crash, the first in the final. He survived to continue into the second crash on the restart and tangled with Kane and Mitchell snapping a ball joint. Tim Cole got turned once, then twice, then got tangled up and beat up and done a tyre.
Mental Racewear Single Layer Custom Race Suit for Biggest title race mover – Jake Young 26th to 1st
Shortis Racing Biggest Turn 1 Tip In's – Lee Beach
Belkweld Metal Fabrication First Rollover – Jeff House
DNAirbrushing Most Memorable Moment – Dale Morrison
DNAirbrushing Best Presented Car – Damien Miller
DNAAirbrushing Winners Award – Jake Young
Gully Tattoo Hard Charger Award – Jake Young
Ultimate Mobile Mechanics Hard Luck Award – Adam Whalebone
The Truck Doctor Best Presented – Darren Skilton
Vern and Jackie Parker Best Presented – Ron George
R & E Auto awarded a number of drivers for finishing the feature.
Crash & Bash Association wish to thank its current Club supporters:
Total Auto's Pakenham – Blackburn Trailers – The Mobile Truck Doctor – Gully Tattoos – DNAirbrushing
Written by
Dean Thompson
DMT Sports Media
For Crash and Bash Association