Alexandra Speedway played host to Victoria's best Sports Sedan racers on Saturday the 25th (November) with almost thirty competitors arriving to do battle in the quest to win the Sports Sedan Rumble, later in the night it was Alexandra member Damien Miller who went on to win the big feature whilst Lilydale youngster Kasey Garlick made a last lap outside pass around two cars to take the win in one of two Junior Sedan finals.
Nine qualifying heat races for the Sports Sedans began with local Alexandra resident Luke Fallon taking the win in the very first event of the day. Leigh Bourke, Brad Warren, Miller, Matt Nelson, Steve Kershaw, then Brad Warren again, Nelson with a record one lap circuit of Alexandra of 20.553 and Miller all doubled up with wins in the final round.
A handful of competitors had crashes or breakdowns along the way and missed or didn't finish the feature event, Morris Ahearn had a big crash in the very first round and his meeting was finished right there and then with front end damage and a possible hurt engine that the team didn't want to risk. Marcus Reddecliffe, Nathan Shortis and Shane Kruger young drivers working their way up the ranks in the class and seasoned campaigner Lucas Conder also had mechanical issues finishing their nights.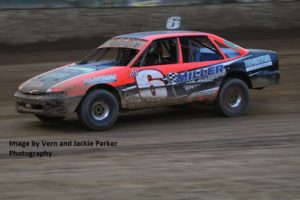 In the final Nelson, Warren and then Miller all had their moments to shine, with Miller passing Warren for the lead with around nine laps to go. Miller stretched his advantage to some distance and went on to record the win ahead of Warren, Fallon, Kershaw, Bourke, Dale Smith, Andrew Jordan, Steve Akil and Nathan O'Brien.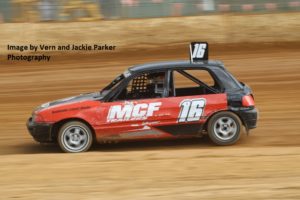 The Junior Sedan category this season is separated into B Grade Developing and A Grade groups. In the B Grade Todd Moule from Pakenham took control of the car his sister Jade drove all last season and recorded a half lap victory ahead of Rhys Meakins, Breanna Simpson, Bradin Claridge and Chloe Sheerman. Moule had lapped Sheerman and was chasing down Claridge when the race finished.
Kilmore's Aaron Meakins set a new eight lap race record as he went on to defeat visiting driver Tim Hutchinson and Victorian Champion Warrick Howie, Liam Powell and Cory Horter. Meakins won by a few seconds over Hutchinson.
In the A Grade Juniors the eight lap final was a terrific battle between Ricky Cornwall, Tim Gorski and earlier in the race Ryan Harris from Bega in New South Wales and Garlick. Harris was issued a rear of field penalty by the Stewards and had to fight through the field at a re-start and Garlick started to reel in Cornwall and Gorski ahead of her.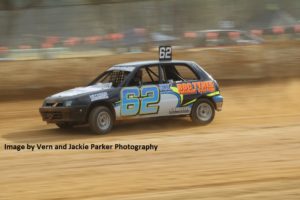 On the Very last lap on the outside of the leaders Cornwall and Gorski, Garlick went to the outside and drove around the two of them and came off with speed out of turn four and raced to the line to win by just .316 of a second from Cornwall, Gorski, Harris and Ally Morrison. Garlick on her way recording a new one-lap track record for Juniors of 22.674.
Also competing was the Street Stocks with a handful of cars, Collin Tate ran particularly strong through the evening and recorded a win in the feature from Wayne Sheerman and Lee Beach.
The next meeting at Alexandra is December the 9th with a big Holden vs. Ford Street Stock feature set to attract forty cars to compete, another event not to be missed especially with the summer closure of Alexandra Speedway following and the club re-opening in March.
Alexandra Speedway Club is very thankful for the support provided by all these businesses:
360 Diffs & Gearboxes – Air Anywhere – Alexandra & Yea Pre Mix – Australian Racing Products – Blackburn Trailers – Burco's Metal Fabrications – Campton's Graphics – DIY Auto Parts Broadmeadows – Eastern Suburbs Locksmiths – Fallon's Bus Services – FSM Recycling – GB Racecars – GYB Civil – Healesville Directional Drilling – Inaction Photos – Kilmore Towing & Transport – Lake Eildon Houseboat Sales – Lincoln's Earthmoving – Linley Estate Receptions – LS Quarry – Metro Tow – Murrindindi Kitchens – Onsite Response – Quality Fire Protection – Revegetation Victorian – Smooth Suspension – Trax Racewear – Tyrepower Alexandra – Waverley Exhaust & Brake Centre – Weeks Radio
Written by
Dean Thompson
DMT Sports Media
For Alexandra and District Speedway Club