Speedway Wangaratta held their second last show for the season on Saturday the 8th of April and race fans were entertained with big shows for the Standard Saloon and Production Sedan divisions and all the local heroes in club racing.
Standard Saloons from across the state arrived to do battle for the SuperAxe supported by local business SuperAxe Woodsplitters in a unique ten lap's one direction and then thirty the other way format and the event had attracted a number of drivers chasing points in a state point score and others who just love coming up to the North East for the annual feature event.
After great qualifying efforts from the likes of Portland's Cathal Mccaughey, Mornington Peninsula based racer Nick Chrystie and the current Victorian champion Warrick Howie from Chiltern, things didn't quite go to plan for some including radiators dropping out of brackets, engines blowing up and tyres letting go with such misfortune affecting Howie, Shane Stewart, his brother Daniel Stewart and Mccaughey and Jake Vuillermin went on to dominate the lead with at stages various drivers in a tussle behind.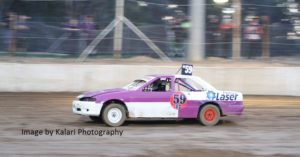 Vuillermin went on to win from Cameron Dike, Bradley Hill, Trevor Evans a local Wangaratta member and fellow member Trev Goldsworthy. Tom Lambert, Aaron Marshall and Cory Horter were other finishers. Mccaughey had won two heats with Howie three during the qualifying period.
Production Sedan racing in the North East of Victoria is popular and with two of this seasons strongest competitors members at Wangaratta, this was the second feature for the year at the venue.
Last meeting Raymond Ussher was the winner and he returned to do battle as did current Australian champion Trevor Mills from Corowa and Gippsland's two times former national champion Steve Laidlaw who both had to settle for minor placings last month.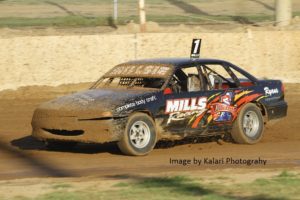 Laidlaw and Mills were not mucking around though, come feature time the two resumed their battles that have been going on for around twenty plus years. Ussher suffered late race problems and faded out of the equation whilst Mills took the win in the Rouse Transport 1000 from Steve Laidlaw, Damien McAlister, Jack Milthorpe, Craig McAlister, Danny Harrison, Ussher, Paul Barklem, Gemma Laidlaw and Jason Boardman.
In support action Craig Cottier from Lavington took the win in the Sports Sedans ahead of Liam Powell and Russell Smith and Alyce Iaria was the winner in Ladies Sedans from Kim Eames and Zac Twomey took a popular first ever feature win ahead of Jake Cottier and Daniel Powell.
The next meeting is April the 29th with the closing event of the year including a Demolition Derby is sure attract a sell out crowd.
Wangaratta Speedway Club Supporters for 16/17:
SuperAxe Woodsplitters – One Mile Motors – Crosher Constructions – Wangaratta Auto Care – Wangaratta Radiators – North East Fasteners – A Grade Removals & Storage – Enzed Wangaratta – McDonalds Wangaratta – Alpine Truss – Gardenview Lodge Motel – IGA Wangaratta – APCO Fuel Wangaratta – Thommo's Cash for Scrap – Solimo Towing – Ussher Plumbing – Patton Automotive – Ryan's Refrigerated Transport – Wangaratta Tourist & Caravan Park – Meyland Trophies – Rural City of Wangaratta – Wangaratta Club – Grimshaw Signs – Conway Printers Jindera – North East Bearings – Keam Fertilizers – Tailor Made Kitchens – Mundie Engineering – Breen's Freight – Chumlee Signs – Wangaratta Cranes – Tuff Tyres – Bar Up Bullbars – Kalari Photography, Videography & Merchandise
Written by
Dean Thompson
DMT Sports Media
For Speedway Wangaratta