The Victorian Speedway Council sanctioned Goulburn Ovens Sedan Association Victorian Title was recently held at Wahgunyah Speedway with the heavily supported category dishing up a great show for the Corowa faithful who witnessed Corowa race drivers finishing First, Second, Fourth and Fifth in the title race.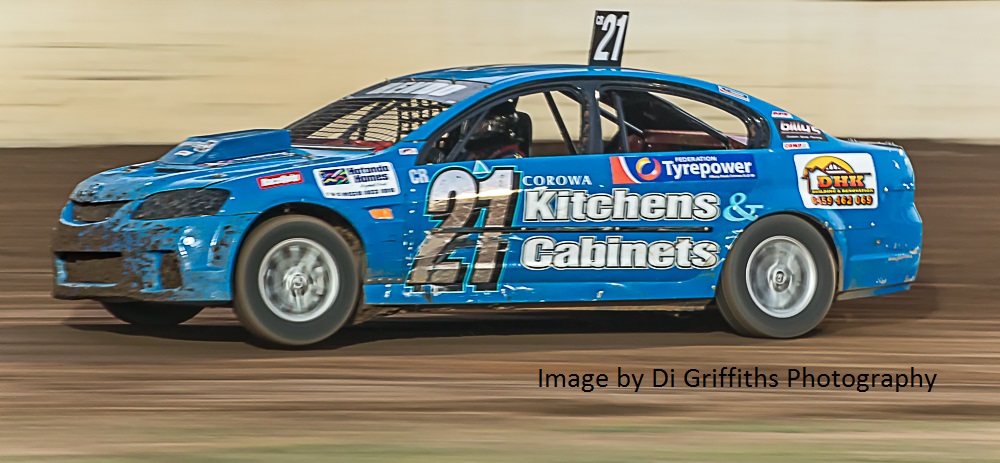 Picking up the win for his first ever state title was Corowa tradesman Clint Henderson (#21 Corowa Kitchens and Cabinets – Commodore) finishing ahead of Walla Walla resident and Corowa member Daniel Creek who was impressive in his father in law's race car with James Powell from Beechworth via the Wangaratta Speedway club picking up the third place.
From last to first, Albury competitor Danny McCarten found the gaps and weaved a path to the front to win the first heat of the night from David Walton (#42 Maverick Boats – Commodore) who was impressive in his new Commodore first ever time on track with Henderson in third, then Tom Bowers who had to come from last after losing his bumper bar on track and being penalised due to the stoppage, Creek, Jamie Atkin, Stuart Balins, Joel Copeland, Mark Pollard and Peter Schmetzer (#4 Riverina Custom Auto – Commodore). Nathan Shortis the Victoria #2 driver entering the title event didn't finish with manifold issues, Troy Frost suffered the same fate.
Defending champion Ross Maclean (#1 Max's Motor Museum – Commodore) picked up the win in the second heat with the fastest ten lap time for the night for the title when he was too good for young gun Jackson Milthorpe with Powell finishing third ahead of Frank Gordon, Brendan Brewer, Andrew Robl, Mitch Watts, Scott Callendar, Mick Bunt, Sam Davey (#93 Hartnett Transport – Commodore) and Todd Atkin.
Henderson proved the straight line speed of his VE Commodore with a LS1 power plant was just too strong for the field in heat three when he defeated Leeton duo Watts (#54 Ace Smash Repairs – Commodore) and Gordon with Robl, Shortis, Davey, Callendar and Pollard the finishers whilst McCarten's title race went 'Boom' when his engine shattered into pieces as he charged once again from the rear of the field. Henderson set a fastest one lap time for the night of 24.160 with both he and Maclean hovering around those times for most of the evening.
Walton picked up his first win with his new wheels when he and Maclean duked it out in the fourth heat with the defending Victorian champion putting the pressure on all the way. Walton withstood the pressure though and claimed the win from Maclean, Powell (#44 James Powell Mechanical – Falcon), Creek, Bowers, Brewer, Schmetzer, Bunt, Jamie Atkin and Joel Copeland whilst Milthorpes bent a split pin on a tie rod and the car headed to the trailer for the rest of the night.
Unusually a pair of pliers under the bonnet of Todd Atkin's #78 Grainlink supported Commodore caused his failure to finish round two when they fell on the extractors and caused a fire under the bonnet and Sam Davey had valve issues ending his race night also.
Walton almost backed up his fourth heat victory with a win in the fifth when he battled with Henderson showing superior cornering and Henderson just couldn't get into position to move in front until the very end of the race where Henderson picked off Walton and took the win. Schmetzer finished in third, then Pollard (#55 QA Kitchens – Commodore), Callendar and Copeland, Todd Atkin and Bunt didn't finish.
Maclean closed out the qualifying with a heat six win that was reasonably comfortable. Powell finished ahead of Creek (#35 PJN Sheds – Falcon), Watts, Balins, Jamie Atkin and Bowers pulled out with a lap to go with mechanical issues, whilst Gordon and Steve McDonald (#15 Stevo's Painting Services – Commodore) didn't complete the race either.
The champion Ross Maclean qualified as the pole driver for the title with Henderson, Walton, Powell, Creek, Watts, Schmetzer, Pollard, Callendar (#24 Jindera Automotive – Falcon), Jamie Atkin, Brewer, Balins, Copeland, Todd Atkin and Steve McDonald starting the title race over twenty five laps.
Robl (#19 Wadley Kerbmakers – Commodore) didn't start the final as the fly wheel broke during qualifying racing, McCarten of course had the big explosion of his engine and it is thought that he is still roaming the infield to find pieces of the engine.
At the drop of the green flag Henderson assumed the front position with Maclean leading the chase with Walton, Powell and Watts the initial top five on lap one. Pollard was the first to retire brining his machine into the safety zone with he his gearbox mounts let go.
Schmetzer lasted until lap three before he parked his Commodore right behind Pollard in the 'Junkyard' when Walton who was fourth spun and to his credit and sportsmanship he restarted the car and began the long hard chase to catch the field.
From last Walton would work his way gradually back through the field however at the front Henderson continued to lead from Maclean, Powell and Creek through lap six to around lap nineteen.
In the meantime Copeland would finish infield after rolling the rear tyre of the rim, whilst Walton reached fifth again by lap sixteen. Maclean's race came to a halt on lap nineteen when his car in the heat of battle suffered a flat rear left and come to a sudden halt after bouncing off the wall.
The pressure was somewhat gone from the race as Henderson seemed to be in control, Powell was passed by Creek on around lap twenty two for second spot then Jamie Atkin (#77 Griffith Discount Tyres – Commodore) pulled infield with a flat whilst trying to secure a top five result at that moment and Walton's heroics came to an end on lap twenty three when he headed for the infield carpark with a bent lower control arm.
Henderson crossed the finish line in front of Creek, Powell, Brewer (#16 Bicknell Signs – Commodore), Balins, Callendar, Watts, McDonald despite all his drama during the night of blowing a gearbox and racing home to change it before racing even began and Todd Atkin.
Henderson was understandably delighted as he was interviewed on track after celebrating his victory whilst Creek drove out of his skin to finish second. Powell finished where most thought he would with a top three result whilst Brewer and Balins worked hard for their results and were pumped with their achievements.
The Association wish to thank the following businesses who specifically supported the title with sponsorship to help the club hold the event and reward the drivers. BB Freight, Abacus Energy, Barklem Automotive & Exhausts, Corowa Pump Shop, Next Level Graphics, Corowa Kitchens & Cabinets, Corowa Truck and Trailer, Corowa Windscreens, Morey Warnock Automotive and Websters Dyno & Performance.
Goulburn Ovens Sedan Association would like to thank the sponsors:
Max's Motor Museum, Corowa – Maverick Boats, Corowa – QA Kitchens, Albury – Elle Mae Hair & Beauty, Corowa – Corowa Kitchens & Cabinets – Psychic Tina, Leeton – Wahgunyah Rock Yard, Wahgunyah – Stevo's Painting Services – Cornelius Classic Panels, Corowa – Ace Smash Repairs, Leeton – MP Sheds, Leeton – Corowa Glass, Corowa – Dunkley Paint & Panels, Corowa
Written by
Dean Thompson
DMT Sports Media
For Goulburn Ovens Sedan Association