SDAV Hot Rods have completed both their Victorian title and Legends Cup events beginning way back in Easter with the Victorian title at Rosedale where Jason May took the first win of the 'big two' and then as recently as the 13th of May when he won the Legends Cup at Rushworth Speedway.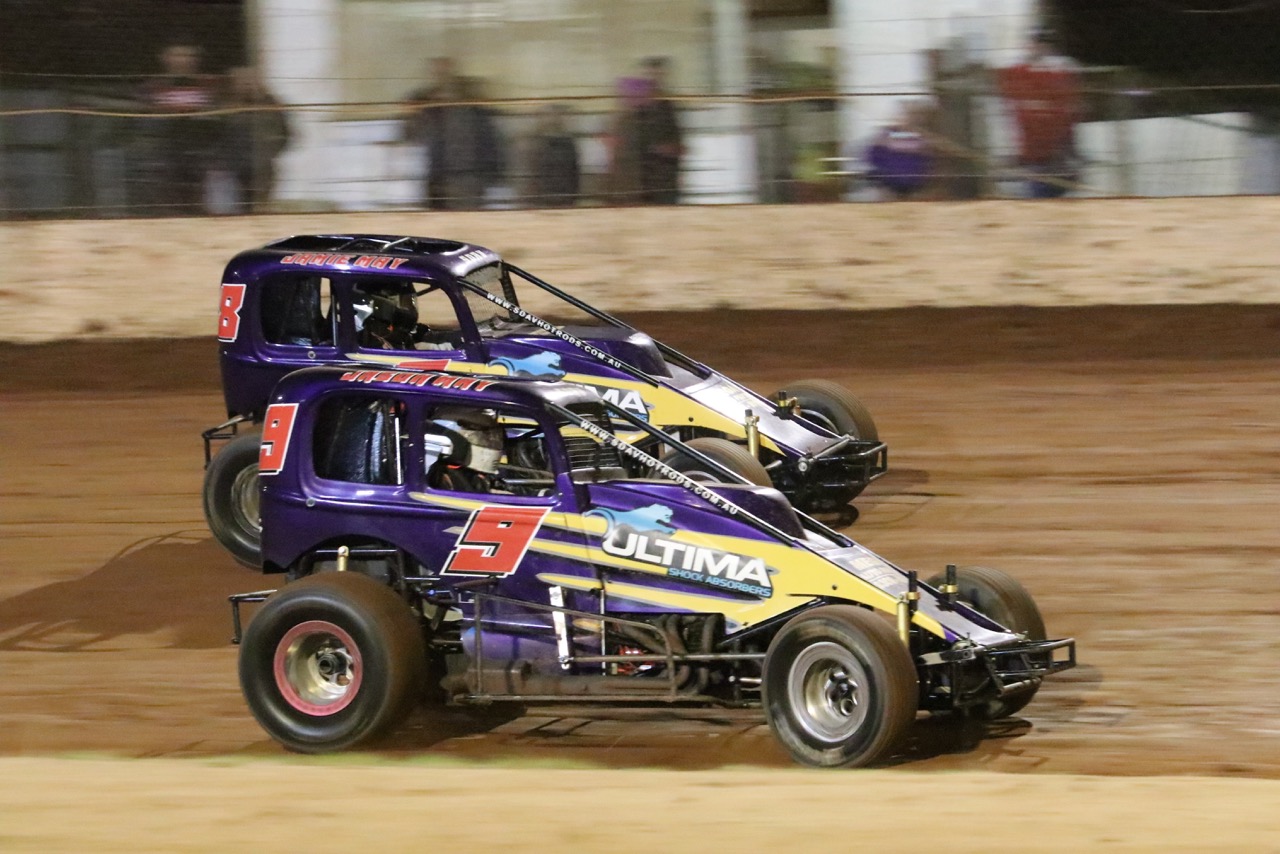 Jason May has had a stellar season behind the wheel and these two big wins topped it off nicely and now the SDAV club patiently wait for their night of nights, the annual club presentations where point scores will decide who is the club champion and series champion.
Starting with the Victorian title night, Shannon Meakins held the early lead over Jamie May in the first heat race with Glenn Lawless starting strongly. Meakins would bring on a caution light almost half way in and Russell Hovey and Lawless had by then swapped positions.
Just after the caution, Lawless and Hovey went back the other with Lawless moving ahead whilst Jamie May stormed to a win over Lawless, Stan Marco Snr, Jason May, Russell Hovey, Meakins, Stan Marco Jnr, Phil Jenkins, Kali Hovey and Chris Wilkes.
Jenkins had the best start in the second heat to lead Marco Snr for the first time past the finish post with Kali Hovey in third, Jason May and Wilkes. A few laps in and Marco Jnr had rolled the # 27 car causing a halt to proceedings.
On lap five Jason May had made it past Marco Snr and then Jenkins and assumed the lead and held that to the finish with Jenkins, Kali Hovey, Meakins, Lawless, Jamie May and Marco Snr official placings. A big drive from the #9 car from eighth to the win.
Russell Hovey led the competitors on lap one of the third qualifier with Jason May, Kali Hovey, Meakins and Marco Snr in tow. A couple laps later Meakins and had Kali Hovey into third and on lap five Marco Snr passed Kali Hovey into fourth.
Meakins moved in front of Jason May on lap six and on lap seven May spun which put him at the rear of the field for a restart. Russell Hovey then led Jamie May across the line at the finish with Meakins in third, Marco Snr, Kali Hovey, Jenkins, Lawless and Jason May.
Lining up for Victorian title glory, Jamie May and Jason May held the front row, Meakins and Russell Hovey sat on the second then Lawless, Marco Snr, Jenkins, Kali Hovey, Marco Jnr and Wilkes.
Keen at the green, Jamie May led his more fancied brother Jason around the first of twenty five circulations. Meakins, Marco Snr and Lawless completed the top five and things went along until around lap six when Jason May passed Jamie for the lead.
On lap ten Meakins moved into third in front of Marco Snr who only just got into third himself passed Meakins. Two laps later and his work came undone with a spin and Meakins re-started from the rear of the field.
At lap thirteen Jason May lead Jamie, Marco Snr, Lawless and Russell Hovey and by lap sixteen Marco Snr had dropped back to fifth with Lawless in third. Russell Hovey went past Lawless on lap seventeen and on lap eighteen Marco Jnr rolled brining on the red lights.
When the race reached its conclusion on lap twenty five, Jason May had bagged another Victorian title having previously won with Jamie May, Russell Hovey, Meakins, Marco Snr rounding out the top five then Lawless and Wilkes also finishing the race.
Fast forward to May 13th and the Legends Cup at Rushworth was the next big prize.
Marco Snr turned a pole position start into a first heat win with positions between second to fourth shuffling around as the race progressed. Marco Snr took a win over Jason May, Jamie May, Russell Hovey, Meakins, Lawless, Jenkins, Marco Jnr and Kali Hovey.
Meakins jumped to the lead ahead of his wife Kali Hovey and Lawless in the second heat on lap one and he never lost the spot. Marco Jnr was initially in second then it was Jamie May. On the final lap Jason May moved into third passing Marco Jnr and Meakins won the race from Jamie May, Jason May, Marco Jnr, Lawless, Jenkins and Russell Hovey.
Jenkins lead the third heat race from Jason May and Russell Hovey on lap one with Marco Snr moving into third on the second lap. Lap three and Jason May moved ahead of Jenkins and Jamie May moved into third with Meakins and Russell Hovey in the top five as Marco Snr had exited the race.
Jason May took Jenkins all the way to the end with Jamie May, Meakins, Marco Jnr, Lawless, Kali Hovey and Russell Hovey rounding out the result.
Finally ending a big couple of race meetings was the Legends Cup feature race. Jason and Jamie May again began from the front of the field with Meakins, Jenkins, Marco Snr, Marco Jnr, Russell Hovey, Lawless and Kali Hovey the line up.
Jason led Jamie on lap one with Marco Snr, Meakins and Marco Jnr the top five. Marco Snr moved up to second on lap six as Jamie May dropped a spot. The front runners started lapping cars by lap eleven of fifteen and by lap fourteen had got past three of the backmarkers.
Jason May stayed ahead of any potential trouble and took the win over Marco Snr, Jamie May, Marco Jnr, Meakins, Lawless, Jenkins and Kali Hovey.
The win for Jason May meant a triple crown sweep for Jason May through the season winning the Ray Welsh Memorial, the title and the Legends Cup whilst now everybody waits to see who won the Thunder Down Under point score and the SDAV Club aggregate point score.
The SDAV Hot Rod club thanks the supporters for this season:
Mega Auto Parts – Ribeau Interstate Transport Carriers – Air Anywhere Truck Tyres – Puurfect Cool Auto Air
Written by
Dean Thompson
DMT Sports Media
For SDAV Hot Rod Club