A lot has happened in this off season for competitors involved in the Victorian Mini Sprint Club with new leadership voted in at the AGM, new drivers committing to the class & new ideas being agreed to in order to make the racing even more appealing to the promoting venues and drivers keen to go racing.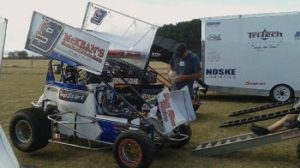 Voted into the position of President is competitor Dave May & along with him Dave Arlie, Brad Lowe & David Zannon take executive positions to steer the club to new horizons.
Once again the Gold Cup Series returns with racing right across Victoria from Wangaratta, Rosedale, Drouin, Laang & Darlington meaning drivers from South Eastern Suburbs & Gippsland and Geelong/Ballarat side of the West Gate Bridge have events in their neck of the woods, this helps the continued push for growth in the Geelong & Ballarat areas.
Redline Raceway are having their own Mini Sprint Series over three rounds with details to be finalised, however competition at Redline is definitely starting in November.
During this season past drivers will be encouraged to attend a race meeting where they will be looked after and celebrated, contact Brad Lowe or Dave May for further details.
"This season a couple of long time competitors are trying their hand at other divisions in the sport. These people have long been involved with the club & we would like to welcome them & other past competitors & champions to come along and enjoy a great day with us" enthused May.
"Brett Milburn last season's champion Sprintcar driver in Victoria, Stuart Ferguson & Luke his son are in Speedcars, Paul Farrell also, Tony Moule who races Sprintcars, Wingless & Dirt Modifieds, Wayne Hurford a Wingless Sprint racer, Owen Milton a Formula 500 racer, Domain Ramsey who is in Sprintcars & Speedcars, Ryan McKenna in Speedcars & Warrick Taylor in Wingless & Sprintcars, then those drivers leaving us this season to compete in Wingless also are others that we hope come along after being such a big part of the class & its history, we are proud that our class produces so many top level race drivers in Speedway."
Competition this season will see all competition accept the Victorian title have a reverse grid for the feature. The idea is to produce great action from in the pack where the quick racers challenge themselves to chase down the front of the field. This also gives incentive for those who find themselves at the front to go a little harder to keep the chasers at bay.
Sponsorship for the club has started strongly with the Perry McCowatt owned Tritech Lubricants confirmed as the class major sponsor.
May personally has been supported by Perry McCowatt from Tritech Lubricants for many years & this year instead of taking the support & putting that directly into his racing, May has instead asked McCowatt to be the major sponsor of the Victorian Mini Sprint Club. "We are really passionate about what we are looking to achieve with the Mini Sprints, we have some exciting ideas for the future, maybe even later in this current season & I have asked Perry to support the class to try and help this become a reality." Shared May.
Further sponsors will be announced soon.
The division is pleased to announce that Owen Schnoor a 16 year old will be making his debut this season bringing the number of Schnoor's racing in Mini Sprints to three, with Peter Schnoor returning after a season away from racing & Darren Schnoor who is Owen's father will also be involved behind the wheel making it three cars from the one family.
Brad Lowe, David Arlie, Dave May Jason Lynn a veteran of the class, Kyle Stathopoulos who is now in his third season, Andrew Burleigh & Will Van Der Aark & veteran Jason Andreatta are all ready to compete, whilst other potential new competitors still to commit.
The Mini Sprints run a VSC spec book that is available through the club & the Victorian Speedway Council that conforms to California Lightning Sprints rules in the USA. "Our weight rules are the only differences between the USA class to ours at the moment, this is a work in progress with slight reductions in our weights every couple of years in order to keep some of our older cars competitive. Our competitors running car engines or 1000cc bike engines with driver in the car have a minimum weight of 450kg. We have re-introduced the 1200cc bike engines into our rule book, they must weigh 480kg minimum with driver in the car." Confirmed Brad Lowe.
Any competitors from New South Wales or Queensland who can conform to these rules are welcome to contact Dave May to talk about competing at any of the events in the calendar.
Space to store race machinery is also available to any competitor who would like to leave their car in Victoria & fly in & fly out during the season.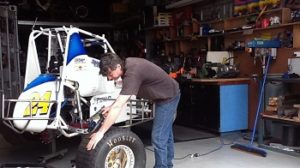 The season ahead includes the following race dates:
October 22 – Wangaratta Speedway – Gold Cup Series
October 30 – Nyora Raceway
November 12 – Redline Raceway, Ballarat
November 19 – Rosedale Speedway – Gold Cup Series
December 11 – Drouin Speedway – Gold Cup Series
December 26 – Bairnsdale Speedway – Christmas Challenge
December 29 – Western Speedway, Darlington – Christmas Challenge
January 14 – Wangaratta Speedway – Victorian Title
January 21 – Nyora Raceway – Geoff Moule Memorial
February 11 – Laang Speedway – Gold Cup Series
March 11 – Redline Raceway, Ballarat
March 19 – Drouin Speedway – Mighty Mouse Magic feature
April 1 – Nyora Raceway
April 29 – Redline Raceway, Ballarat
May 13 – Rosedale Speedway
May 20 – Western Speedway, Darlington – Gold Cup Series
Head on over to the redeveloped club website at www.victorianminisprints.com being put together by Tyler Sheaf.
If potential drivers or supporters would like to contact the committee you can contact :
President – Dave May – 0412 510 709
Vice President – Dave Arlie – 0409 520 938
Secretary – Brad Lowe – 0407 728 727
Written by
Dean Thompson
DMT Sports Media
for Victorian Mini Sprints Club