Spectators, official and volunteers and competitors finished off a long three day Australia day weekend with a spectacular Australian title decided on Saturday night in the AMCA Nationals category with South Australian Jeremy Moore taking the big win in a race full of heartbreaks.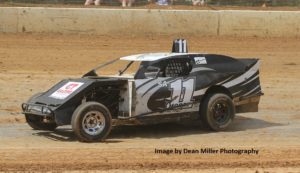 Moore finished on the top step of the podium, his first ever national title win with Victorian Paul Sullivan in a out of the box result second placing with Matt Hardy from Queensland third, Steve Price another Queenslander fourth and Rodney Bassett from Tasmania fifth.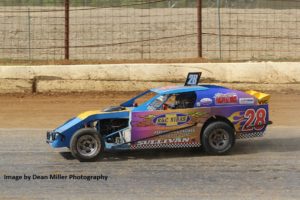 Current Victoria and South Australian state champion Jamie Collins qualified in pole position, with Moore alongside, Matt Mills a Victorian was on row two with Sullivan then Matt Hardy and Bassett on the third row of the forty lap title race.
Defending champion Tim Reidy started in twenty first position after not qualifying directly for the title race and being given the champions automatic spot. Only the Northern Territory missed out on a representative in the title race, whilst the New South Welshman who holds the NT title Shane Newstead, made the race.
Collins started well early hitting his marks and putting distance in between he and the chasers before being slowly reeled in. Moore slid back to third early. On lap five the 253ci powered machine of Mills passed the Chev 350 crate engined Collins into the lead.
Early Matt Hardy went to the rear after causing a stoppage spinning in turn four. Price who started twentieth was turning other challengers into sushi as he rounded them up, made slide jobs stick and zigged then zagged his way to seventh place by lap eight.
Mills started to get a fan following all rooting for the underdog with the smaller block engine. The announcer was on the bandwagon and Mills moved away from the challengers on a number of occasions before after catching traffic Collins caught up to Mills and looked to make an inside pass.
Collins connected with Mills and the leaders car slid into the concrete fence and sustained some damage however was able to continue. Collins to his credit knew he was the cause of the incident and without command moved his way to the rear of the field for the re-start.
At the re-start Mills with a damaged car was unable to fire a shot and drifted up and out of the way of the field before pulling infield, it was heartbreaking for supporters and fans to watch. Moore moved to the lead with twenty one laps to go with Sullivan right behind him. Dean Heseltine become another driver to find himself being sent to the rear of the field after a race incident whilst Matt Hardy and Reidy who started at the back of the field were carving their way back towards the front.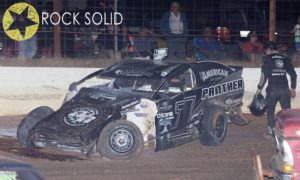 With a handful of laps to go and whilst wound up looking for highline moves, Reidy slammed the back straight concrete and it chewed up his car and picked it up and flipped it on its lid putting the defending champion out of the race.
At the re-start with a handful of laps to go Moore finished off the race taking the big emotional win in a former Reidy driven race car from Sullivan, Hardy, Price and Bassett.
After the race an emotional Moore celebrated on track with a victory lap, burnouts and finally dropping to his knees with tears of joy as a number of other drivers congratulated him.
Fittingly Mills was the very first driver to run to Moore to congratulate him during the victory lap as heartbroken as he was, he was well on his way to a title race win when his race was ended.
Moore after the race had this to say. "This is just a wonderful wonderful feeling standing here as the Australian Champion. I have so many people to thank, my heart goes out to Mills, I hope I get to see him on this dais one day soon. Tim Reidy is just an amazing person, he has so much time for us all, he is always happy to take my calls and talk about this car and set ups and racing. Thank you for your support. To the officials, my crew and family and the other drivers, thank you for making this such a wonderful day."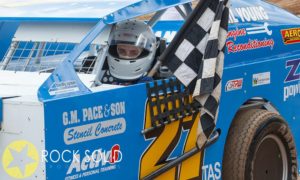 Jake Briggs from Tasmania won the 'Rock Solid Productions' best presented car for the weekend after scrutineering on Thursday night. From twenty qualifying races there were eighteen winners with only Sullivan and Matt Hardy with two wins. Moore the eventual winner only had one heat win, however a sensational win it was when he defeated David Boyes, Andrew Ryder, Darren McCarthy, Russ Hardy, Peter Markulin and Tony Blanch after starting from seventh.
Support class action ran heat racing only with the finals curtailed by the length of the stoppage for the generator fail. In Mini Sprints Danny Stone from New South Wales took the win ahead of Jason Lynn and Peter Styles also from New South Wales. Stone had won all three of the heats with Lynn and Styles swapping second and third between them.
Leigh Bourke won the Sports Sedans after finishing first in all three of his races. Ricky Ashmore finished second and Jay Dickson and the Standard Saloons had a top five awarded with Tim Hutchinson taking the win ahead of Scott Whittle after Hutchinson won two of the three heats he competed in finishing second to Whittle once and defeating him on another occasion then came Ben Hutchinson, Leigh Gooding and Daniel Dalgliesh.
Belmont Speedway Drivers Club is proudly supported by:
Duo Mobile – IPTA Fibreglass – Hennessy Transport – Regional Contracing – CamKat Earthworks – Johnny Dyno Engines – Crowies Paints – Jeff's Auto Detailing – Steve Forte Metal Fabrication – PR Fittings – Startech Windows – United Forklift & Access Solutions – Ballan Plumbing – Norman Street Automotive – True Design Homes – Mobile Sandblasting & Painting Services – METOWU Mechanical Services – UBC Web Design – IC Weeds Gardening Services – Whitehorse Truck Centre – PP Design – Bulleen Towing – Dean Miller Photography – Rock Solid Productions – Hutchinson Towing – Autopremier Fleet Maintenance – Power FM
Written by
Dean Thompson
DMT Sports Media
For Belmont Speedway Drivers Club