Wahgunyah Speedway on Victorian Labour Day weekend held a huge 'BB Freight' Victorian Standard Saloon title where fifty competitors from around Victoria did their best to win the coveted going with that honour going to Mornington Peninsula based racer Nick Chrystie ahead of a stellar field.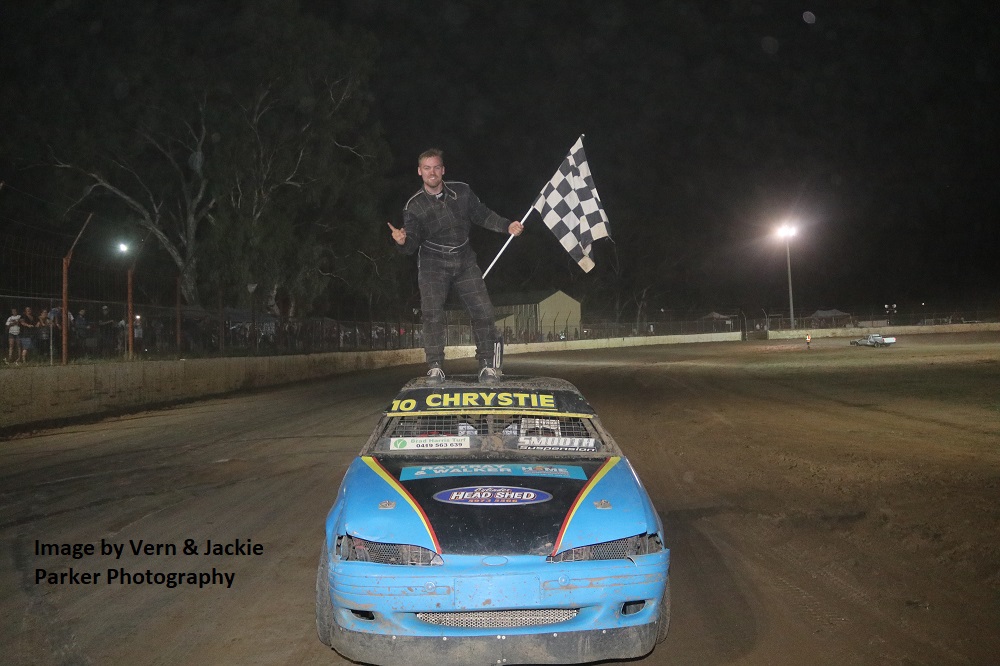 Fifteen heat race qualifiers on day one when the racing took place in the day time and then another ten on the Sunday when they were completed in the afternoon before moving into an evening final was shared amongst a variety of competitors.
Veteran Leigh Gooding started the weekend well with a win as did eventual winner Chrystie. Shane Stewart the reigning Victoria 2 ranked racer then won in what would be the fastest heat of day one with the fastest one lap time also by Stewart. Aaron Marshall, Paul Domburg, Rahmon Rivero, Micheal Fleming-Robertson from Corowa, Stewart a second time, Patrick Vuillermin and then five times state champion Scott Whittle won heats. Benalla racer Ken Mankey was another winner with Marshall a second time, Jeff Blencowe, defending Victorian champion Warrick Howie from Wodonga and Whittle again, were all day one winners.
On the second day of action Brendon Eames the local club President picked up a win with Marshall, Howie, Stewart all picking up more wins and then Cathal McCaughey from Ireland via Portland, Howie and McCaughey again, Brad Hill, Adrian Lawrence the youngest competitor in the field and Jacob Vuillermin finished out the list of winners.
On day two, Stewart again was fastest in the qualifiers until his team mate Lawrence won his heat the 24th of the weekend in a fastest time for the weekend with 3 minutes 32.314 seconds, more than a second quicker than Stewart a few races earlier had done. Lawrence also at this point had the fastest one lap time of the weekend, however the feature event removed that achievement from him.
In the last chance qualifier current state points champion Tim Hutchinson went faster than Lawrence just did and led Leighton Warburton, Mitch Blencowe and Tom Lambert into the title race, Russell Hill was second and cruising until lap nine when his race came undone and he parked the car infield.
In the Victorian Standard Saloon title race hosted by Corowa-Rutherglen Speedway Club and sanctioned by the Victorian Speedway Council, Whittle quickly hit the front of the field in his big Valiant Charger. Stewart was second for a long way with Chrystie in third spot. Stewart dropped back to eighth at lap seventeen and was back in third by lap twenty seven.
Howie lasted until lap fourteen and was running in fourth before he headed into the infield and was first of the big race chances to pull out of the race. Brad Hill was next and the Veteran Gooding was seventh when he pulled out of the race two thirds distance into it.
Paul Domburg was moving through the field as was Patrick Vuillermin. Disaster struck Whittle on lap 21 when the car failed him and he had to head infield, until this point he had looked comfortable in the lead. Chrystie as a result of Stewarts and then Whittles demise assumed the lead.
Twelve cars were still competing and Chrystie was the fastest driver remaining with Whittle who was out of the racing setting the fastest time of the weekend earlier in the race of 25.541 and Chrystie was consistently running close to the twenty six second time lap after lap.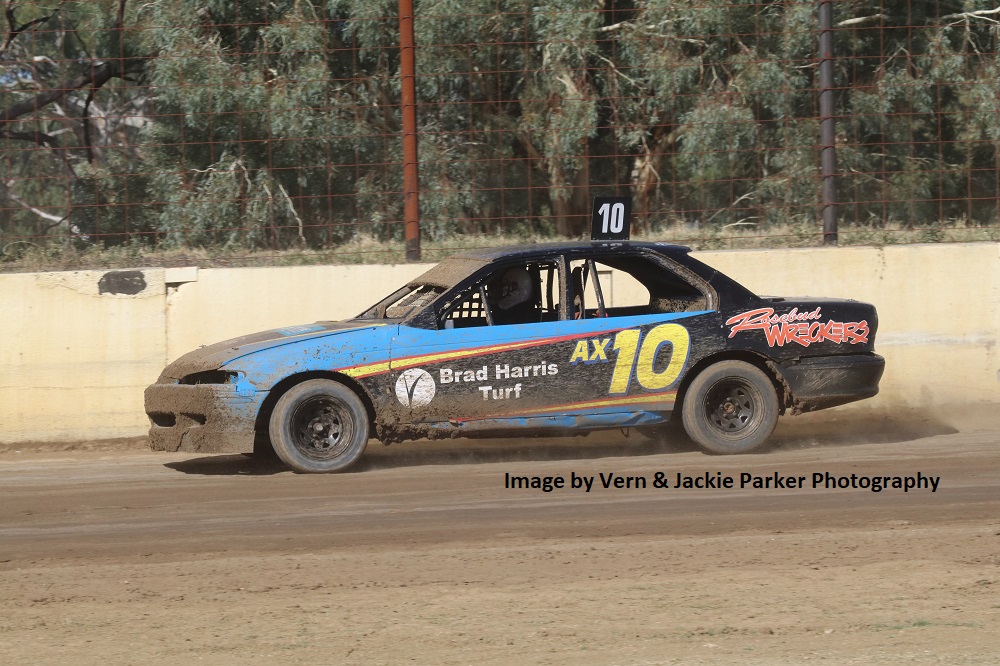 When the chequered flag finally appeared on lap thirty Chrystie claimed his first Victorian championship winning ahead of Domburg who reached second by lap twenty seven, Stewart, Marshall and Patrick Vuillermin.
In the Production Sedan Bob Bailey Memorial a small field paid respects to Bob attending his race. Stephen Laidlaw, Brett Norman and David Walton won the three heat race qualifiers before the feature event was decided with local Rutherglen racer Jack Milthorpe coming up trumps in a race that means so much to local competitors and those that raced against Bob.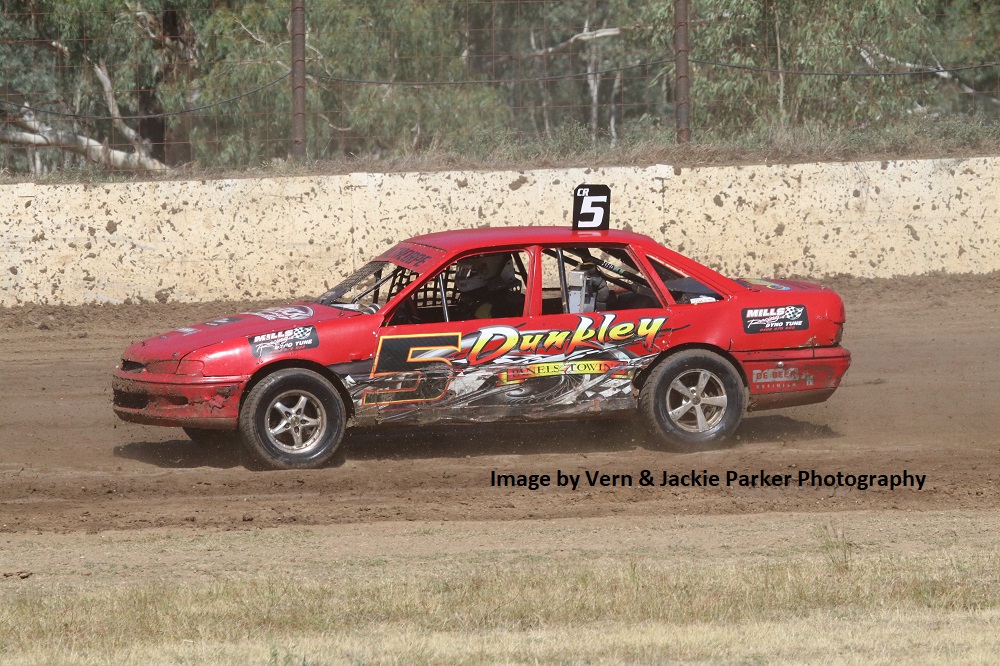 Milthorpe defeated Brett Norman from Young in NSW, two times Australian champion Stephen Laidlaw who held on to third place with a damaged diff, Gemma Laidlaw and David Walton from Corowa.
The Grand Prix Midgets had a torrid time of things in their only visit to Wahgunyah this season when a number of cars truck mechanical issues and in the case of the Australian Champion Trevor Perry, he had a massive rollover wrecking his car. The top three to finish the feature race were Victorian Champion Danny Stainer, Jason Crawford his team mate and Lisa Chalcraft.
Sports Sedan action for the Sports Sedan Slam was also held with competitors having six heat races each. Visiting racer David Donegan was hoping to become the next driver in an increasing list of Alexandra club members to in at Wahgunyah and he nearly did so if it wasn't for the chief steward who had other ideas.
With Donegan chasing the race leader Rhys Collins, Donegan looked for a move past a black marker on the low line whilst Collins went around the outside of the same car. Donegan got ahead of Collins and reached the finish line for the win only for the steward to take it off him for a pass under the pole line and award the win to Collins from Donegan, Martin Heiner, Chris Fitzgerald and Corey McDonald.
The earlier heats were won by Leighton Evans, Donegan, Donegan again, Heiner, and Heiner again and McDonald.
Rounding out the weekend was the latest Goulburn Ovens Sedan Association points event with six heat races to determine feature race starting positions. Troy Frost, Liam Powell, Peter Schmetzer, Ross Maclean, Schmetzer again and James Powell won the qualifiers.
James Powell then got the better of his brother after his brother had been on a roll recently with wins including the Victorian title. James Powell defeated Liam Powell, Schmetzer, Frost and Sam Davey.
The next race meeting at Wahgunyah is the 21st of April to celebrate the 60th anniversary of the club and race day will include some nostalgia with the Humpy Holden's and Super Modifieds on the program. Local classes will compete and some competitors with other types of Speedway race machines have been given the opportunity to have a go around the track as long as they contact the club directly to discuss.
Corowa-Rutherglen Speedway Club is proudly supported by:
B & B Freight – Dickens Engineering – Canns Bus Lines – Pigdons Holden Corowa – Bindaree Caravan Park – QA Kitchens – Dunkley Panels – McLardy McShane Insurance & Financial Services – Milthorpe Transport – Winton Motor Raceway – McCartie Motors – Corowa Upholstery – Corowa Furnishings and Floors – Dawson's Haulage – SMC Contracting Services – Cellarbrations Wahgunyah – Hartnett Transport – Heritage Motor Inn – Upton's Steel Supplies – All Day Electrics Rutherglen – Marshall Batteries – Wangaratta Radiators – A1 Oils and Batteries – Hunter Electrical – Cofield & Co Plumbing – Corowa Super IGA – Rod Stone Automotive – Max Maclean Building Supplies – Maverick Marine – Wahgunyah Rock Yard – BJ Burton Trophies – Quantum Printing – Corowa Meats – Vern & Jackie Parker DVD
Written by
Dean Thompson
DMT Sports Media
For Corowa – Rutherglen Speedway Club