Drouin Speedway has completed a successful first meeting of the season with the Crash and Bash division thrilling the fans with their smash em' up variety of racing and victory to Pakenham racer Brendan Miller whilst in Standard Saloon racing Tegan Bullard from the South Eastern Suburbs in her brand new car took out a fantastic win in her final against club legend Leigh Gooding.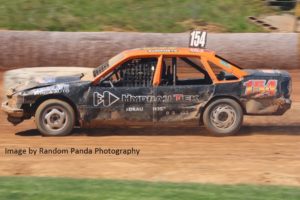 In Crash and Bash action Brendan Miller who has spent the last couple of seasons campaigning his own car in Sports Sedans jumped into Jason McKendry's car and knuckled down to take the big win. He defeated Tim Cole and Victorian Champion Jake Young in a race where only a handful of drivers finished due to the punishment dished out during the race.
Miller was the only racer in the final not to find himself caught up in some sort of trouble as he dodged, weaved and shoved his way through all thirty one laps. Lennie Bonnici copped a whack or two and yet still finished fifth, the Panel Van of Anthony Segond had his front end totally collapse after all the hits he took and the pre event pristine and best presented machine of Mark Hebblethwaite was cactus, by the end of the day.
In Standard Saloon heat racing Leigh Gooding and Mitch Blencowe were the top two drivers and started at the front of the field, however on a freshly watered track, those two washed up and out of the way Tegan Bullard and she drove through the gap and into the lead.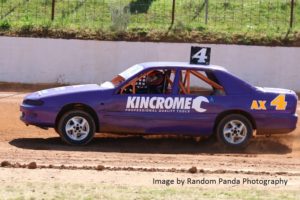 From the front Bullard was never headed and even a caution period bringing her back to the field didn't put her in trouble as she quickly took off at the restart. Bullard took a popular win against the guys with Gooding, Stephen Douglas, Garry Charles and Blencowe rounding out the top five.
In Junior Standard Saloon racing Victorian #3 driver Jack Yeomans didn't have things all his way in heat racing with Yeomans picking up two of the three heat wins with is brand new team mate Deegan Benson scoring the other victory. In the final though Yeomans went on to win from Tahlia Campbell and Benson with Cohen Kleeven finishing his first race meeting the chequered flag in all four races held.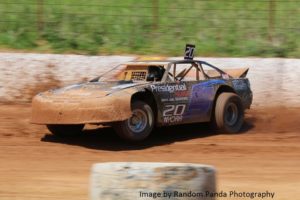 Open Sedan racing pitted drivers from the Unlimited Sedans, Division 2 Hot Rods and Sports Sedans up against each other and it was Division 2 Hot Rod campaigner Toby Callanan who took the first to heat wins before Shane Ardley won the third. Ardley then took a strong win ahead of Jeff Blencowe, Callanan and Jordan Haley.
The Vintage Ace of Spades division entertained those that like watching machines from years gone by.
Drouin Speedway returns back in November with Wingless Sprints and an Open Sedan feature headlining the day.
Drouin Speedway Club would like to thank their club supporters:
Active Graphics – Alberni Engineering – Ampworks Audio – Baw Baw Shire – Berwick Legal – Boost 2 Drive – Random Panda Photography – Haze Hair by Design – Keena Fencing – Laser Electrical – Latrobe Waste Recycling – Leigh & Anne Gooding – Longwarry Hotel – Longwary Meat Safe – Miles Mechanical – Monckton Concrete – Norstar Steel Recyclers – Onsite Rentals – Pakenham Tilt Tray – Polish & Shine – Prorent – Ramsdale Wreckers – S.S Plastering & Painting – TNT Auto Parts – Victorian Crane Trucks – Wilkar Construction
Written by:
Dean Thompson
DMT Sports Media
For Drouin Speedway Club